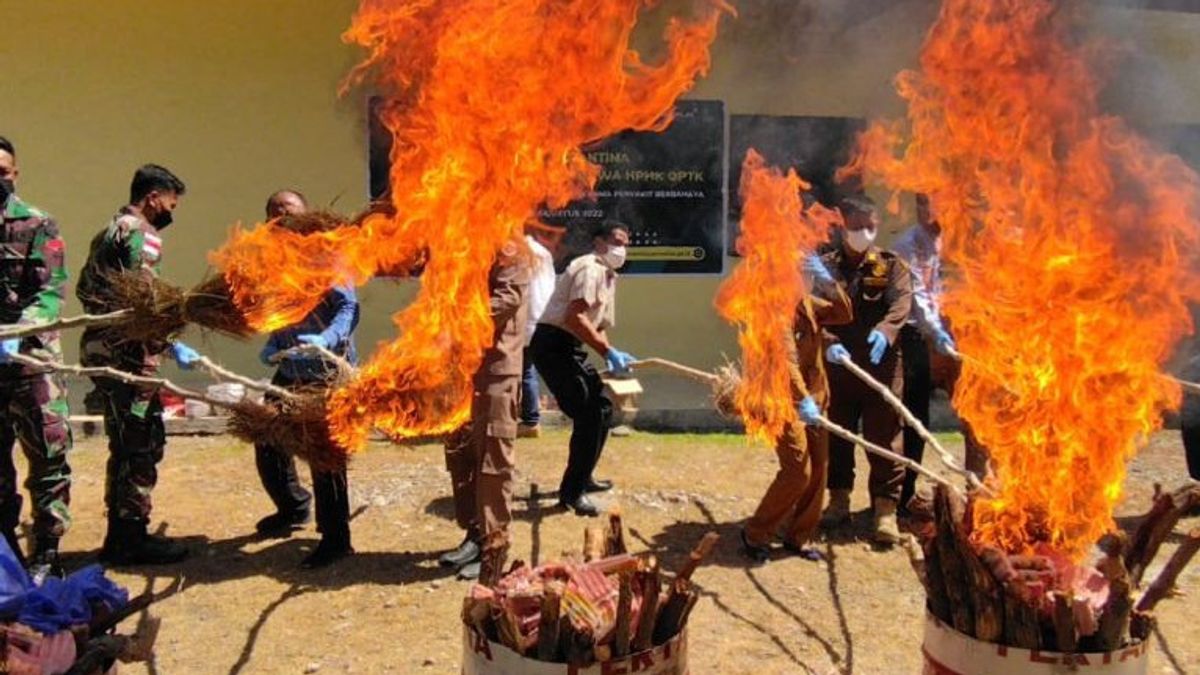 KUPANG - The Kupang Class I Agricultural Quarantine Center destroyed 122 kilograms of processed meat with a split hoof from Timor Leste that entered illegally through the Wini Border Crossing Post (PLBN), North Central Timor Regency (TTU).
Head of Kupang Class I Agricultural Quarantine Center, Yulius Umbu H, said the hundreds of kilograms of raw meat were obtained after his party carried out an obedient operation to prevent the spread of Foot and Mouth Disease (FMD) at PLBN Wini.
"We have carried out this operation for the last three weeks. We confiscated it from border crossers who wanted to enter Indonesian territory through the Wini PLBN," he said as quoted by ANTARA, Monday, August 15.
Of the 122 kilograms of raw meat, 11 types of goods were destroyed, such as processed pork imported from Brazil in the form of pork sausage, fried pork, then imported chicken from Brazil, Portugal, and China with a total of 78 packs.
The pork and chicken found have been processed in the form of sausages, and also corned beef so that they are easy to cause and cause FMD.
In addition, rice, bananas, and free-range chickens were also destroyed when cross-border crossing the route.
The confiscation and destruction of several foods carrying FMD were also carried out because the border crossers who passed through the PLBN did not have complete or illegal documents.
"Moreover, countries like Brazil are also FMD red zone countries, so take care if you enter Indonesia, especially NTT, which is now safe from FMD," he added.
According to Yulius, obedient operations have been continuously carried out by the Kupang Agricultural Quarantine in collaboration with all parties, starting from the Indonesia Army (TNI), National Police and other relevant agencies.
This is done to prevent the entry of FMD into the NTT region, considering that currently NTT is a province with zero cases of FMD and is the only province that supplies cattle and split-hoofed animals to the islands of Java and Kalimantan.
"We firmly reject all processed products or goods that can be a medium for distributing FMD," said Yulius.
The border area of Indonesia and Timor-Leste itself, he said, is a serious concern for the Kupang Class I Agricultural Quarantine Center because the border area is an area that is prone to the entry of meat that can spread FMD.
Tag Terpopuler
#anies baswedan
#puan maharani
#bansos
#kompor listrik
#Irjen Ferdy Sambo
Populer