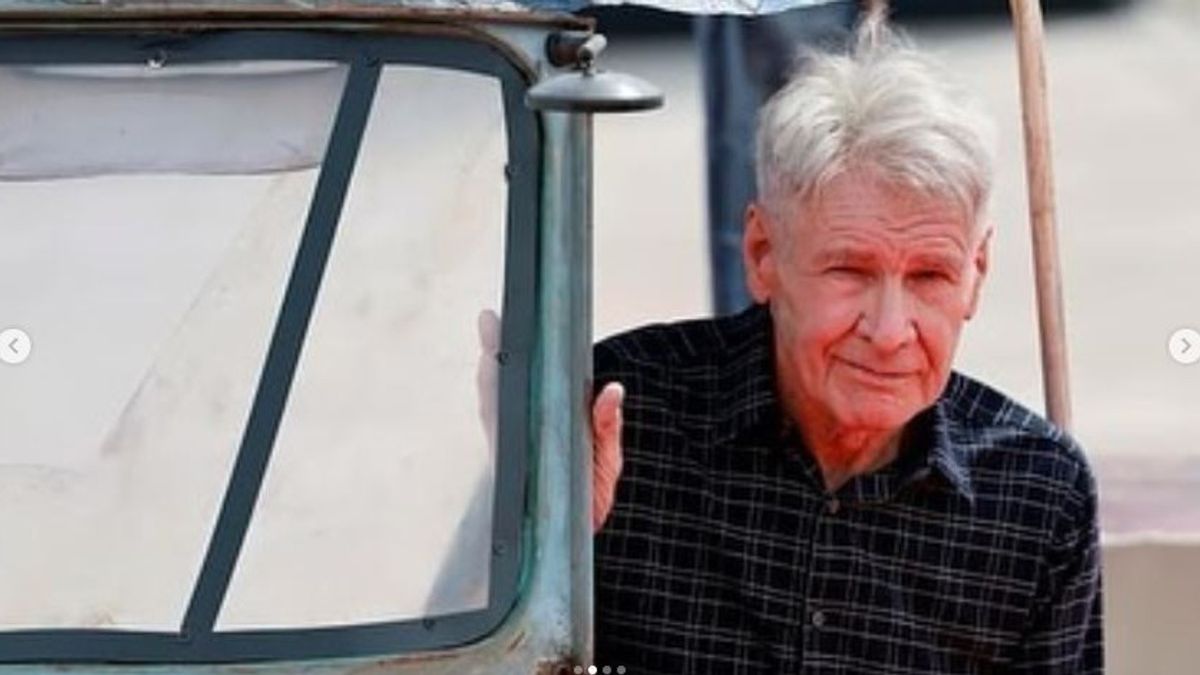 JAKARTA - Searches for Wes Anderson on YouTube feature trailers apparently created by the typical-style director for the adaptation of "Star Wars," "Harry Potter," and "The Lord of the Rings" by presenting Bill Murray, Scarlett Johansson, and other stars.
Artificial intelligence allows people without real actors and resources that are much more limited than major Hollywood studios to produce trailers for the fake film. This sparked debate in negotiations between the SAG-AFTRA actor union and the studio on June 7.
Artificial intelligence has divided the studio and the on strike film and television screenwriters, who want assurances that this growing technology will not be used to produce scripts.
SAG-AFTRA wants to ensure its members can control their "digital dobels" use and ensure that the studio pays the real actors appropriately, said Duncan Crabtree-Ireland, the union's main negotiator.
"The names, looks, sounds, players' personalities - that's the player's capital and merchandise," the Crabtree-Ireland said. "It's not fair for companies to try to take advantage of that and it's not adequate to replace players when they use their personalities in that way."
Tom Cruise and Keanu Reeves have been an unofficial but widely watched deepfake subject - realistic videos but made with artificial intelligence algorithms. Reeves calls the technology "terrible," in part because it can be used without the consent of the actors.
Interest in generative artificial intelligence surged globally after the launch of ChatGPT in November, the fastest growing app of all time supported by Microsoft Corp, OpenAI. Regulators in the US and Europe have demanded settings to prevent the spread of misinformation, bias, copyright infringement, and privacy violations.
Actors and writers have various scenarios where studios can try to reduce costs and increase revenue using generative artificial intelligence, which can be fed with existing materials and produce new content. This technology has been used to remove signs of aging or change oral movement to match words when the program is synchronized in various languages.
Pemangar Morrill mengatakan bahwa ia pernah bekerja di lokasi syuting di mana ia dikelilingi oleh kamera yang mengambil foto dari segala sudupan.
"With such kind of content, they can use you for certain parts, and then create the rest of the characters, and we are no longer on set and no one is paid," Morrilil said in a speech at a union association in Los Angeles.
Producers, writers, and former actor Justine Batera's "Family Ties", who has a degree in computer science, have warned about artificial intelligence (AI). He said the company could let fans make their own "Star Wars" films and add themselves by paying extra fees.
Or, a studio could take footage from popular 1980s TV shows like "Family Ties" and create a new season using AI.
Several actors have approved the use of AI in certain cases. The upcoming "Obviously Jones" film features a scene where 80-year-old, Harrison Ford, looks 40 years younger. Ford expressed his admiration for the youth performance on the screen produced by Walt Disney Co's Lucasfilm company, using a facial image taken during the filming "Obviously Jones" in the 1980s.
"Fantastic," said Ford of his youthful appearance in an interview with host Stephen Colbert.
James Earl Jones, who is now 92 years old, agreed to let AI replicate the scary sound he gave Darth Myr, according to Vanity Fair, so the character could stay alive. AI also helped Disney include a picture of Carrie Fisher in the 2019 film "The Rise of Myr," with the blessing of her daughter.
SAG-AFTRA's Crabtree-Ireland says that actors have a different level of comfort in AI use, which is why the union will push for approval based on clear information in negotiations with Alliance of Motion Picture and Television Producers (AMPTP), groups representing Disney, Netflix Inc (NFLX.O), and other studios.
AMPTP representatives did not comment on their position regarding the use of AI with actors.
In negotiations with the Writers Guild of America (WGA), AMPTP proposed discussing this topic once a year, which Guild responded to as an attempt to avoid the issue. WGA has been on strike since May 2 due to AI issues and compensation.
If SAG-AFTRA cannot reach an agreement on AI and other issues, the actors can also strike, which will add to the pressure on the studios. Prior to the negotiations, SAG-AFTRA leaders had asked members to give permission to strike if necessary. Voting on strike permits will expire on Monday.
The two unions want designated protection before AI is widely used.
Bamerat, a former member of the SAG council, criticized AI as an "automatic immitation" that could produce entertainment that is replayed from the past in the future.
"I don't want to live in a world like that," said Baiman. "What's the next film genre? What's the next genre of music? We'll never see something like that if we all use AI."
---
The English, Chinese, Japanese, Arabic, and French versions are automatically generated by the AI. So there may still be inaccuracies in translating, please always see Indonesian as our main language. (system supported by DigitalSiber.id)
Most Popular Tags
#asian games 2023
#pdip
#bursa-karbon
#Jokowi
#Rempang Island
Popular