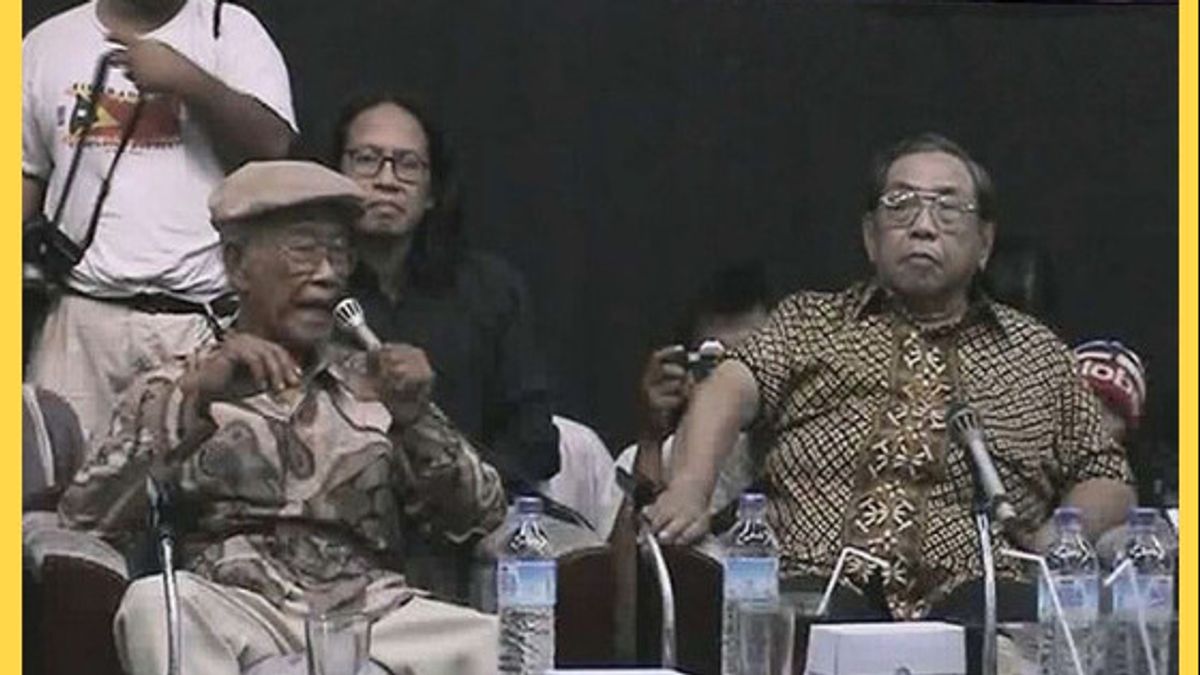 JAKARTA History today, 23 years ago, March 26, 2000, writer Pramoedya Ananta Toer rejected President Abdurrahman Wahid's apology (Gus Dur) for the 1965-1966 PKI massacre. Pram considers Gus Dur's apology to be mere pleasant.
Alias, the government has never tried to restore the dignity of the victims and their families. Previously, Gus Dur was known as the president who often fought for the fate of the marginalized. He dared to position himself in a different view from the majority.
Gus Dur's Nyali defended the entire Indonesian people. He was able to position himself above all groups. In fact, Gus Dur's defense was carried out long before he became Indonesia's number one person.
He has dared to oppose the New Order (Orba) government whose policies are considered ablution. Instead of prospering the Indonesian people, the New Order with military power is considered to often terrorize the people as in land acquisition cases.
In the construction of the Kedung Ombo Reservoir, for example. Gus Dur dared to side with those who were prisoners. The actions then did not change much when he became Indonesia's number one person.
The proof is that he openly apologized for the massacre of PKI 1965-1966. He revealed the statement at the Coffee Cup with Gus Dur on TVRI on March 15, 2000. The apology will then be continued by Gus Dur by proposing the revocation of the TAP MPRS XXV/1966.
Gus Dur's apology later became one of the major events in the history of the Indonesian nation. This is because several previous Indonesian Presidents did not take the same stance, as did Gus Dur.
'La is an intellectual who has integrity, has a NU cultural community and a political party. He is a thinker who has a large mass and friendship network. In fact, the politics of power makes Gus Dur's greatness tested. There are many revolutionary'' and the discourse that is too brave.
Gus Dur inaugurated the Chinese New Year, changed the name Irian Jaya to Papua, dissolved the Ministry of Social Affairs, Department of Information, and the Ministry of Youth and Sports, explored the possibility of political cooperation with Israel, and apologized to former Indonesian Communist Party (PKI) as a political victim, "wrote in the book Damai Bersama Gus Dur (2010).
However, not everyone agrees with Gus Dur's apology. The writer, Pramoedya Ananta Toer, for example. The former political prisoner (Tapol) of Buru Island, who is considered affiliated with the PKI, considers Gus Dur's apology to be nothing more than mere pleasantries.
The statement was revealed by Pram in his interview with Forum Magazine, March 26, 2000. For him, the government is not serious. This is because the fate of victims and families is not noticed by the government. Pram's reaction also received opposition from various parties. Especially from fellow former police officers on Buru Island.
They thought Gus Dur's move was quite good. In fact, his fellow writer, Goenawan Mohamad, also commented with Pram's attitude. Goenawan thinks Pram is wrong in taking a stand.
"Bung Pram, I doubt whether Bung will agree with that principle. Bung rejects the idea of reconciliation, as Bung stated in an interview with the Justice Forum, March 26, 2000, last week. Bung refused Gus Dur's apology. It's very easy, said Bung. I think here Bung is wrong."
There are several acquaintances who are like Bung, who have also been held captive on Buru Island, including in worse circumstances. They were saddened by Bung's statement. I am also sad because Bung has voiced a commotion of injustice. Precisely when talking about justice, "explained writer Goenawan Mohamad in the book After Revolution No More (2001).
---
The English, Chinese, Japanese, Arabic, and French versions are automatically generated by the AI. So there may still be inaccuracies in translating, please always see Indonesian as our main language. (system supported by DigitalSiber.id)