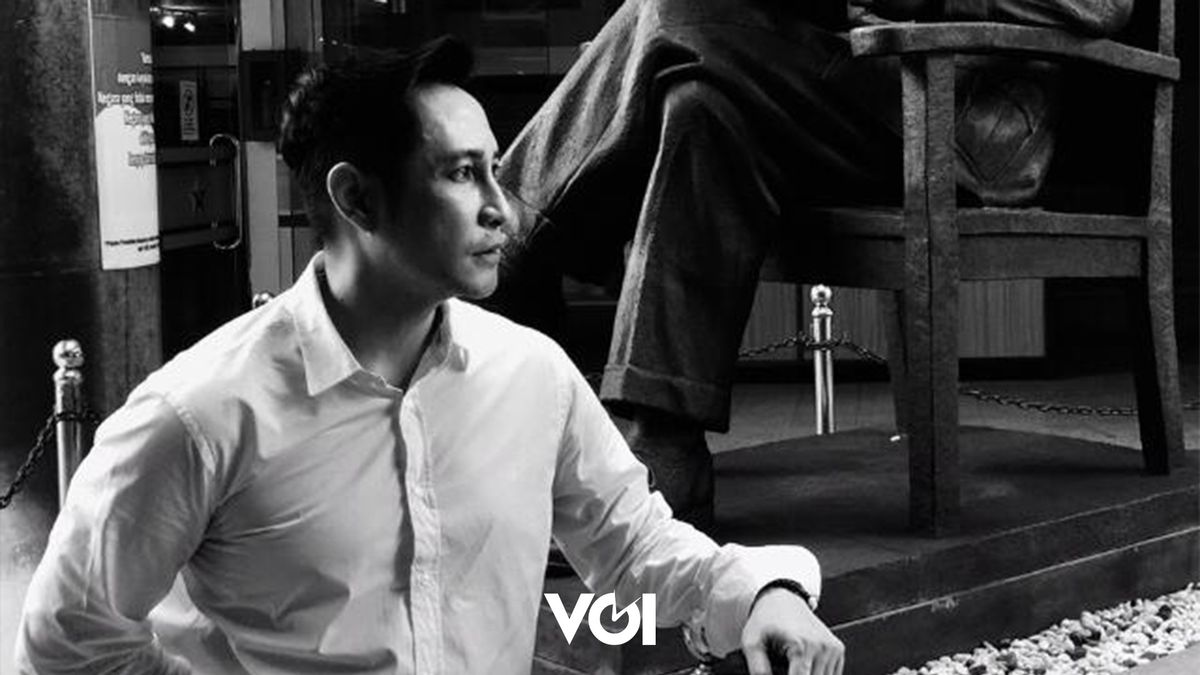 JAKARTA - After the King of Pura Mangkunegaran Kanjeng Gusti Pangeran Adipati Arya (KGPAA) Mangkunegara IX passed away last Friday, August 13, there was still no answer about who would continue the Mangkunegaran throne. The leadership position certainly should not be left vacant for too long. As the first son of Mangkunehara IX, GPH Paundrakarna Jiwo Suryonegoro became one of the replacement candidates.
After the 100th anniversary of Mangkunegaran's death, GPH Paundrakarna Jiwo Suryonegoro spoke with VOI about this.
"Responding to it must be wise, as wise as I am, the name also has a shortage of human names, even if I am angry I express it with anger. After all, anger doesn't last long, if it's released, let it go. I met the person concerned earlier At night, you have to meet, you have to face it, the name is gentlemen, you have to face it before you find out how the relationship is good or not, there is something wrong or okay or not, but everything is fine, because I'm dealing with it," said Paundra.
Paundra is efficient in speaking to the media. His wisdom was seen when he chose to 'retreat' to Solo even though his career in the entertainment world was very good at a young age. That wisdom is also seen in the way he maintains relations with other potential heirs to the throne?
"It's more about privacy, we meet in a traditional and official ceremony as you can see and your friends see, anyone in person. But if it's in your daily life, it's privacy, I want to be alone. if it's the same with mas Roy, because of brothers, brothers, yes, that's okay, I have no problems and everything is fine. And if there are other problems, I'm only talking about brothers who have blood with me, if you don't have blood, that's a different matter ," he said.
Paundra emphasized his position as the eldest son of his father's first wife. "I only have two brothers, me and my younger brother, who I love. And also to Mas Roy with his family, Mas Roy's mother is one of the bude that I love, so if it is related to my gut or blood, there is no problem, or If there is a disagreement, I can still tolerate it. If there is a difference in privacy, it is a different life," he explained.
As if to describe his position of being 'outcast' in his youth, Paundra openly admitted that he had long since given up. "I'm also not a child anymore, my sister and I already have a life and we can say for 30 years we have given up. Why? I finally made peace with myself, my father clearly has another life that I have to accept, understand and I face it, live it and I swallow it all myself," he recalled.
Apart from Paundra, there are two potential heirs to the throne, namely KRMH Roy Rajasa Yamin and GPH Bhre Cakrahutomo Wira Sudjiwo. When it was asked whether Paundra had a problem with the other potential successors to the throne, Paundra tried to divert attention.
"Actually there was nothing, just suddenly with the passage of time, yes, that's the clear bottom line, I've never had a problem," he said.
Because there was no clarity about who was the heir to the Mangkunegaran throne, it was reported that the Mangkunegaran family was not united. Not wanting to defend himself, Paundra tries to be wise in dealing with public opinion.
"It's okay, even though whatever happened was public opinion, last night I met with the person concerned, it's fine. Personally, I think we're fine, maybe it's like, what is the language, there are others whose language is mixed with cawe-cawe. Or they care so much, or feel so close, have their own support which makes them forget that Mangkunegaran is a big family that is actually fine. More or less the language, "he said.
Mangkunegaran has become a part of Paundrakarna's life. He was willing to leave the glittering career in Jakarta. The political path that served as Megawati's foster child was also willing to be released. If anyone questions how much he loves Mangkunegaran, Paundra does not have a definite measure.
"It doesn't have to be measured by how much I love Mangkunegaran, it's already in my breath and blood, literally and in a line of destiny or destiny. It's strange that I'm from an urban Jakarta man, okay, aged 25 to more or less 10 years, we know I'm wandering I went to Jakarta to be an artist and so on, finally in 2010 I got a mandate from Mrs. Megawati and Mr. Kiemas to go into politics and to accompany Mba Puan in Solo City as her electoral district, yes I have returned to the city of Solo, and that's it," he said. "Suddenly I separated from the world of politics, changing directions to stay in the city of Solo brought myself to be, I'm a Solo person, I'm a local person, I'm a local man, I'm a regional representative, I'm an artist, art worker, artist, dance artist, city dance artist Solo owns it and Mangkunegaran itself owns it," he continued.
SOLO CALLING HIM
The elder brother of Menur welcomes the public and those who judge. He himself felt Solo calling him.
"Anyway, I've literally been from middle school, it's really weird, not just from junior high school, I mean after elementary school, it's already Solo Solo Solo has been called. Solo is already old, that's just Mangkunegaran, Mangkunegaran, how delicious. Until finally I made a decision to Megawati's mother as my foster mother, my adoptive parents are Mah Pah, that's Papah Jiwo mas, and that's where the ingrained flesh from those who still go to Jakarta-Jakarta is still the main focus of the capital city, until finally oh I'm a local citizen, I'm proud to be a Solonese I am proud to be the Mangkunegaran people, I am proud to be the Mangkunegaran people," he said.
Since there are still two other candidates, there is a possibility that Paundra will not inherit the Mangkunegaran throne. If that happens, then what?
"I know but I don't want to say that when I talk about vision or what I feel like. I just don't want there to be a commotion that spreads or explodes. Even if I do, personally, I can choose between destiny and life. Personally, it's like that, ouch, because I'm not the type of person who has interests and pursues it as my goal, but that is a language, as my destiny, I really want to choose. if later, whoever it is, if I end up being just a GPH Paundrakarna JS, why not," he answered firmly.
As an ordinary human being, Paundra is not free from anxiety and discomfort. No matter how calm he is, Paundra once vented his feelings through social media so that he immediately became the gossip of netizens. Does his frustration have anything to do with Mangkunegaran's succession to the throne?
"No, I'm just annoyed with the conditions that I have to face, bro, it doesn't feel good, it's really not good, if people can pass the exam, they just have to move forward comfortably. the language, I just want to go there it doesn't really feel good, then what I'm facing is not friends but the humans I know, who are in my life. Why should there be them, "he explained.
The man who was born on April 19, 1979 has set his heart and soul for Mangkunegaran. If he ascends the throne, he wants to be a source of livelihood and welfare for the courtiers and the people of Pura Mangkunegaran.
"The Mangkunegaran for me is like the Vatican state, a small kingdom that survived and was given the opportunity and was given the ability to live in our present life. That is a picture of Mangkunegaran for me like the Vatican, a beautiful small country which in my language should be prioritized is yes. the society, the life, the welfare of the servants, basically the little people first," he explained.
Armed with his ability in the arts, Paundra is sure that he can elevate the degree of Mangkunegaran through culture. "If the case is already running, then what needs to be uploaded is tourism, of course, art, tradition, culture, youth, social and education as well as lessons. Learning from character itself will be transmitted to the community and anyone in the community." Pura Mangkunegaran, the term for me is Jowo jayang Jowone," he said.
He could not avoid succession is also part of politics. His destiny as part of the country's political family is also unavoidable.
"I can't stay away from myself after all, I am in the middle, from the Mangkunegaran blood. Indeed, in history, my mother and father married for political reasons too, making a child named Jiwo, one Sukma, and later if they have children the names are Paundra and Menur, the language is like that. Indeed, there is a history, basically there is a history, now this will be the people and culturalists and it is he who can think conscientiously and think clearly who judges and here we are also our work here has been judged by the experts make no mistake politicians and statesmen, culturalists too," he said.
"So yes, for me, as a community and Solo people and local people who have been running and have formed and formed myself so far as GPH Paundrakarna JS, that alone has made me between calm and not calm, but Alhamdulillah calm, InshaAllah, ' said Paandra.
Soekarno's blood flowing in his body also gave him confidence. "Anyway, whatever it is, whoever is taking part in it, it's fate, it's already a line and I can't stay away from it either, I'm still supportive, so it's clear that I'm proud, accomplished. What is clear is that the Soekarno family has achieved , said Paundrakarna.
---
The English, Chinese, Japanese, Arabic, French, and Spanish versions are automatically generated by the system. So there may still be inaccuracies in translating, please always see Indonesian as our main language. (system supported by DigitalSiber.id)