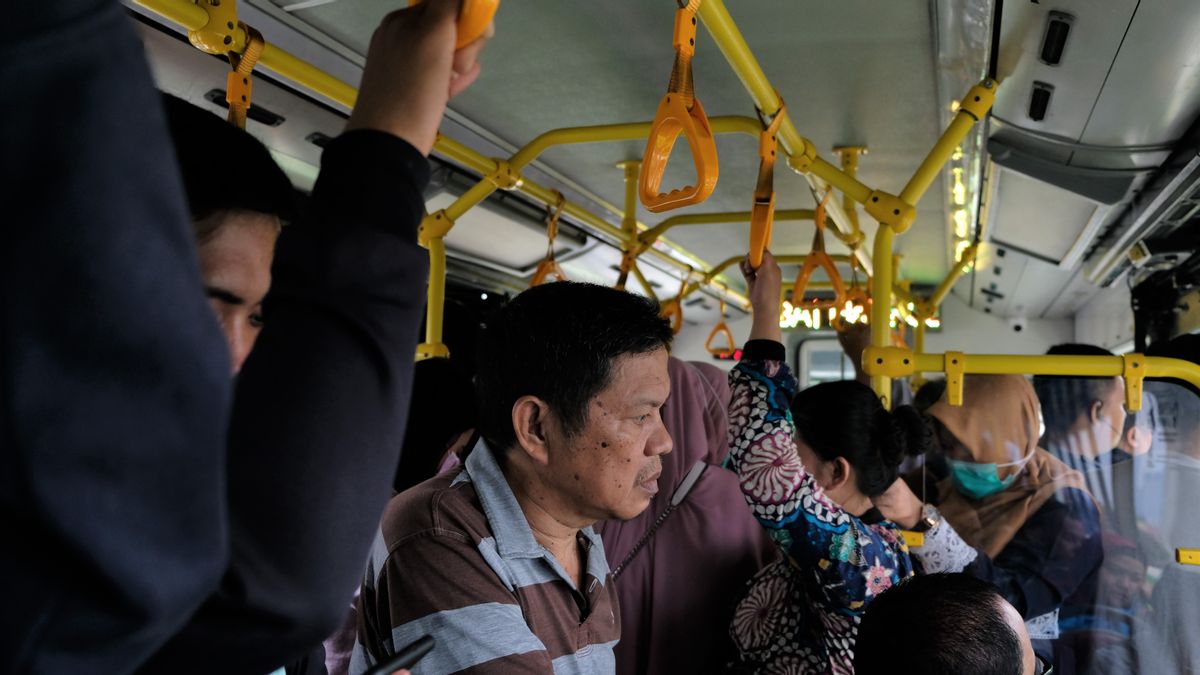 JAKARTA - Yesterday, we took the Bogor-Depok-Jakarta commuter line route to monitor how ready PT Kereta Commuter Indonesia (KCI) is to prevent the transmission of the corona virus or COVID-19. Apart from commuter lines, we also travel by TransJakarta buses. Our route for Adam Malik (Tangerang) -Pancoran Barat (South Jakarta).
Apart from commuter lines, TransJakarta buses are also the most widely used mode of transportation for the community. In December 2019, PT TransJakarta announced that the number of their service users exceeded 800 thousand passengers per day. If added together, this means that TransJakarta users reached 263 million over the past year.
"The accumulation of 2019 alone is a total of 263 million compared to 2018, 180 million. An increase of 40 percent," said President Director of PT TransJakarta Agung Wicaksono, written by Kompas.com, December 30, 2019.
[Click to Taste]
We arrived at Adam Malik Bus Stop, Ciledug, Tangerang at around 10.00 WIB. The flow of breadwinners was still quite busy at that time. Like what we monitored at commuter line stations, at Adam Malik Bus Stop, we also immediately looked for the presence of hand sanitizers. As a result, we immediately found hand sanitizer, just before the bus stop entrance.
The bottle is still quite full. We stayed at the bus stop, skipped two to three buses to observe the attitudes and behavior of TransJakarta users at the Adam Malik Bus Stop, how they responded to COVID-19. Based on our observations, within about five minutes, only five people sprayed hand sanitizer into their hands.
This behavior is quite annoying. This is because the officers at the entrance have actually advised those who will enter the bus stop to clean their hands first. However, on the other hand, the role of officers is not enough. Because, no body temperature scanning was carried out. There are minimal security procedures covering the officers. Nobody is wearing gloves. Only part of the masks were used.
This contradicts the statement of PT TransJakarta which states that it will ensure that every officer is provided with gloves and masks. This statement was conveyed by the Head of the Corporate Secretary and Public Relations Division of PT TransJakarta, Nadia Diposanjoyo, through a press statement we received on March 3, one day after the announcement of COVID-19 cases number one and two.
"Transjakarta management also ensures that TransJakarta special officers always clean the handgrip (bus handle) before leaving the depot and will be cleaned when customers drop off at the final TransJakarta bus stops," he said at that time.
Our bus came. We continued our journey to the West Rawa Stop. There, we found a hand sanitizer. The bottles are placed at the same point as at the Adam Malik Bus Stop: near the counter before the bus stop entrance. We found the same findings at the Tendean bus stop. The officers' completeness was the same. Nobody is wearing gloves. Those who use masks only partially.
Our trip was diverted to Blok M. At our final destination, Blok M bus stop, we did not find a hand sanitizer. There, we also found differences. At Blok M Bus Stop, we did not find any appeals on posters - or any other form - about preventing COVID-19. Regarding officers, their presence is not as many as at other bus stops that we have observed.
Community behavior
[Click to Taste]
Back hundreds of minutes before we arrived at the Blok M Bus Stop. We just got on the bus from the Adam Malik Bus Stop, and immediately realized that there was something wrong with people's behavior in responding to the transmission of COVID-19.
We agree on the calm. However, it should not be calm without vigilance as well. Cough ethics, for example. On the bus, we found a person who had a small cough along the way.
He did not wear a mask, nor did he apply the correct cough etiquette. We observe that every time he coughs, the young man just covers his mouth with his palms, without then cleaning his hands.
Interestingly, there was no significant response from the other passengers who sat and stood around the young man. The public needs to be more educated.
Return to Adam Malik Bus Stop. At the bus stop, we didn't just observe the availability of facilities and the readiness of the officers. There, we had time to monitor the counseling conducted by health workers from the Pesanggrahan Health Center, Kebayoran Lama, South Jakarta.
To passengers who were waiting for the bus - including us, the officers practiced the six steps of washing hands. They also educate the public about the ethics of coughing and sneezing in public places. It is important, considering what we saw on the TransJakarta bus shortly after the education at the Adam Malik Bus Stop.
"Cover the nose and mouth with the elbow. So there is no more cough or flu, cover it using normal hands, bare hands. If you want to cough or runny nose, or want to blow your nose, use a tissue. You can use your hands, but coated with a tissue first. Like this. Then if you want to cough, cough using the inner elbow. The inner elbow, then coughing, then coughing. After that, throw the tissue away, yes. Don't bag it, "exclaimed an officer, Dena.
Dena, said that this socialization had been carried out in recent weeks. They travel to many public places, from bus stops to schools. And their activities today at the Adam Malik Stop, carried out on full initiative. In fact, without cooperating with PT TransJakarta.
"We are currently socializing this to several points. Quite a lot, though. We go to schools, also to other places, government agencies, "he told VOI, Thursday, March 12.
Our trip that day rounded out one conclusion, that there are still many TransJakarta passengers who are not well socialized about the transmission of COVID-19. It can be seen from the ethics of a passenger who is coughing or the use of hand sanitizers that not many passengers do.
We interview a passenger. Ida, his name. Ida, who works as a private employee in the Tendean area, South Jakarta, said the socialization carried out by the Pesanggrahan Health Center officers was something she had just found at the Adam Malik Bus Stop.
"I just saw this (socialization). Maybe, for people who rarely listen to the radio or whatever, it might help. I often listen to the radio, so I always listen. El-Shinta always keeps updating, right? Said Ida.
In a way, there is a sense of anxiety within Ida. Lack of socialization will lead many people to the wrong behavior about COVID-19 transmission. And the more wrong behavior, the wider the potential for transmission of COVID-19. Therefore, he asked the authorities to intensify socialization.
"Socialization is important. In particular, in crowded places. At the mall. The mall is the most (crowd). We don't know. At Station. Yes, it's great if there is this kind of socialization. If possible, use mask movements too. No problem, give me a mask. Add concern. Masks are hard to find, right? Many people don't care about health like that, just ignore it, right, "he said.
---
The English, Chinese, Japanese, Arabic, and French versions are automatically generated by the AI. So there may still be inaccuracies in translating, please always see Indonesian as our main language. (system supported by DigitalSiber.id)