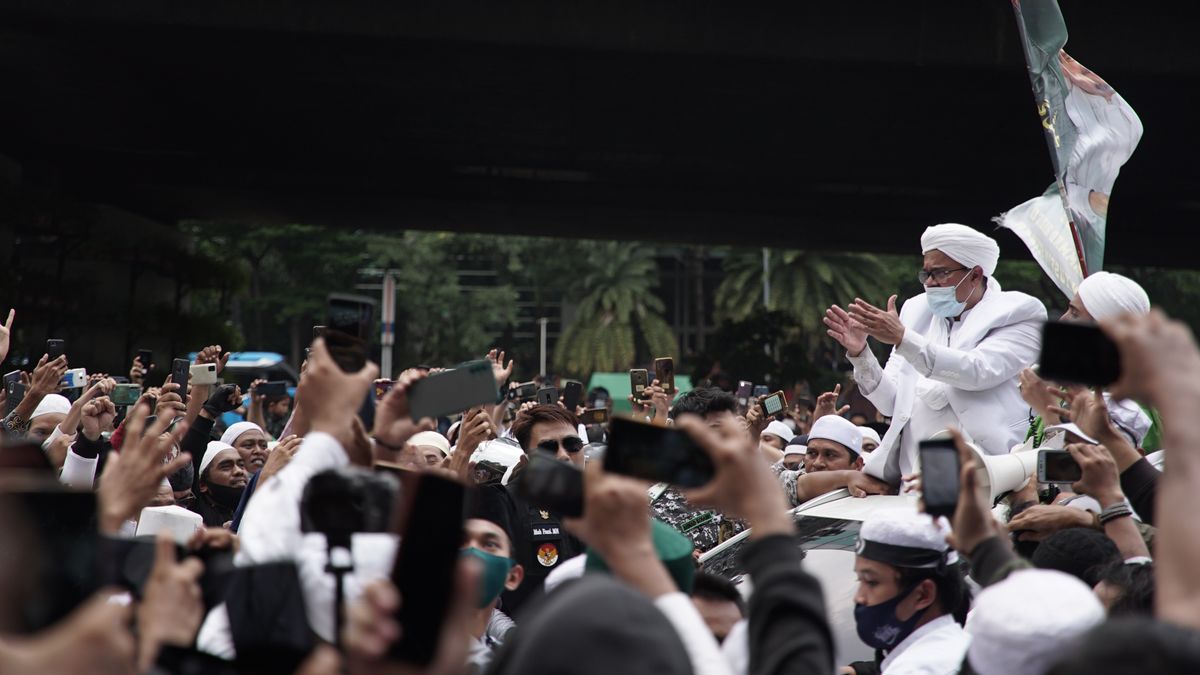 JAKARTA - Zubair (50) spent the night in Petamburan, Rizieq Shihab's residence. He is not alone. A number of mobs slept with him there. The return of Rizieq Shihab, who became an FPI figure, was a big moment for them, Rizieq's followers. Each of them made various kinds of sacrifices. We were present in the midst of the crowd welcoming Rizieq's return, looking for answers to big, common questions, what kind of question is Rizieq to his followers? What are the reasons for their loyalty?
[Click to Taste]
Tuesday morning, November 10, around 08.00 WIB, we arrived at Rizieq Shihab's residence on Jalan Petamburan III, Petamburan, Central Jakarta. There, a mass of supporters of Rizieq had gathered, flooding the shoulders of the road on the left and right. There are so many.
And we know that the crowd here wasn't the only thing that formed that morning. We also realized that today Petamburan will become a sea of people. Not without reason. At Soekarno-Hatta Airport, Tangerang, Banten, other groups of supporters of Rizieq were also present in large numbers. They pick up Rizieq and will escort him to the residence.
At Petamburan, a parade of banners and posters was scattered. One of the contents of the message we found read: Welcome back to our country, the Grand Imam of Al Habib Muhammad Rizieq Shihab. The residents of Slipi are ready to welcome & escort your return and become the guardians of the 'moral revolution' and 'ahlan wa sahlan ya habibana'.
Time elapsed. The masses are growing. They come by motorbike, private car, and bus. It can be seen from the writing - a written paper stamp from the city or the direction sign - on the bus, they are a mass wave from outside the city. Other buses showing similar signs have actually been seen since we arrived at Petamburan.
As expected. A number of people from outside the city that we met admitted to staying around Rizieq's residence. Zubair, for example. He came from Madura with the regional Islamic Defenders Front (FPI). Departing Sunday evening, November 8 by bus, Zubair and his entourage arrived at Petamburan Monday night, November 9, at 20:20 WIB.
Another, Untung also traveled a long way to get to Rizieq's residence. Untung departed from Lampung on Monday afternoon. In the evening, he and his group from the Lampung FPI arrived at Petamburan. Like Zubair and his entourage, Untung and his colleagues from FPI Lampung were staying at Rizieq's residence.
It was 9:30 a.m., when the human hubbub began to talk about Rizieq's arrival at Soekarno-Hatta Airport. Rizieq's plane is said to have landed that second. The crowd of pick-ups has also become a social media spotlight. Rizieq was welcomed by so many people. Human-congested airport situation. The road to the airport was totally congested and caused several flights of delays of up to three to four hours.
The sun was getting higher, Rizieq's supporters came to Petamburan more and more. Around 12.00 WIB, the drumben group began to be alerted. Firecrackers are ready to be lit. In Betawi culture, firecrackers are usually installed to mark a big celebration or event.
At 13.03 WIB, things got busy. Laskar FPI regulates traffic. They gave directions to the masses to immediately avoid the road. Before long, a white SUV appeared. Kumandang salawatan boomed in the crowd, as chants of "Allahuakbar, Allahuakbar."
From our observation, a number of the crowd seemed to cry, especially when Rizieq appeared through the sunroof, when the car carrying him was getting closer to the crowd. The crowd greeted Rizieq by approaching the car. Crowd density stopped Rizieq's car.
Rizieq then got out of his white SUV and moved into the command car. From the top of the car, Rizieq said his greetings back to his followers. From the top of the command car Rizieq also exclaimed: Let's join the moral revolution!
Rizieq in their eyes
"A moral revolution for the safety of the Republic of Indonesia, in order to achieve a blessing Indonesia. Do you agree with the moral revolution? Ready for a moral revolution? To all Muslims, now we have a moral revolution, those who were initially disobedient had to become obedient. Agree? We move from immorality to obedience, agree? We move from bad deeds to good deeds, okay? We crush all injustice, agree? We crush all corruption, okay? Brother, the moral revolution will take us from lying to being honest, agree? From treason to trust, agree? Ready for a moral revolution? " exclaimed Rizieq, greeted by the cheers of his followers.
At the end of his speech, Rizieq asked his followers to return to their respective homes safely and peacefully. He also again called on his followers to implement a moral revolution in life. Rizieq also promised to go back around to preach.
Return to Zubair and Untung. To us, both of them revealed the picture about Rizieq in their eyes. Zubair said Rizieq was a special figure for Muslims. In the context of a state, Zubair describes the figure of Rizieq as a national son who is capable of being an example. Rizieq's return, for Zubair, is the end of the exemplary crisis experienced by the Indonesian nation today.
"Our aim here is only to show that he is a special person. For us Muslims, are people who, sons of the Indonesian nation who are so good and can be used as examples of their morals. Our hope is to become a better Indonesia," said Zubair.
Fortunately, it's the same. He called Rizieq's return to Indonesia a role model. In Untung's eyes, there weren't many people like Rizieq. Rizieq's firmness and consistency in addressing a matter cannot be shown by other figures in this country. The thing for Untung he missed a lot.
"What is clear is that we, the FPI group from Lampung, left yesterday morning to wait in Jakarta with just a hope, conveying a sense of longing for Habibana Rizieq bin Shihab. Because whatever happens, besides he is our imam, our role model, our teacher and the only person who is our hope for a better Indonesia, "said Untung.
Even so, both of them refused to answer when we asked about Rizieq's figure, who is often caught in legal cases. Both, although met at different times and points, called this a matter that was too sensitive.
Rizieq Shihab is a controversial figure. Before going to Saudi Arabia in 2017, Rizieq was caught in a number of legal cases in Indonesia. Starting from his lecture at Pondok Kelapa and his remarks about Soekarno and Pancasila in 2016, the SARA report by Solidaritas Merah Putih in 2017, to the case of pornographic content in the same year.
Other Flavors of Journalism
---
The English, Chinese, Japanese, Arabic, and French versions are automatically generated by the AI. So there may still be inaccuracies in translating, please always see Indonesian as our main language. (system supported by DigitalSiber.id)