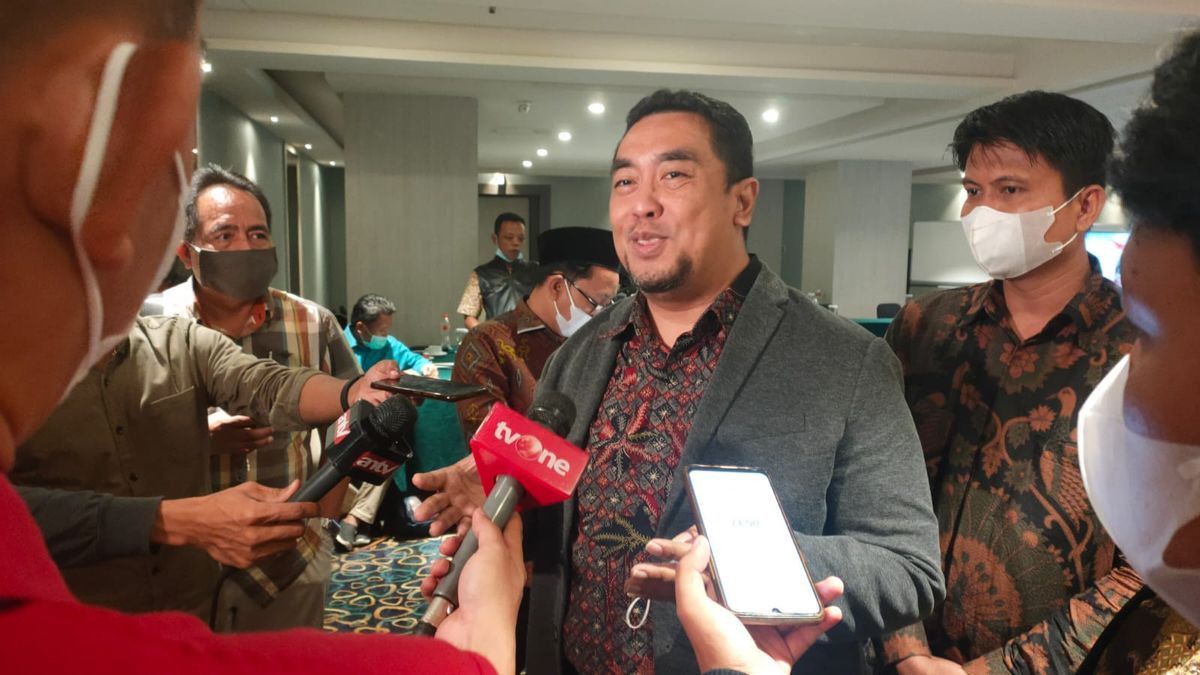 JAKARTA - In an effort to reduce traffic congestion in the capital city, the Provincial Government (Pemprov) of DKI Jakarta plans to implement Electronic Road Pricing (ERP) or paid road policies in a number of sections in the metropolitan area. However, the implementation of this ERP actually resulted in a polemic among online transportation drivers, both taxis and online motorcycle taxis (Ojol).
Secretary General of the Indonesian Rental Fleet Association (PAS Indonesia), Wiwit Sudarsono, expressed his objection to the policies issued by the DKI Jakarta Provincial Government regarding the plan to implement a paid road or ERP.
Ojol's refusal was supported by community leaders who are also social observers as well as the Head of NU PC Jakpus, Syaifuddin, ME.
According to him, as a member of the community, he felt the rejection, even the objection was considered reasonable because it was very detrimental to online transportation drivers.
"Currently, Go Car and Grab drivers have been harmed by the odd-even policy, and there has been no adjustment to online transport rates affected by the increase in fuel (Bakar Oil Village), now it will be limited again with a paid road policy or ERP," said Syaifuddin, who is also the supervisor of the GS-One ojol driver association, contacted Friday, February 3.
With this policy, continued Syaifuddin, the income of online transport drivers will automatically decrease drastically, due to the reduced number of online transportation users, both online and secondary, due to the cost burden they spend.
"Until if users don't want to spend additional costs on paid roads and are charged to the driver, of course it will reduce our income."
For this reason, Syaifuddin requested that the policy be canceled by the DKI Jakarta Provincial Government and at the same time requested that the DKI Provincial Government be willing to find other ways to overcome congestion in the capital city.
"On the basis of empathy for all online transportation drivers, both online motorcycle taxis and taksionline, of course I hope that the Provincial Government will cancel this unpopular policy, and look for other ways to overcome congestion in DKI," he said.
There are four regional criteria that ERP can apply, including the level of density or comparison of motorized vehicle traffic volume with road capacity on one of the roads equal to or greater than 0.7 at peak/busy hours.
Second, in an area that has two lanes and each lane has at least two lanes. Third, in an area that can only be passed by motorized vehicles with an average speed of less than 30 km/hour at peak hours.
Fourth or lastly, there are networks and public transportation services in routes that comply with minimum service standards and statutory provisions.
The criticism of ERP's policy plan also came from a number of other activists, including observer Amir Hamzah, who assessed that ERP's policy only gave birth to discrimination because the road would only be able to pay for it. People who can't afford to pay can't cross the public road. This is truly economic discrimination.
In fact, continued Amir, the road is for the public, not for the rich and not for the rich.
This is also the same with the ojol driver in the demonstration against ERP that by applying ERP, the road is for officials and rich people.
Amir added that the people who own vehicles have paid taxes, paid if they take care of a driving license (SIM). This means that they have the right to cross a road that is built with public money, taxes.
"Why do people have to pay again when they cross the road," Amir asked.
Furthermore, Amir emphasized, the implementation of ERP to overcome traffic jams is not the right solution. Instead, what happens is to move traffic jams only.
This means that certain roads that do not apply ERP will cause more severe congestion because they are the estuary of vehicle drivers who avoid the ERP route.
For this reason, Amir continued, do not create policies that only create injustice and produce discrimination.
---
The English, Chinese, Japanese, Arabic, French, and Spanish versions are automatically generated by the system. So there may still be inaccuracies in translating, please always see Indonesian as our main language. (system supported by DigitalSiber.id)