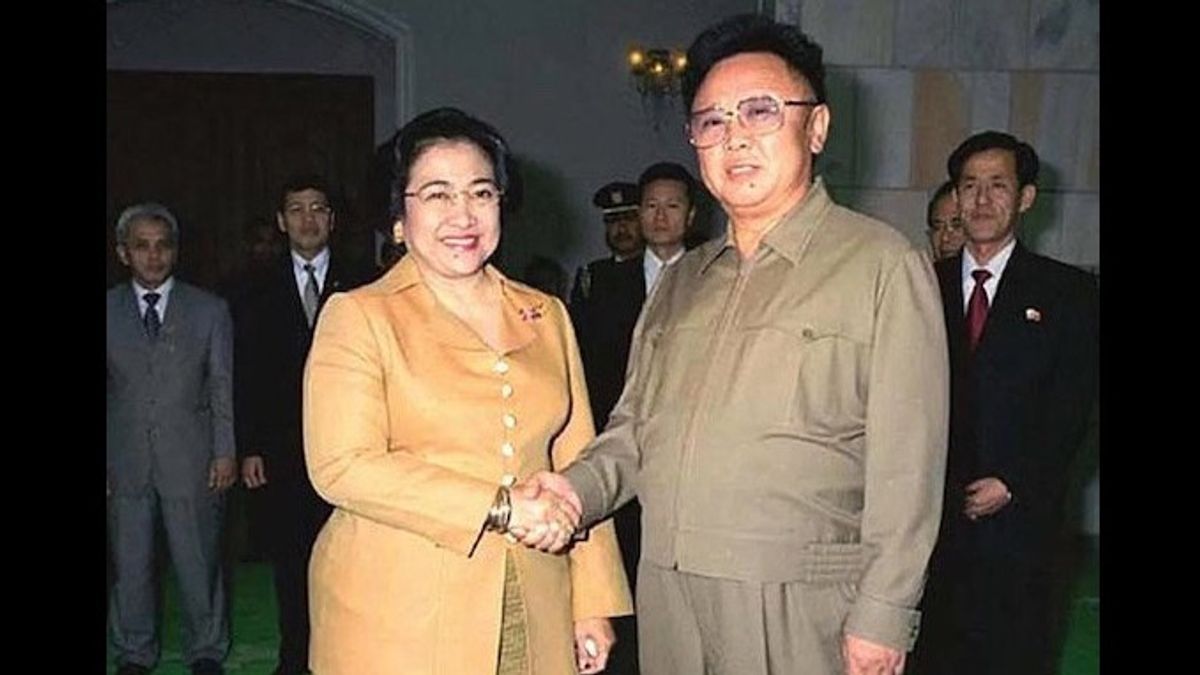 JAKARTA Memories of today, 21 years ago, March 30, 2002, President Megawati Soekarnoputri ended her visit in North Korea (North Korea). Megawati and her entourage then continued their journey to South Korea (South Korea). The trip was deliberately carried out in order to reconcile the two countries.
Previously, Megawati's arrival to North Korea was greeted with great fanfare. He was treated with specialties. Moreover, Megawati is the second Indonesian President to step into North Korea after her father, Soekarno.
Bung Karno's greatness in establishing an intimate relationship with world leaders is second to none. Big Brother was even able to build emotional closeness. Including the great leader of North Korea, Kim Il Sung.
Bung Karno did not hesitate to visit North Korea in 1964. He was greeted with great fanfare. Instead of just inviting Bung Karno to go around North Korea alone, Kim Il Sung also gave the title Honorary Doctor Causa in the field of Political Science from Pyongyang University to Bung Karno.
The awarding of the title made Bung Karno happy not to play. He immediately invited Kim Il Sung to visit Indonesia. The pinnacle of being loved by scholars arrived. Soekarno's invitation was not wasted by Kim Il Sung. The North Korean leader replied to Soekarno's visit by visiting Indonesia in 1965.
Soekarno hosted him to the fullest. After all, the visit coincided with a decade of the Asian Africa Conference. He also invited Kim Il Sung to the Bogor Botanical Gardens. There, the North Korean leader was given a special gift. An orchid flower by Soekarno is called Kimilsungia. A symbol of the warm relationship between Pyongyang and Jakarta.
"In fact, until now North Koreans regularly hold the Kimilsungia Festival every April 15 to commemorate Kim Il Sung's birthday. Kimilsungia is an angrek flower named after the leader of North Korea by President Soekarno as a gift when Kim visited the Bogor Botanical Gardens in 1965," said Michael Wicaksono in the book War Korea: The Longest Conflict of Two Brothers (2020).
The warmth of relations with North Korea-Indonesia continues to be maintained, even though Soekarno has passed away. North Korean leaders consider Indonesia to be a friendly and special country. This narrative was proven by Megawati's three-day visit to North Korea from March 28 to 30, 2002.
Megawati was greeted with Gegap Gempita by the Great Leader of North Korea, Kim Jong Il (Kim Il Sung's son, Bung Karno's best friend). Special respect was given to Megawati. Because Megawati is the second Indonesian President to go to North Korea after Bung Karno. Kim Il Sung even went to Megawati's place to stay, Wisma Negara in Pyongyang. The two of them spoke privately. Megawati then did not forget her mission to reconcile the two Koreas: South Korea and North Korea.
Megawati Soekarnoputri's suggestion was received by Kim Il Sung by stating her intention to have a dialogue with the South Korean leader. Megawati was then invited to tour North Korea and enjoy various arts. The visit ended on March 30, 2002. Megawati immediately traveled to South Korea to bring a message from Kim Jong Il to the President of South Korea, Kim Dae Jung.
The understanding of a leader about foreign politics also determines the success of foreign politics. Mrs. Megawati is close and has feelings about foreign problems. As the president's son, he witnessed how Bung Karno attended the international forum to accept heads of state/government as well as foreign ambassadors in Jakarta.
Concrete examples, Mrs. Mega has a good relationship with Kim Jong Il because when President Kim Il Sung, Kim Jong Il's father from North Korea visited Indonesia, Kim Jong Il accompanied her father. When Megawati became President of the Republic of Indonesia and Kim Jong Il became the leader of North Korea, it was normal for the two leaders to bring close relations between the two countries, "explained Indonesian Foreign Minister Hassan Wirajuda (2001-2009) in the book The Brave Lady: Megawati in the notes of the Gotong Royong Cabinet (2018).
---
The English, Chinese, Japanese, Arabic, and French versions are automatically generated by the AI. So there may still be inaccuracies in translating, please always see Indonesian as our main language. (system supported by DigitalSiber.id)