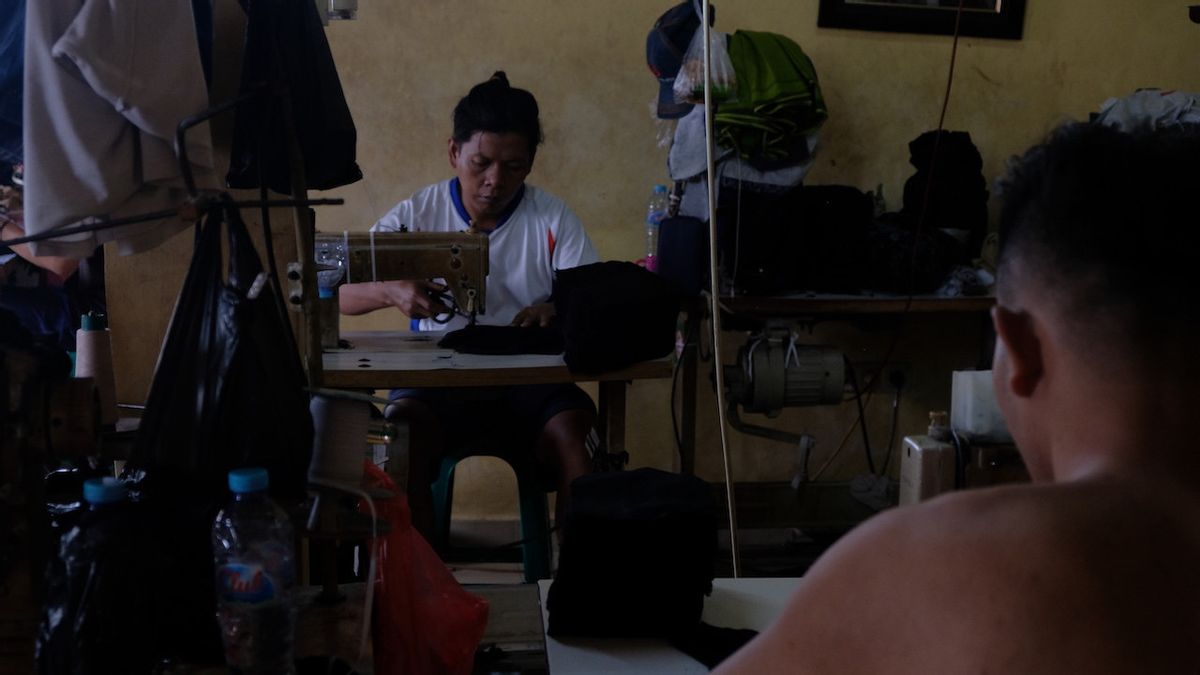 JAKARTA - In today's era, running a convection business is becoming more and more challenging. First, about the COVID-19 pandemic. Second, about the swiftness of cheap Chinese imported products. The challenge is so tough, for convection entrepreneurs to tailors. We visited the Kota Bambu convection area in Palmerah, Jati Pulo, West Jakarta to see first hand how this pressure was taking place.
[Click to Taste]
Tuesday, February 2, at 14.00 WIB, we arrived at the location. In this area we found dozens of convection businesses that produce various kinds of clothing and accessories, including various types of headscarves: ciput bandana, ciput ninja, to ciput turban.
This area is a densely populated area in Jakarta. The rows of convection businesses stood between the narrow alleys the size of a motorcycle. "Welcome to the village of literacy," read the mural we saw on the wall when we entered the crowded area of Kota Bambu.
All around, children are playing. Mothers exchanged stories. And to be sure, the stretching of the live food traders passing by. After parking the motorbike at An-Nur Mosque, we entered a convection house called Khanza, which produces headscarves and various accessories. The Khanza convection house consists of three floors. Pretty big size here.
A man greeted, asking the purpose of our arrival. Mahabrata, his name. He is the owner of the Khanza convection. For Brata, convection is a hereditary business. Her family has started a tradition of the convection business since the early 2000s.
Our conversation with Brata took place amidst the performance of the sewing machines whose voices you can hear. Brata, who has started a convection business since 2010, revealed how hard it is to run his business now. There are those who survive, there are those who reduce the risk by reducing production. And the most adaptative ones are those who swipe online.
The first pressure from this endeavor is the COVID-19 pandemic, as experienced by other businesses. The COVID-19 pandemic is making them fall. Second, what is more specific and makes them fall on the ladder is the heavy import of cheap textiles from China. Brata's almost gone. He, who originally owned three convection houses, now leaves one with six employees who have his pulse.
"The government should be able to regulate the regulations, prices. He determines the market. If there are imported goods from outside, how does the government regulate the price between local traders and foreign traders is not that much different. So we can compete there. What if the imported goods cost IDR 1,500 to IDR 2,000, (meanwhile) we buy our own materials, sew it ourselves. We still have Rp10 thousand in capital, how can we compete? " he said.
Brata's suffering goes down directly to the tailors. Those who previously received a weekly wage of Rp. 2.5 million now only have Rp. 500 to Rp. 600 thousand. One of the tailors, Ruslan shared his restlessness.
The man who had traveled far from Palembang realized that the sales of convection items were dropping drastically. That is the cause of the decline in production, which of course has implications for his income. Ruslan admitted that in the past he used to sew up to hundreds of pieces of material per day.
Ruslan said, they really need policy and regulatory support from the government. It's nothing, Ruslan as an actor in the convection industry has observed that in terms of quality, their goods are not inferior to imported goods. However, the price difference is too far to make them bite their fingers.
The same thing was revealed by another tailor, Abdul. The man from Pekalongan revealed the same thing. Indeed, he is much more optimistic than others. He believes that the convection business can survive all the challenges that exist. But, without government support, it's hard.
"For the tailor, it depends on whether the convention is crowded or not. If it is crowded, it can beat people who are paid the UMR. That's a plus if it's crowded. Beat people who are paid monthly. The bad thing is, if it's quiet, this is confused about what to do, "Abdul.
Build a convection business
Back to the story of Brata. He explained how the ups and downs of building a convection business. The answer is so 'Godhead'. Spiritually, he believes that the convection business is God's way for him and most of his family members. He was sure that with God's permission he could survive. However, as the tailor said, Abdul: it's heavy.
Brata started his convection business from opening a shop in Thamrin City. At first he was just a seller. He supplies his merchandise from other producers. The business grew so that Brata was involved in the production field.
"On that trip, my other brother was invited again. So, the family was withdrawn one by one from Palembang, from Sumatra. Pull one, pull one. Until the last time I entered. In 2010 I entered, the business was not bad. It means (our family) has dared to rent a shop. Yes, all families. We don't have trust in people. Not that you don't want to. But because there are many of our families who don't have work. So, just invite my family, "said Brata.
Brata and his family built their business ecosystem, which is small but independent. All the shops run by the Brata family only supply goods that are produced by their own convection houses.
Even starting that was not an easy step. In the early 2000s, only two family members started: mother and eldest brother Brata. Slowly, the business was extended to the older sisters of Brata and Brata themselves.
There is one thing that according to Brata makes his family business progress: taste. Brata and her family are sensitive to monitor the development of fashion items. According to Brata, this is the way to glory.
At its peak, Brata had three convection houses with 70-80 tailors, including butchers, folders, and packers. Brata's profits have increased many times over.
Brata has a physical shop in Thamrin City to sell goods directly to consumers. Speaking of profit, wholesale sales can reach 40 million on market days (Monday to Thursday).
Outside of market days (Friday and Saturday), his retail sales generate profits of IDR 5 to 6 million. Now, it's down drastically. From Rp. 40 million, now his income on market days ranges from Rp1 to Rp. 2 million.
OTHER TASTE JOURNALISM
---
The English, Chinese, Japanese, Arabic, and French versions are automatically generated by the AI. So there may still be inaccuracies in translating, please always see Indonesian as our main language. (system supported by DigitalSiber.id)