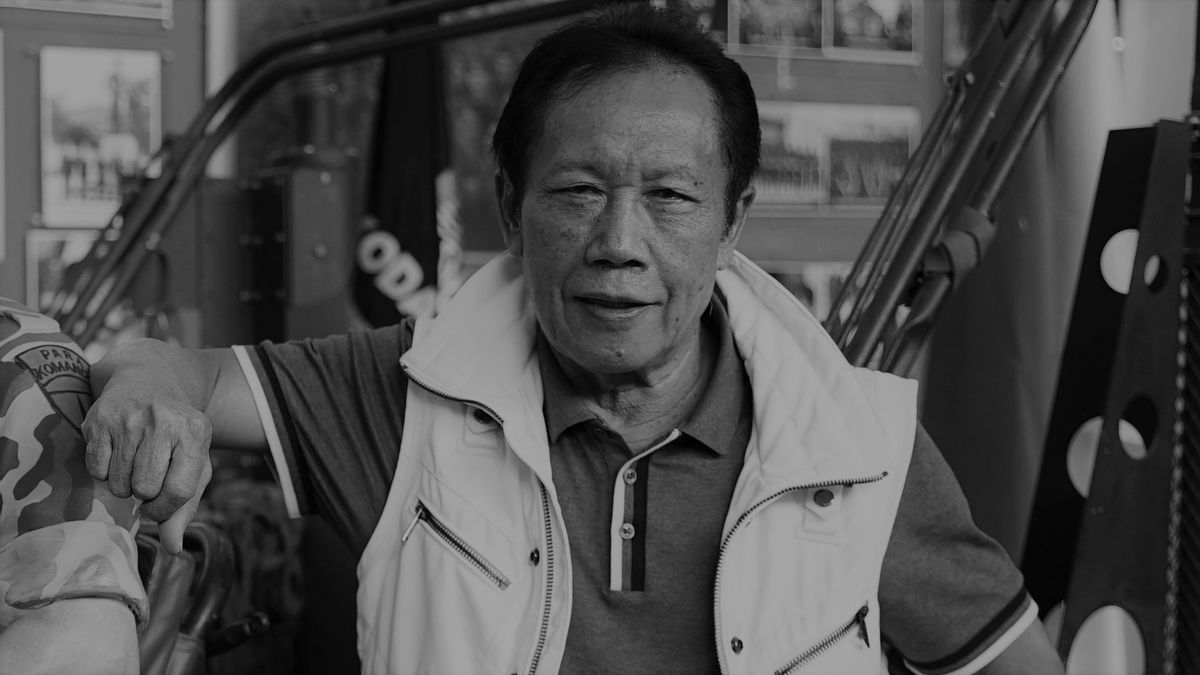 Sutiyoso in East Timor in 1974 to undergo reconnaissance operations. Sutiyoso was alone at that time. In 1975, he returned to a larger scale operation: Operation Flamboyant. From 1997 to 2007 Sutiyoso served as the Governor of DKI Jakarta. He went through many other service careers, until he ended up as Head of the State Intelligence Agency in 2016. There is one common thread about Sutiyoso and the various career achievements he has had: his ability to analyze problems.
One night at the end of 1974, Sutiyoso was summoned to meet General Benny Moerdani. Sutiyoso, who at that time served as Head of the Intelligence Section of Kopassandha Group II - now Kopassus - was ordered to carry out secret reconnaissance missions into the East Timor region to find points that could be entry points for subsequent operations.
Sutiyoso then left for Atambua, an area on the border of Timor Timor. Sutiyoso alone. Disguised as a civilian, Sutiyoso was only equipped with a small gun and binoculars. During the mission, Sutiyoso faked his identity as a student. Once upon a time, Sutiyoso was a porter.
"But then from the investigation I got an opportunity to go undercover to enter their area (East Timor). Even though I was actually not allowed by Pak Benny to enter. But I do," said Sutiyoso to VOI, Saturday, February 27.
Our conversation and Sutiyoso took place inside the Bang Yos Museum. The museum is located in his residence area on Jalan Kalimanggis Number 100, Jatikarya Village, Jatisampurna District, Bekasi City, West Java. In this museum, all of Sutiyoso's journey is shown. Through this museum, Sutiyoso wants to tell stories as well as make an impact.
"Yes, I see. There are various ways people tell the biography, I think, yes. Some tell stories, some make books, yes, yes. I tried other ways. The ones that are simpler and easier for people. Easy to follow. . No need to read the book for a whole day or two. It's an hour to understand who I am. "

Sutiyoso
Return to Sutiyoso's covert reconnaissance operations in East Timor. One day he managed to enter the Batu Gede area, East Timor by infiltrating a group of civilians. The group headed for Market Day. Sutiyoso said, every Market Day, border officers are used to opening access to Batu Gede for the wider community.
"We can enter the group, by bringing a certificate from the local post. From the border. So, I'm with them. And they don't even know who I am. I've also disguised myself from them."
"So, at the end of his journey, despite the very dangerous twists and turns there, I was finally able to escape and get a lot of information."
Sutiyoso at Operation Flamboyant 1975
Sutiyoso's covert operation paved the way for a larger scale operation: Operation Flamboyant. In 1975, Kopassus sent three teams of one hundred soldiers. The three teams became known as "The Blue Jeans Soldiers." The three teams were coded Susi, Umi, and Tuti.
They were assigned to infiltrate East Timor to recruit local militias and prepare bases for large-scale military operations. Sutiyoso is on Umi's team. Sutiyoso said that at that time Benny Moerdani gave four instructions to the entire team. First, the operation is confidential.
"This is a briefing from Mr. Benny Moerdani, here. One, you are entered in secret. Therefore this operation cannot be leaked. Therefore, you cannot say goodbye to your family where you are going. Please say goodbye but elsewhere."
"This operation is secret. So if any of you are caught, we will never admit who you are. I see."

Sutiyoso
Benny Moerdani's third instruction was that each team member must use a pseudonym that is identical to the East Timorese. It was then that Sutiyoso chose the name Manik, which according to Sutiyoso was taken from the name of a person on the border. The name manik was later modified by Sutiyoso to "Manix." From there Sutiyoso became known as "Captain Manix."
"You were given a lot of cover lists, right. There was Suarez, there was Alfonso. The names were there. So, there was a name called Manik. The bead was the name of the person at the limit. I took it, Manik. Then I didn't change the Manix to the cool one. Back then there's a spy film series, Manix. "

Sutiyoso
Benny Moerdani's final instructions to the team at the time were:
"If any of your men get injured or slow down your movement, you just finish it ... Yes, be killed," he said.

Sutiyoso
However, the instructions were not actually carried out. Sutiyoso said that one day, four of his members were hit by gunshot wounds. However, Sutiyoso did not follow Benny Moerdani's instructions. He took another option. All of its wounded members were evacuated by helicopter. Sutiyoso described the evacuation process as an extraordinary event.
"And it was a very spectacular evacuation because under siege by the enemy, I could ask our helicopter to land. The helicopter was civilian, we rented it. I remember very well, the pilot's name was Bambang Irawan. It was from Pertamina we rented it first. And he succeeded. my men, I saved. "

Sutiyoso
"Of all the operating experiences, this is the most unique, yes. Because a soldier, myself and my men, was assigned to risk his life, I must hope, thank God for life, even if I die, I will get an award as the pride of my children later. -boro award. Whoever we are not admitting. So it's morally tough too. But we have to realize, that is special forces, in carrying out intelligence tasks like that. "

Sutiyoso
Sutiyoso went to GAM headquarters
In the decades since, Sutiyoso underwent a number of other operations, either as a combatant or on an intelligence mission. During the reign of President Joko Widodo (Jokowi), Sutiyoso was appointed Head of the State Intelligence Agency (BIN) in July 2015. Sutiyoso recorded many achievements during his tenure.
What is most memorable is how Sutiyoso invited the Free Aceh Movement (GAM) leader, Nurdin Ismail alias Din Minimi to reconnect with the community. No gunfire, not to mention blood. To us, Sutiyoso shared details of his diplomatic approach to Din Minimi, including the trips he took to the GAM headquarters, even to Din Minimi's hometown.
Sutiyoso said, since he was appointed as Head of BIN, he has immediately made an inventory of a number of problems. Din Minimi is one of his focuses. Din Minimi was then one of the most wanted rebels. Sutiyoso's first contact with Din Minimi was made by telephone. Communication continued continuously until Sutiyoso invited Din Minimi to meet.
Din Minimi agreed to hold a meeting. The two agreed on 28 December 2015, with the location for the meeting determined by Din Minimi: GAM headquarters, Din Minimi's hideout. Sutiyoso then coordinated with TNI Commander Hadi Tjahjanto and the National Police Chief, who at that time was Badrodin Haiti. Sutiyoso asked the TNI or Polri to order the troops on the front lines of the battle not to move.
"To be honest, from my operating experience, what I fear the most is that I will be caught by our own troops. That's what is dangerous. Because we just disguise the clothes like this. Not wearing military attributes, right?" Said Sutiyoso.
The journey was carried out. Sutiyoso and his aide and bodyguard moved away from Lhokseumawe in the direction determined by Din Minimi. "Left of rice field. Right of rice field. But it looks like there is a small island there. It turns out that the motorbike came out of there wearing a white shirt. Then he did this (gestured to be followed) right?
From there, the journey through the forest took four hours, until Sutiyoso and his entourage arrived at Din Minimi's camp. In his first meeting with Din Minimi, Sutiyoso explored the telephone conversations they had previously had. Sutiyoso emphasized that the government is ready to accommodate all of Din Minimi's requests.
"For example, asking to be taken care of orphans from GAM. This is all regional affairs. Then these GAM widows do not go out. Anyway, that's it. Then go there to check whether there is corruption."
"It looks like there is a conflict, there is a gap with the regional government itself. In fact, the regional government itself is mostly GAM. The governor is a GAM person. Then he asks that later in the elections, the progress of governors, there is a special team so that there is no intimidation. all kinds, right?
"There is only one thing that we really have to give amnesty to Din Minimi. Amnesty is a common practice. Rebels who voluntarily surrender, give amnesty, forgiveness. He will not be imprisoned. But he will never be given twice. never before. Therefore there is no trouble for us. "

Sutiyoso
Despite all this, Din Minimi and his group of 120 people have also been experiencing logistical difficulties for a long time. Of all group members, 40 of them were assigned to villages to look for logistics. Another 40 people served as intelligence. And 40 others, combatants. Sutiyoso read this situation well, who then asked Din Minimi a question.
"'How long have you not been home?'" Sutiyoso demonstrated his conversation with Din Minimi.
"'It's been four years, walk five, sir.'"
"'Don't miss you and your family?'"
"Wow, sir. I want to see how big my child is," said Din Minimi, to which Sutiyoso responded. "How about we continue this meeting at your house?"
Din Minimi was shocked, questioning his safety and the group if he had to go down the mountain. Sutiyoso also convinced Din Minimi by guaranteeing his safety. Din Minimi agreed. The journey began using a rental truck. All members of the Din Minimi group joined the trip. Several hours, the group arrived at Din Minimi's residence.
Sutiyoso witnessed a dramatic scene of how this long-separated family finally met again. It's tough for this family, especially the mother. Din Minimi's father was a GAM combatant who had died. Din Minimi then and his younger brother followed in his father's footsteps as combatants.
The name Minimi was adopted from the Belgian production of submachine guns. The weapon is tough, depicting the figure of Din Minimi. An agreement was finally reached between Sutiyoso and Din Minimi, with Sutiyoso promising to accommodate all of Din Minimi's requests, including amnesty.
"His short story about Nurdin is all going well. He returned to the village and the weapons were handed over. Even now I hear that his son Nurdin has joined the TNI to become a non-commissioned officer. Alhamdulillah I am very happy. Just to be honest I am very disappointed because until now the amnesty has not been granted. Even though there is no problem at all.

Sutiyoso
INTERVIU Other
---
The English, Chinese, Japanese, Arabic, French, and Spanish versions are automatically generated by the system. So there may still be inaccuracies in translating, please always see Indonesian as our main language. (system supported by DigitalSiber.id)