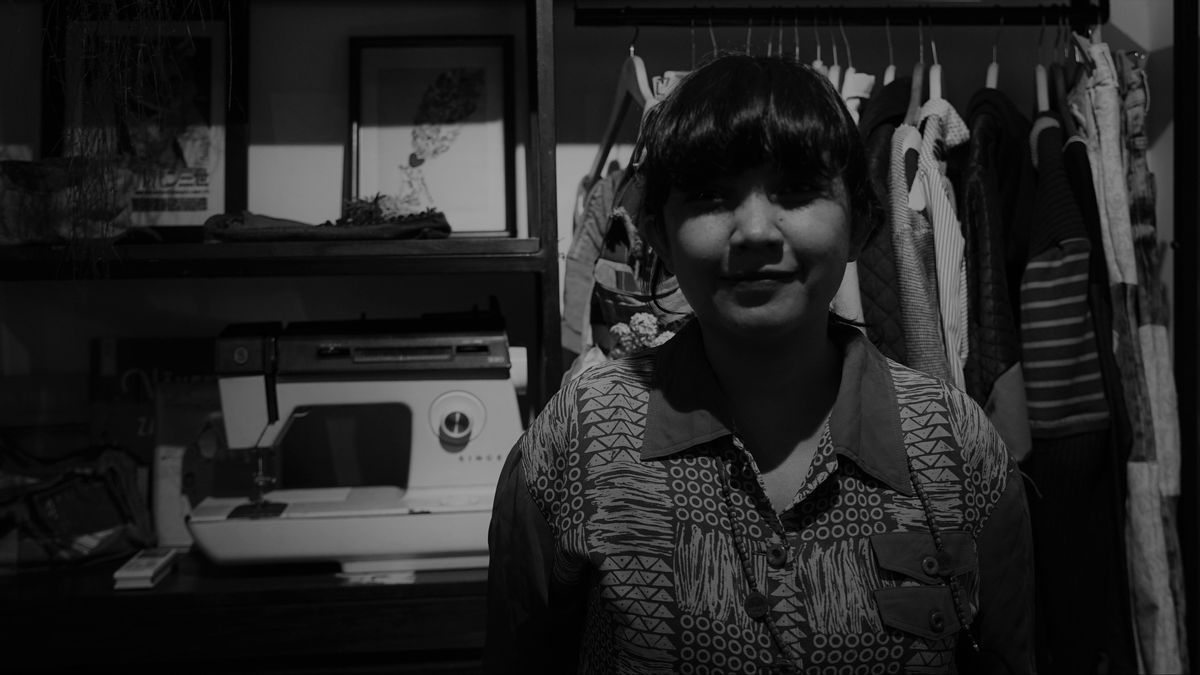 Next October, Intan Anggita Pratiwie will showcase her fashion creations at Paris Fashion Week 2021. Not separated from her identity, Intan will showcase clothes in the line of sustainable fashion: all of them are recycled. We talk a lot about fashion, including about slow fashion and various other movements related to the sustainable fashion revolution.
Keep your head down. Look at the shirts, t-shirts, or dresses we wear under our necks. Where did he come from? How is it made? When those thoughts are awakened, we are actually practicing an 'ethical fashion' perspective. This perspective underlies many movements related to sustainable fashion.
"Ethically fashion is related to mindfulness, how do we make clothing our primary needs, we know how the clothes arrive at the customer to be our responsibility. From the customer side, we know where the source is. Are there any ethics that have been violated. The clothes were created responsibly. or not? " said Intan to VOI.
The conversation with Intan took place in a small, comfortable corner in the basement of Intan and her husband's residence, Aria Anggadwipa in Cipete, South Jakarta. SUBO Jakarta, they named the place. Intan and Anga transformed the basement into a listening bar.
Like many other developed listening bars that have been a part of Japanese culture since the 1950s, SUBO Jakarta offers serenity and intimacy. Although the main dish was music, Intan also put down Setali Indonesia window.
Setali is a non-governmental organization (NGO) engaged in decluttering - popularized by Marie Kondo - and thrifting. In this way, Setali, which was founded by Intan with Andien Aisyah, has also contributed to the sustainable fashion movement.
Founded in 2018, Setali initiated campaigns and education on the importance of reusing used clothes. There are many kinds of paths, they can be donated or formed into other, more useful items.
"Previously we focused more on exchanging the value of goods into money to be donated to educational foundations. But when it became a backfire for us because there were lots of clothes and items piling up, I had to find a solution to treat the accumulated garbage."
"At that time I entered into the realm of clothing. It turned out that 80 percent of it was not feasible. So from there I was moved to recycle these clothes and become something more useful than just piling up garbage and we also can't process them."

Intan Anggita Pratiwie
Before being with Andien in Setali, Intan had been recycling for a long time. In 2013, she and her husband, Aria, formed Menuju Timur, an independent website that carries the spirit of fostering new collaborations in various fields. The condition is that all the common threads of collaboration must be related to Eastern Indonesia.
"How we can support Towards the East is by me recycling used clothes, then infusing them with East Indonesian weaving. So that people, young people around me also know that for example, Indonesian weaving has a story behind it."

Intan Anggita Pratiwie
Furthermore, Intan did not suddenly live a life as a recycling artist. Today's diamond is the result of daily interactions within 30 years of its life. Used and recycled touch has started since childhood. Intan talked about her mother, who has a habit of recycling. Or his father who is active in buying and selling used cars that are refurbished.
"So all of that is an absorption from the results of my daily interactions in the span of 30 years I have lived. So this is not a sudden result. And I also do not believe in coincidences. So this is indeed connecting the dot which will lead to a full circle in the future. , I see. "

Intan Anggita Pratiwie
Slow fashion as a counterweight
Reported by Katadata.co.id, during the first quarter of 2019, the textile and clothing industry experienced a significant increase with 18.98 percent growth. This achievement is much higher than the achievement in the first quarter of 2018 which is in the range of 7.46 percent, even exceeding the achievement in 2018: 8.73 percent.
Data from the Central Statistics Agency (BPS) also showed an increase of 4.45 percent per year in the production of large and medium manufacturing industries in the first quarter of 2019. The increase was supported by the production of the apparel industry sector which shot up to 29.19 percent.
The jump in orders, especially from the export market, was the trigger. The distribution pattern of ready-to-wear clothes demands speed and mass production (fast fashion). This is what is widely feared will lead to the problem of fashion waste. This waste issue is just one layer of the fast fashion problem.
Quoting data from the United Nation for Climate Change website, consumers are still used to throwing away shoes and clothes with an average of 70 pounds per person each year. Several stakeholders and communities established textile recycling programs, where 85 percent of this waste goes to landfills and occupies about 5 percent of all space in landfills.
Simultaneously, the used textiles will be reprocessed into new clothes. However, recycling is not enough. Other efforts are needed to balance the rapid production of the textile industry and human consumption of fashion items.
Many define slow fashion as the antithesis of the fast fashion culture that has become a mainstream pattern in the textile industry. But that's not always the case. Slow fashion can be a balance. Intan details a number of things we can do to start a slow fashion independently.
"Actually, if we want to talk about slow fashion, there are several ways if we want to do slow fashion from now on. Back again, slow fashion is something that is multi-layered. Which point of view do you want to talk about. Is it the producer point of view? ? Or indeed from the driving community? "
The first thing is reuse, which is using used clothes, either from generation to generation or adopting clothes from relatives. In a broader scope, the reuse movement is also carried out by a number of organizations. Today we know that there are several communities that are active in facilitating the clothes exchange movement, such as Zerowaste Indonesia, for example. In the world, it was the reuse movement that started the thriftshop.
"That's what started it, the Salvation Army. After America, which is the most active, also Australia. In Melbourne there are Savers who are quite big. So the Savers also returned their used clothes to money, then they subsidized them to communities in need. with Setali. If Setali enters the realm of development, empowering itinerant vermak tailors. "

Intan Anggita Pratiwie
Apart from reuse, there is also reduce. Reduce is an effort to choose clothes with awareness to reduce the number of purchases. In other words, reduce is when someone is considering buying clothes for a long life. There are various considerations, including the selection of clothes based on basic shapes or timeless designs.
"So we don't need to buy clothing in large quantities or too often, I see. And we can also do that by buying local products. Because if we buy from imports, that could be us adding the carbon footprint. issued in there. "

Intan Anggita Pratiwie
Third, repair, which is the culture of repairing items that are no longer used. There are many forms. In Japan, people even recognize this culture as the art of sashiko. "Then we also like to take it for granted with the kelliling vermak artisans as well as shoe soles. That is what is in the realm of repair."
The last is recycling, aka recycling. Recycling is divided into two parts: downcycling and upcycling. Downcycling is recycling by first crushing clothes, melting them into fibers with a recycling machine.
In this process, the fibers are usually spun back into cloth. And also importantly, in the downcycling process, every piece of clothing --including zippers, buttons, and so on - is separated first. In Indonesia, Aryenda Atma's start-up, Pable has been running it.
Meanwhile, upcycling is adding value to used goods. Upcycling is closely related to the art of modifying clothing. Today, we can see the art of upcycling through touches of artists, such as Ican Harem, Street Division or Controlnew. Diamond stands in between, in the realm of closed-loop fashion which is a combination of downcycling and upcycling.
Heading for Paris Fashion Week 2021
Diamond is not alone. She will go to Paris Fashion Week 2021 with Nonita Respati from Purana Indonesia. Both will appear with the Fashion Division. Fashion Division is the first fashion career center in Indonesia and Asia.
Founded in 2015, the Fashion Division redefined fashion learning by adapting the French 'alternance' education system. For Intan, this is the first time he has exhibited his work at the international level.
Diamond's participation in the Fashion Division began last year. At that time he sent a portfolio labeled Sight from the Earth. The portfolio was answered positively. "There were a few screenings, then I tried a few concepts. The concept was ten decluttering items that I recycled."
Intan prepares special plans for his trip to Paris. He will start the journey when he touches Europe, by land with his family, the Subo Family. The land route was chosen by Intan to campaign for a sustainable mode. In collaboration with Carbon Ethics, the amount of carbon dioxide generated from Diamond's road trip will be calculated and balanced.
"I will collaborate there with local artists or Indonesians who have already been in Europe and they are also entering the realm of sustainable fashion, I want to learn a lot from them. Then the result of the trip will produce carbon dioxide, later we will offsetting, working. It's the same as Carbon Ethics, making fundraising, people can support our trip. People can also buy mangroves. Later, when we go home, we will process the mangroves into natural dyeing. "
INTERVIU Other
---
The English, Chinese, Japanese, Arabic, French, and Spanish versions are automatically generated by the system. So there may still be inaccuracies in translating, please always see Indonesian as our main language. (system supported by DigitalSiber.id)