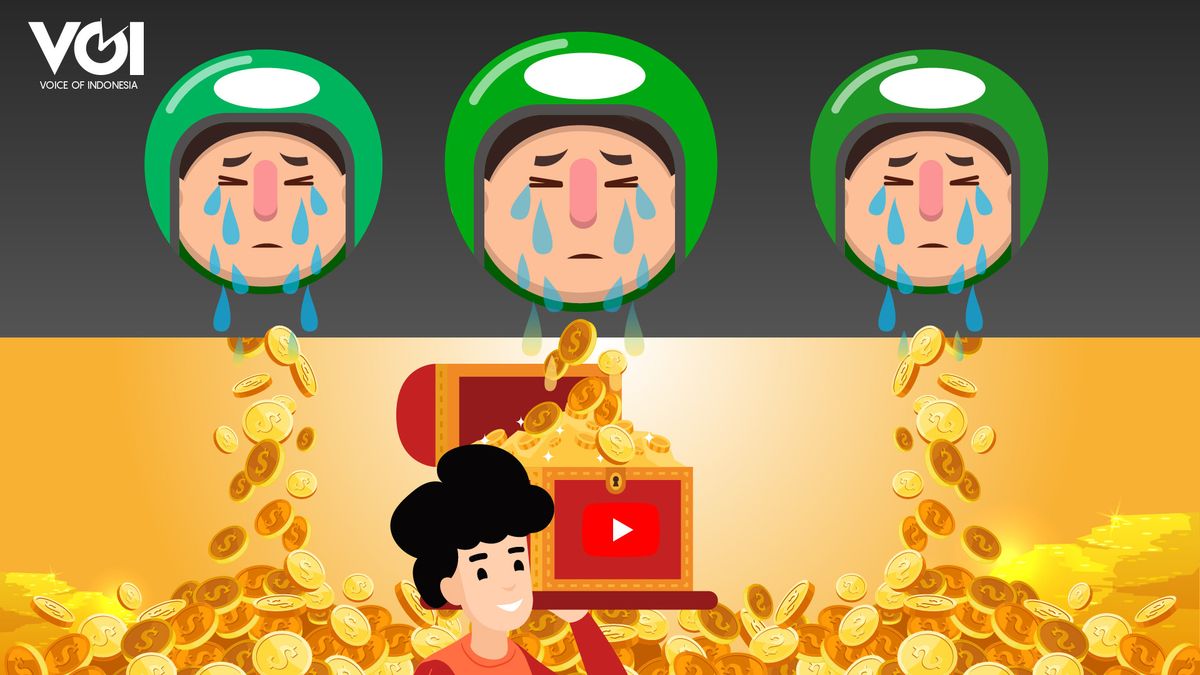 We have covered a lot of the prank phenomenon that has appeared on our YouTube in recent times with "Sick Plague Attacks Called Prank on Our YouTube". Part of the VOI Writing Series "Prank! Prank! Pronk!", This time we explore ojol pranks which in fact only benefit content creators. The disadvantage? Obviously for ojol.
The madness of the ojol prank content creators is not over yet. While compiling the material for this article, we received a chain message of videos uploaded by a Facebook user named Hamiem Alambara. He sent the video to the INFO KRIMINAL & LALU LINTAS (Nusantara) account. In the video, an online motorcycle taxi (ojol) driver is seen slapping a young man known as a YouTuber. The driver is angry to be a prank victim. Time is wasted. And the order cancellation made by the YouTuber made his ngojek account performance decrease.
https://t.co/VqSFbqlQKY

- ABANG • GRAB (@PenjahatGunung) December 10, 2019
In the life of ojol drivers, pranks are clearly detrimental. Canceled orders will reduce their performance. We met a number of motorcycle taxi drivers to clarify this condition. Grab driver named Haris explained, in the real world, the methods used by YouTubers in their prank content were identified as fictitious orders. Don't talk about money. They are clearly at a loss about that. But, perhaps YouTubers need to know that fictitious orders can also cause their assessment of their work performance to decline.
Haris had experienced this bad luck last year. The 25-year-old man received a fictitious order for a number of D'Cost restaurant's food menus. The nominal is not bad. He even remembers the numbers well. "Rp. 998 thousand," said Haris to VOI, Tuesday, December 10. Haris then reported to the Grab head office. Unfortunately for him, because Grab even asked Haris to let go. "I have asked if Grab wants compensation. Yes, they have instead diverted suggestions to donate. So, Grab does not provide a dime in compensation," he added.
To emphasize this condition, we are looking for a number of rules regarding fictitious orders implemented by the two largest motorcycle taxi service providers in Indonesia, Grab and Gojek. Quoted from the official website of the two, Grab and Gojek set a similar policy regarding the fictitious order compensation process. As a result, the ojol drivers again had to sacrifice their time to go through the compensation process.
Broadly speaking, drivers must fill out a number of forms and complete a number of files, such as photos of receipts and food purchased. Next, the driver must wait for the confirmation that will be sent via email to each driver. After that, the driver must return to wait for the money to be disbursed. Information on the websites of two companies also confirms the policy of diverting money for charity purposes as an option for losers of ojol drivers.
Indeed, in some content, YouTubers don't actually cancel orders. Some also give rewards for ojol drivers who are worked on. However, as the ojol driver said in the viral video we alluded to above. There is a time left for every YouTubers silliness. The problem is, in the life of an ojol driver, the expression time is real money. Every time wasted is a potential order. And every order they reach is a point to their performance. Points that determine how much extra money they can make.
Denny, another motorcycle taxi driver we met agreed. According to him, the rewards that YouTubers gave to the ojol drivers who were prank victims did not help anything. "Poor thing too (prank victim). Especially if we are chasing points to get bonuses. Getting prank like that will definitely waste a long time. Especially if we cancel orders arbitrarily, (it) also makes our performance go down. Finally, we don't. get points as a bonus, "said Denny.
YouTuber advantages
Loss on ojol, profit on YouTuber. This condition is even more pronounced if you explore the income of YouTubers from the content they upload to YouTube. Media researcher from Remotivi, Roy Thaniago, saw the clarification of YouTubers who call the creation of prank ojol content based on good intentions as nonsense. According to Roy, money talks big in this annoying trend.
Some YouTubers may deny taking advantage of their prank ojol content. Eggy Jr Vames, for example. He admitted that he did not activate the ad-suction feature, aka adsense in the uploaded Ojol prank video. Yes, indeed. We checked and there are no ads in it.
However, it is clearly naive to say that there is no benefit whatsoever taken from uploading the prank ojol video that he uploaded. Looking at the data on the socialblade.com site, the YouTube channel Eggy Jr. Vames is classified as a channel with class B +. With a total subscriber of 140 thousand, Eggy occupies the position of 12,869 in the Social Blade ranking.
Social Blade data also shows Eggy Jr. Vames' YouTube channel revenue is decent. In one month, the estimated channel income ranges from US $ 2,400 to US $ 39,100 which in today's exchange rate is equivalent to Rp.33,638,760 to Rp548,031,465. The bitterness, even if it didn't produce it directly, the controversy over the prank ojol made by Eggy Jr. Vames clearly had an exposure effect on the other video content.
With all these notes, we need to know how every video uploaded affects the income of YouTubers. So, there are two indicators that can be used to see how much a YouTube channel is earning: CPM (Cost Per Mile) and CPC (Cost Per Click). The two indicators only work with two conditions.
First, is the growth in the number of subscribers to at least a thousand within one year. The second condition is that the channel's video content must be watched for at least four thousand hours by all viewers in the same period of time. CPM is the money a channel gets from every thousand ad views across videos.
Referring to site data moneysmart.id, May 2019, the CPM value in Indonesia is currently IDR 7 thousand per thousand ad impressions. Meanwhile, CPC is the nominal value a channel gets from every click on an ad that appears in video content. The CPC nominal ranges from IDR 5 thousand to IDR 12 thousand.
The imitation behavior of many YouTube content creators in Indonesia confirms this condition. How large sums of money turn out is behind this phenomenon. Roy explained that the rewarding system implemented by YouTube has encouraged this trend to spread.
"Rewarding is measured by the viewability. So, people will make the most excited, the most attention grabbing. He will do anything to create content that attracts a lot of viewers," said Roy.
Follow this edition of Writing Series: Prank! Prang! Prong
---
The English, Chinese, Japanese, Arabic, French, and Spanish versions are automatically generated by the system. So there may still be inaccuracies in translating, please always see Indonesian as our main language. (system supported by DigitalSiber.id)