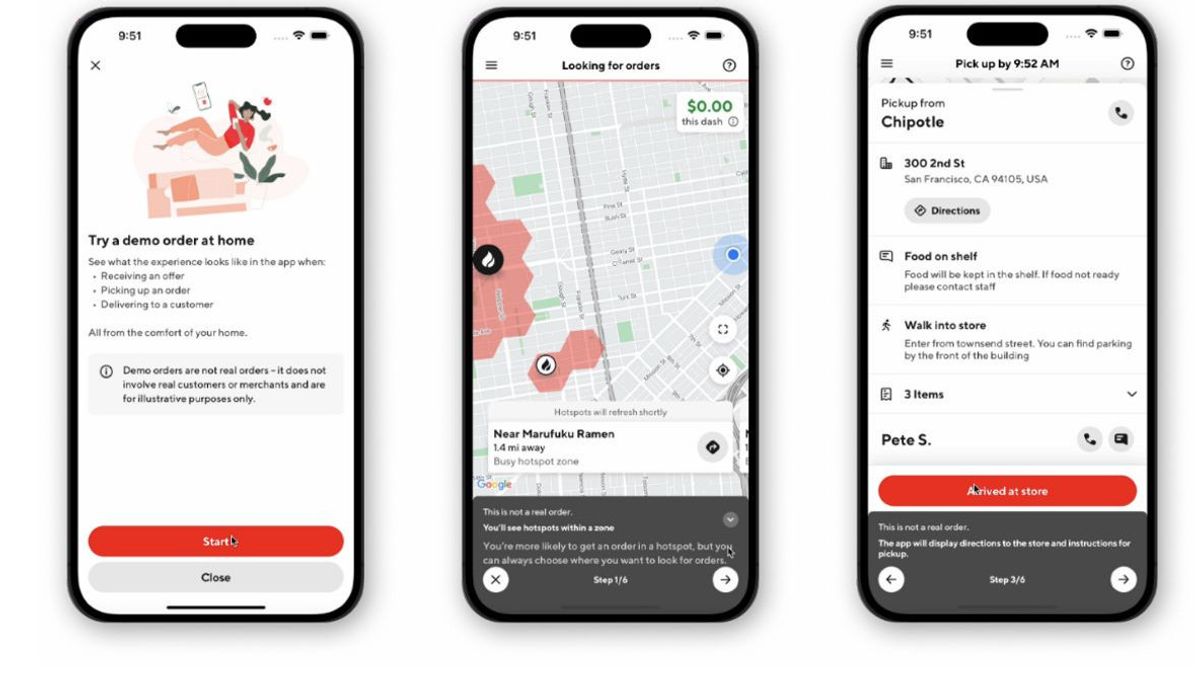 The DoorDash money-producing application is a massive food delivery service in various parts of the world. DoorDash has served orders in more than 7,000 cities in the US, Canada, Australia, Japan, and Germany.
The notes summarized from this variety of trusted sites can even be said to be equivalent to controlling nearly 60% of the US food delivery market. Make DoorDash the most popular so far.
People driving for the DoorDash money-making app are called Dashers. They are independent contractors who receive delivery orders, pick them up, and send them. You can also be one of them.
Dashers always keep their 100% tip, and intelligent people know the secret to earning more than average daily income. Don't worry, we'll share the best tips and hacks to get the most DoorDash pay!
Like other top food delivery companies, DoorDash driver payments have gone through multiple iterations. The latest payment model launched in 2019 and guarantees that drivers store 100% of their tips.
It also converts principal payments to $2-10 per order depending on factors such as estimated time, distance, and desire. On average, DoorDash drivers earn 15-25 US dollars/hour.
You don't get paid in fixed amounts per hour; it varies from order to order. Understanding the new payment model will help you get a better understanding of how much money a DoorDash driver earns.
As we said, the basic salary ranges from US$2-10 per order. Drivers always keep 100% of that amount, and go up based on the level of difficulty.
Promotion is one of the first ways to increase your salary, and the DoorDash money-making app offers this opportunity during a busy period. Here's how it works:
Drivers will see a map in the application turned on red with an area that pays an additional $1-4 per shipment. This is added to your basic salary.
This promotion provides incentives for drivers to complete certain deliveries within a predetermined time. An example is, "Finish 15 deliveries between June 1 and June 7 with an additional 20 US dollars."
You can see how many tips to increase your salary in the screenshot below. You can realize later that over the week, the tips are 1.5x more than delivery payments.
Considering that you can make 15-25 US dollars/hour, DoorDash drivers can earn 120-200 US dollars/day if they work eight hours. If you can only work half of that hour, your salary will approach 60-100 US dollars/day.
In fact, some can make USD 285 over a period of only 6 hours. Bad weather, so more customers order and there are fewer drivers on the road. Obviously, this proves that this money-making app will work optimally if you follow it.
It's important to remember that DoorDash drivers are not paid every hour. Payments vary according to orders, and some time in a day are busier than others.
For example, if you work in an area with a lot of business, you will experience a busy lunch hour. In more suburban areas, dinner is busier.
Your weekly and monthly salaries depend on how many hours a week you can work. Work like a full-time job, 40 hours a week, you can earn 600-1,000 US dollars/week.
Another way besides being a driver, you can also become a promotional affiliate. However, keep in mind that the amount of income is certainly different. So, reconsider how you will optimize this DoorDash money-making application.
---
The English, Chinese, Japanese, Arabic, and French versions are automatically generated by the AI. So there may still be inaccuracies in translating, please always see Indonesian as our main language. (system supported by DigitalSiber.id)