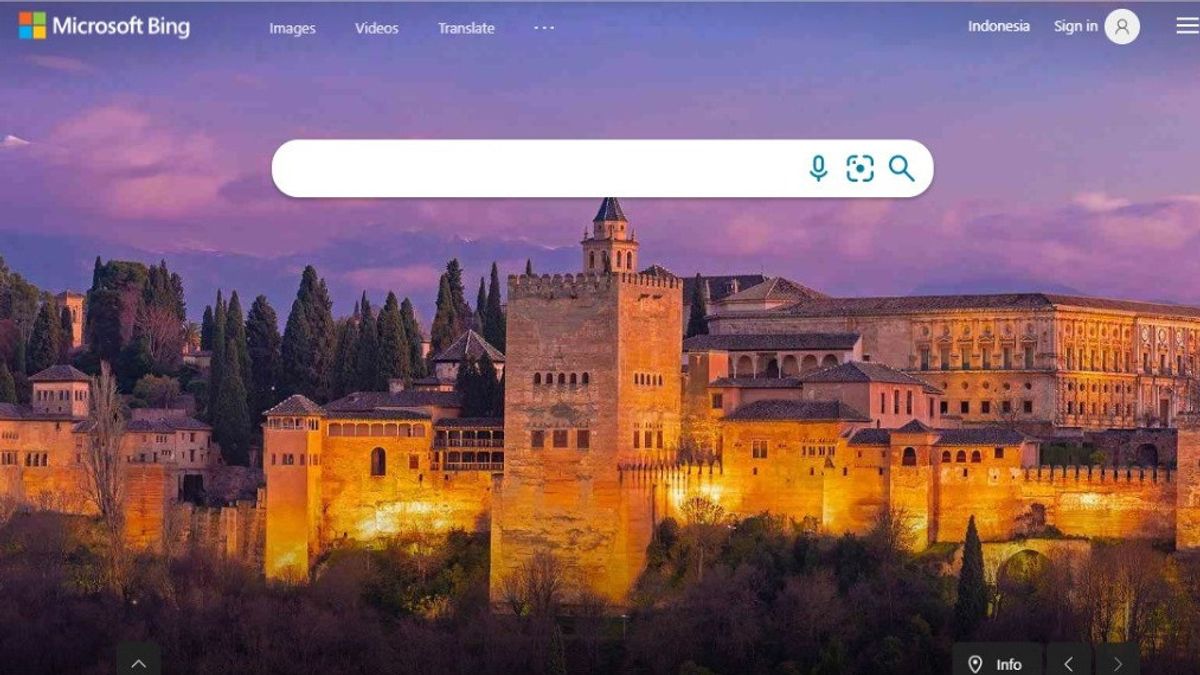 JAKARTA - Google has become the most widely used and most reliable search engine technology by most people in the world. You only need an internet network, you can search for any information you need through this search engine.
Even though Google isn't going away, at least in the near future, in anticipation of unwanted events, or maybe you're just bored with the Google search engine, you can look for other search engines besides Google.
There are several alternative search engines you can use, some of these top picks on an unfiltered search engine that is very similar to Google. Other search engines may show the search from a different perspective.
Bing
Bing is a web search engine site under Microsoft. Bing is a form of reincarnation by Microsoft for its three previous search engines, namely Live Search, Windows Live Search, and MSN Search.
Bing can be regarded as a search engine that is easy to use. Bing also has a more attractive visual with a pleasing image background.
Just like Google, Bing is equipped with built-in features such as currency conversion, translation, and flight tracking, making it a versatile search engine that has made it stand out in the global marketplace.
DuckDuckGo
DuckDuckGo is another internet search engine besides Google that displays information from various sources. DuckDuckGo Search provides you with truly personalized search results with no sacrifices in the quality of results.
DuckDuckGo claims to have everything you'd expect in an online search experience, and a few bonus features that make searching the Internet not only private, but also a little more enjoyable.
On top of that, because there's no search history on DuckDuckGo, you'll escape the filter bubble of manipulated results.
Ecosia
Ecosia does her part from a slightly different angle. This search engine uses Bing's modified custom search, and there's no second-class API here.
When you perform a search, 80 percent of Ecosia's advertising profits are diverted to tree planting programs in Burkina Faso, Madagascar, Indonesia and Peru.
Ecosia is an unfiltered search engine, but it highlights websites that follow sustainable practices with a green leaf icon next to the results.
Yahoo
Yahoo has been around longer than Google. Yahoo became the most popular search engine and even became one of the default search engines for Firefox.
The great thing about Yahoo is that Yahoo is more than a search engine, the Yahoo portal also offers email, news, online shopping, games and many others to provide a user experience.
Kid
Kiddle may not be a show all search engine. This website is a family-friendly search engine and is perfect for kids who are in their inquisitive stage.
Results from searches on Kiddle are also filtered according to their age. While there is a Safe Search option on Google, it is not enough. So, Kiddle is a search engine which is a custom version of Google.
Kiddle is a great alternative if you're trying to keep your kids away from adult sites, gambling platforms, and other undersides of the web's black market.
Yandex
Yandex is a technology company that builds intelligent products and services powered by machine learning. Yandex has been around since 1997, and has provided world-class, locally relevant search and information services.
In addition, Yandex has also developed market-leading on-demand transportation services, navigation products and other mobile applications for millions of consumers around the world.
Much like Google, Yandex provides a service that you can use to search for websites, images, videos, and news in a user-friendly layout.
Baidu
Baidu founded on January 18, 2000 is a web service company headquartered on the Baidu Campus located in Haidian District, Beijing, China.
Baidu offers a variety of facilities, including a search engine for websites, audio files and images. However, Baidu has a display in Chinese characters, so you may have to translate it first.
Qwant
Qwant is a much more visual search engine than Google, which may also appeal to you for one reason or another.
Local storage on your machine is used to store your settings and data. You can register and login to create visual boards by bookmarking the results you like.
The privacy policy on the site says, that all personal data linked to your ID will be deleted if you cancel your account.
The search engine also uses Microsoft Bing, which means that your privacy while browsing doesn't have to sacrifice the robustness of the unfiltered search you enjoy.
---
The English, Chinese, Japanese, Arabic, French, and Spanish versions are automatically generated by the system. So there may still be inaccuracies in translating, please always see Indonesian as our main language. (system supported by DigitalSiber.id)