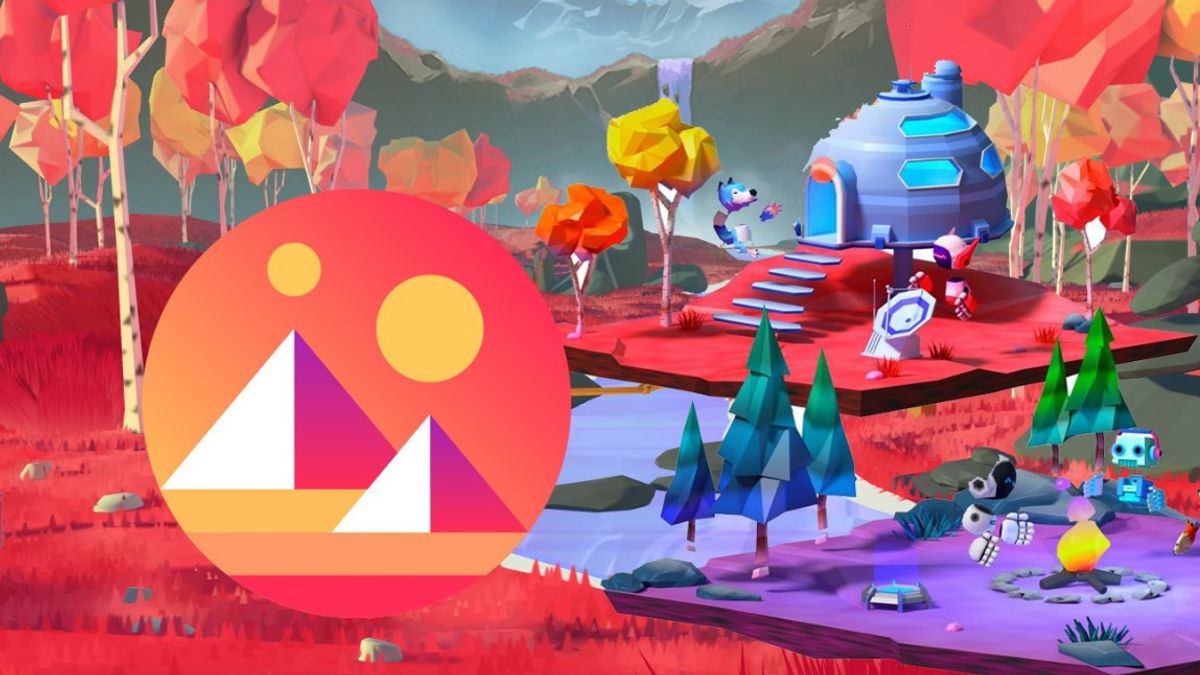 JAKARTA - The virtual world (metaverse) is increasingly being watched by many people. One of the most famous metaverses is Decentraland. The platform was developed by Estaban Ordano and Ari Meilich in the form of a virtual space containing plots of real estate, goods, and other assets in digital form. In it, users can not only play games and interact, but also buy Non-fungible Tokens (NFT) and virtual lands.
Decentraland itself is a virtual space that stands on the Ethereum blockchain. The decentralized virtual platform enables users to create, travel, and monetize content, experiences, and applications. So, this platform is virtual reality (VR) where a 3 dimensional (3D) virtual land is permanently owned by the community which gives its members absolute control over its creation.
In Decentraland, you can log in, create an avatar, and start exploring, buying land, and building all kinds of buildings, from playgrounds to cinemas to virtual galleries. If you own a virtual land in Decentraland, you can control the content published to the virtual land you own. This content can range from interactive systems such as games to static 3D artworks such as paintings.
One thing that makes Decentraland unique compared to other blockchain-based games is that the platform is not controlled by a single organization. However, members can participate in the Decentralized Autonomous Organization (DAO) which governs the policies created to determine how this virtual world operates. Then, how to play the game Decentraland? Check out the explanation below.
How to Play Decentraland
When you first enter the Decentraland website, you will find a red "Get Started" button. Next, you will be asked to choose to connect to a crypto digital wallet or play as a guest.
For simplicity's sake, this guide uses the MetaMask wallet to log in and agree to the necessary permissions. After that, you need to make your avatar able to customize the look you want, such as body shape, head, clothes, pants, shoes, accessories, and various other attributes.
When you're done setting up your avatar, you need to click on "Done" at the bottom left. Name the avatar as you wish, agree to all the terms of the game, and you're good to go. You will be placed in the Genesis Plaza with all the new players who will begin their exploration.
It should be noted, when the tutorial box appears at the bottom of your screen, it is recommended that you do not close the tutorial until you are used to playing the game. This will provide the basics for playing it. Once in Genesis Plaza, you can control your avatar by using the "W, A, S, D" buttons, just like most MMO games.
Inside the Genesis Plaza, you will find pillars that show the various activities you can do in Decentraland. You can also jump through the center of the giant pit that looks like a whirlwind and explore other streets. Another thing you can do is click the "M" on the keyboard and you will switch to a map or maps. There, you can search for a different location and be in that location right away without having to walk.
At the bottom right, you can see the location of the avatar. At the top, there is a navigation menu that allows you to select various menus. For example, if you click on the "Explore" menu you will be directed to a page where there are various places, events, and more.
When you click "Explore", there will be an option "Places" and when you select it some famous locations in Decentraland will appear. One of them is a gallery in England, Sotheby's. When you enter the gallery, you will find paintings by the famous artist Banksy. Not only that, but you can also click on the painting and it will open a Sotheby's page showing the details of the artwork.
---
The English, Chinese, Japanese, Arabic, French, and Spanish versions are automatically generated by the system. So there may still be inaccuracies in translating, please always see Indonesian as our main language. (system supported by DigitalSiber.id)