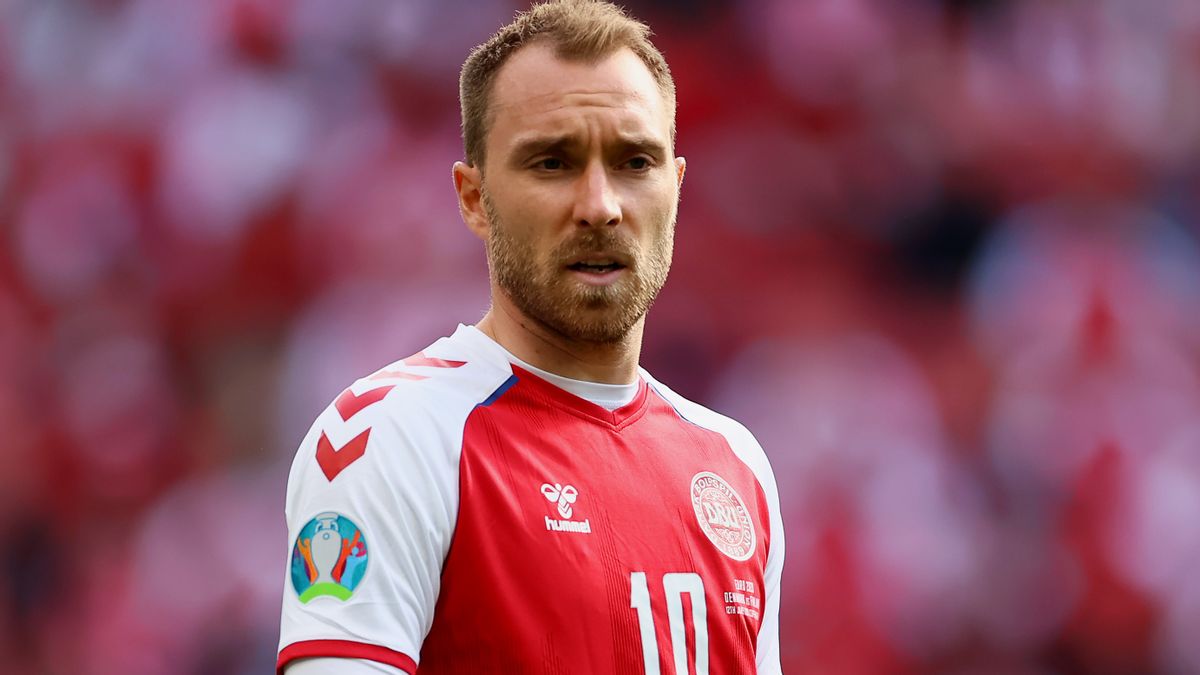 JAKARTA - Christian Eriksen's heartbeat briefly stopped after collapsing in the opening match of Group B Euro 2020 when Denmark hosted Finland at the Parken Stadium, Copenhagen, Saturday, June 12 night.
In the 43rd minute of the match, Eriksen fell on the field and had time to receive cardiopulmonary resuscitation (CPR) from medical officers by pumping Eriksen's chest.
"When I got there he was lying on his side, still breathing and I could still see his heart beating, but suddenly everything changed, and as people saw we started performing CPR," said Denmark doctor Martin Boesen.
"Help came very, very quickly from medical officers and other staff, and with the cooperation of all parties we were able to return Christian," he added.
The scene made the Danish players look worried, which then spread to the entire Parken Stadium, whose stands were filled with around 16,000 home fans and Finland.
Later Eriksen was rushed to the hospital and was declared conscious and his condition gradually stabilized.
So far there has been no official announcement regarding the cause of the Inter Milan player's collapse. However, cardiac arrest is the most common cause of collapse during exercise. The condition, also known as cardiac arrest, is different from a heart attack.
Before what happened to Eriksen, so many footballers had heart problems. Some of them were rescued, while others died in the field or in hotel rooms. Who are they?
Marc-Vivien Foe
Marc-Vivien Foé was part of Cameroon's squad for the 2003 FIFA Confederations Cup. On 26 June, Cameroon faced Colombia in the semifinals, held at the Stade de Gerland in Lyon, France. In the 72nd minute, Foé collapsed in the middle of the circle with no other players nearby. After medical teams attempted to resuscitate Foe, he was carried off the field on a stretcher to receive resuscitation and mouth-to-mouth oxygen.
Medics spent 45 minutes trying to revive his heart. Although Foe was still alive when he arrived at the stadium's medical center, he died soon after. The first autopsy did not determine the exact cause of death, but a second autopsy concluded that Foé's death was cardiac-related because there was evidence of hypertrophic cardiomyopathy, a hereditary condition known to increase the risk of sudden death during exercise.
Iker Casillas
This Spanish national team legend suffered a heart attack during a training session with his club FC Porto on May 1, 2019. The 37-year-old athlete was immediately rushed to the hospital for treatment.
FC Porto said Casillas suffered an acute myocardial infarction (heart attack) during a training session. He decided to retire from football in June 2019.
Miklos Feher
In the match between Benfica and Vitória de Guimarães on 25 January 2004, Fehér suddenly bent forward, visibly in pain; he then fell backwards to the ground.
Members of both teams rushed to help Fehér before the medics arrived on the field. Cardiopulmonary resuscitation was performed, an ambulance arrived on the ground and he was rushed to the hospital. In the evening, Feher was confirmed dead. The cause of death was cardiac arrhythmia caused by hypertrophic cardiomyopathy.
Antonio Puerta
Antonio Puerta collapsed and lost consciousness in the penalty area due to a heart attack during the La Liga match between Sevilla and Getafe on 25 August 2007. After being treated by the medical team and recovering, Puerta was able to walk to the locker room. But he fainted again.
Puerto received resuscitation treatment from doctors and was taken by ambulance to the intensive care unit of the Virgen del Rocío hospital, where he received cardiopulmonary resuscitation.
Puerta died on August 28, at 2:30 p.m. after being diagnosed with multiple organ failure and irreversible brain damage as a result of a prolonged heart attack resulting from an incurable hereditary heart disease, known as arrhythmogenic right ventricular dysplasia.
Bruno Boban
The striker of the Croatian third division club Marsonia, Bruno Boban collapsed and died in a match that took place on March 24, 2018.
Reporting from The Sun, Bruno had only played for 15 minutes in Marsonia's match against Slavonija Pozaga when an opposing player kicked the ball hard into his chest from close range.
The match had continued, before Croatia's third division top scorer suddenly fell to the ground unconscious. Realizing something was amiss, both teams rushed to first aid and called an ambulance.
Emergency workers spent 40 minutes saving the 25-year-old in the presence of players from both teams. However, his life could not be saved due to a heart attack.
Daniel Jarque
Daniel Jarque was found dead during Espanyol's pre-season, in Coverciano, Florence, Italy. On August 8, 2009, he was on the phone with his girlfriend at the team hotel when he had a heart attack.
Several other news sources said that Jarque's boyfriend, who is seven months pregnant, reported his absence to his roommate Coro.
Davide Astori
Davide Astori died in his sleep on March 4, 2018. Captain I Viola was found dead in his room on the morning before the Serie A match between I Viola and Udinese.
Two professors - Carlo Moreschi and Gaetano Thiene - revealed that Astori did not die of a heart attack. However, the captain's heart was beating so fast that it stopped due to a condition called tachyarrhythmia.
The report also stated that Astori did not die in his sleep. Moreschi and Thiene said Astori's life could have been saved had he not been alone in the room.
Fabrice Muamba
In March 2012, Fabrice Muamba suffered a heart attack during an FA Cup match between Bolton and Tottenham Hotspur. His heart stopped for 78 minutes, but he was able to recover.
Following medical advice, Muamba announced his retirement from professional football in August 2012.
Eri Irianto
Eri Irianto who died after an incident in the Persebaya match against PSIM Yogyakarta on April 3, 2000.
Eri collided with PSIM players from Gabon, Samson Noujine Kinga. He fainted and was rushed to the hospital. However, that night, he was declared dead of a heart attack.
---
The English, Chinese, Japanese, Arabic, French, and Spanish versions are automatically generated by the system. So there may still be inaccuracies in translating, please always see Indonesian as our main language. (system supported by DigitalSiber.id)