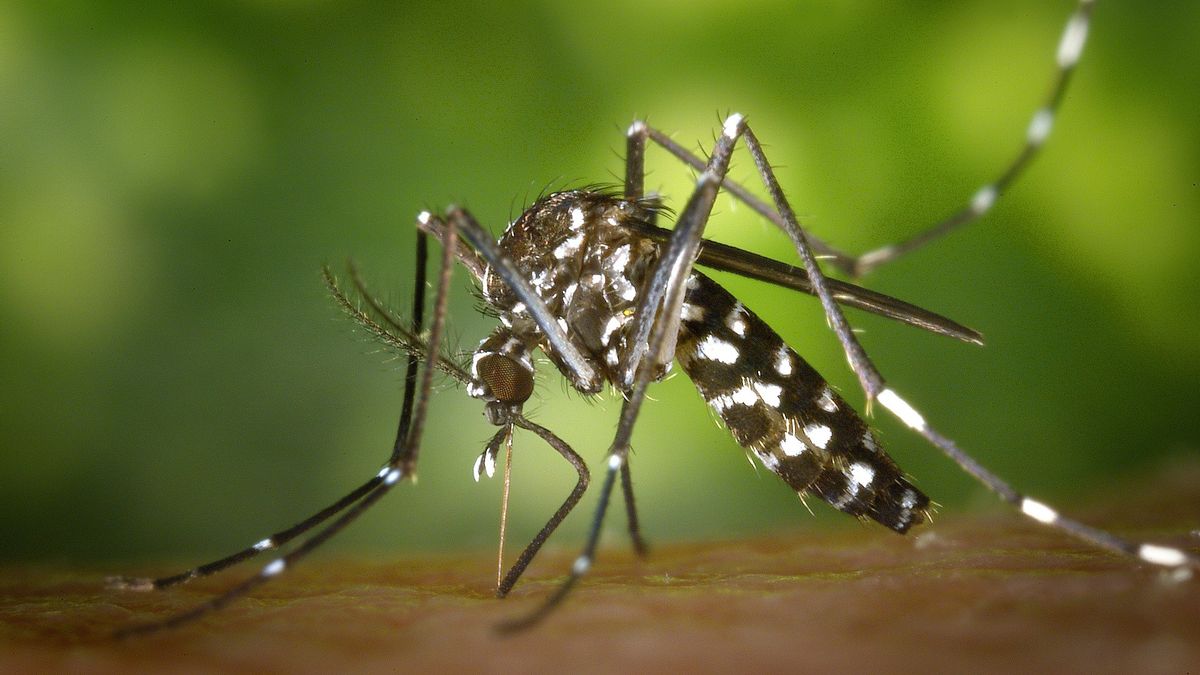 JAKARTA - Soon, Papua will host the biggest sporting event in Indonesia. Those who want to come, beware of the bite of the female Anopheles mosquito carrying the Plasmodium parasite.
Director of Prevention and Control of Vector and Zoonotic Diseases of the Indonesian Ministry of Health, Didik Budijanto, explained that the parasite has the ability to reproduce in the liver of a person who is bitten when the immune condition is weak.
Symptoms that arise in the form of fever, headache and nausea that appear a week after the mosquito bite. Even in certain situations, a combination of these three symptoms is often experienced by malaria sufferers.
Data speak. At least 435,000 people in various parts of the world died from suffering from malaria. Even the trend of the number of cases tends to increase from year to year.
Luckily, all provinces in Indonesia are experiencing a downward trend. From 465.7 thousand positive cases in 2010 to 235.7 thousand in 2020. However, Didik reminded that 86 percent of the total malaria cases in Indonesia were contributed by the province located on the western part of New Guinea Island. The rest came from West Papua and Maluku.
"There are four regencies/cities in Papua, all of which are endemic for malaria, Jayapura City, Jayapura Regency, Merauke and Timika. All of them are in the red category," said Didik as quoted by Antara, Tuesday, September 21.
The XX Papua National Sports Week (PON) event on October 2-15 2021 is a special concern of the Ministry of Health in efforts to control malaria vectors in the upstream. For this reason, it is important for PON participants and domestic tourists who are involved in these activities to know the characteristics of the various mosquitoes that carry a number of diseases in Papua to anticipate.
Characteristics of female Anopheles
Didik said there are three variants of disease caused by mosquito bites in Papua, namely Anopheles which causes malaria and filariasis (elephant foot) and Aedes aegypti which causes dengue.
At first glance, the physical appearance of the two mosquitoes looks similar. However, Anopheles has more specific characteristics such as a flat body and a slightly elongated abdomen from Aedes Aegypti, said Didik.
Anopheles is called by Didik as a clubbing mosquito, because he often wanders around at night from 18.00 until the morning.
"Anopheles mosquitoes love clubbing. This mosquito will be ready when the sun begins to set, at that time he will preen himself and fly looking for prey," he said.
This behavior is different from the Aedes Aegypti mosquito which often bites humans during office hours and when people start their routine activities, starting at 08.00 to 11.00 and continuing at 14.00 to 17.00 WIB.
Another characteristic of Anopheles is his habit of perching on walls. In principle, said Didik, these mosquitoes prefer to be in humid places, such as walls or close to soil and dirty waterways.
"If a dengue mosquito is a little more prestige in a dirty place, he prefers it in a clear water reservoir," he said.
Prevent the attack of female Anopheles
Armed with this analysis, the malaria vector control program in the upstream sector was intensified on prevention efforts through fogging.
"For night matches, there are efforts that we mutually agree on that every arena or hotel, guesthouse, athlete and coach accommodation must be free of vectors," he said.
The Indonesian Ministry of Health has sent vector control personnel to carry out fogging at least once a week in all lodging facilities, especially on walls and locations close to mosquito habitats. Then in every arena that holds matches from morning to evening, fogging is at least once a week.
"Unless there is a night game. So every day two to three hours before the match starts we fogging first," he said.
In addition, screening efforts for migrants at PON Papua are also carried out upon return. Because someone who has been bitten by Anopheles can carry parasites that are lodged in the body to the area of origin.
"After returning home, our athletes will monitor them not to bring the vector to malaria-free areas," he said.
Efforts to prevent malaria also need to be carried out through public self-awareness by maintaining a healthy lifestyle so that the body's immunity is maintained optimally. Intake of preventive drugs is also recommended by doctors.
One of them is an antibiotic drug with the trademark "Doxycycline" which is used to treat various diseases caused by bacterial infections, especially malaria.
According to Didik, the drug is not doping so it will not interfere with the athlete's appearance. "The government does require the administration of Doxycycline when someone wants to go to Papua. A week before that, he took the drug to prevent infection from being bitten by Anopheles mosquitoes," he said.
---
The English, Chinese, Japanese, Arabic, French, and Spanish versions are automatically generated by the system. So there may still be inaccuracies in translating, please always see Indonesian as our main language. (system supported by DigitalSiber.id)