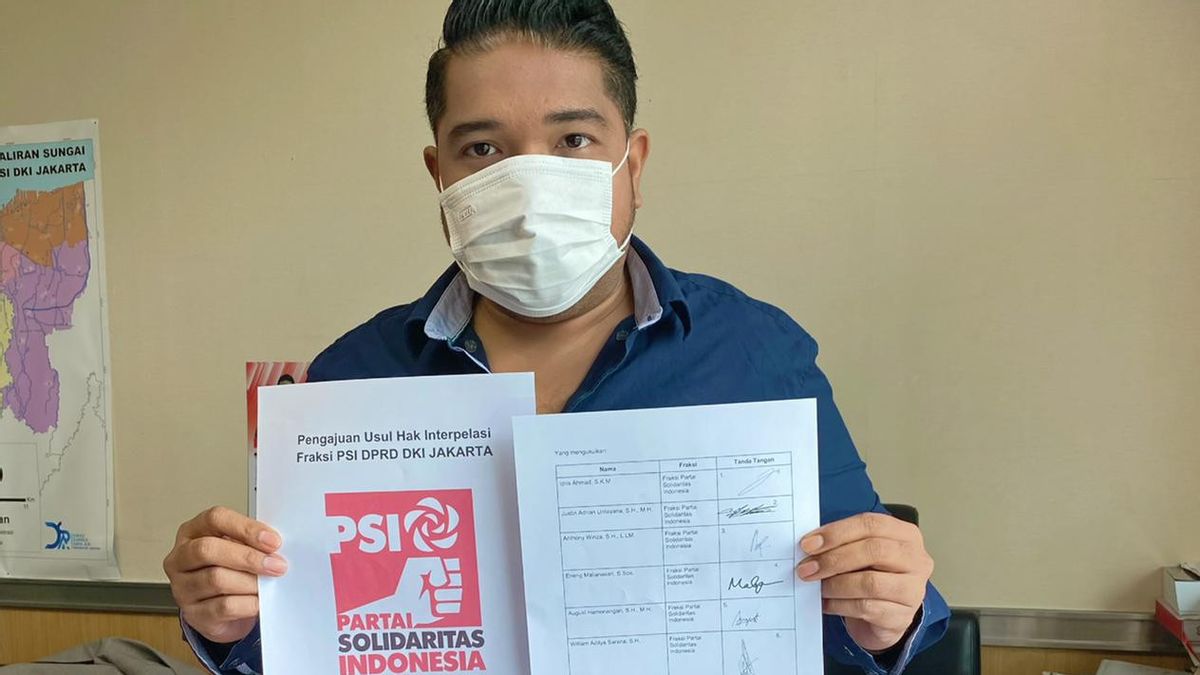 JAKARTA - The Indonesian Solidarity Party (PSI) faction of the DKI Jakarta DPRD (Regional House of Representatives) has accused DKI Jakarta Governor Anies Baswedan of not being serious about dealing with the impact of the Jakarta floods.
In fact, PSI considers Anies deliberately hampering the work of his subordinates in the DKI Jakarta Provincial Government's regional work unit (SKPD) to prevent flooding.
"PSI considers that Governor Anies has not carried out the mandate of flood prevention, and is even suspected of deliberately obstructing the work of Jakarta Provincial Government offices to prevent flooding", Deputy Chairman of the PSI DPRD DKI Fraction Justin Untayana said in his statement, Thursday, February 25.
Justin said his party would roll out the interpellation rights discourse regarding the Jakarta floods. In the DKI Regional Regulation Number 1 of 2014 concerning the Rules of Procedure for the DKI DPRD, the right of interpellation is proposed to the DPRD leadership.
Requirements for submitting this right are proposed by at least 15 DPRD members and more than one faction. The form of the right of interpellation is a plenary meeting with the agenda of the proposer being allowed to provide an oral explanation.
Then the other DPRD members gave their viewpoints from the factions. Furthermore, the governor gave an explanation of the issues raised.
"We take this interpellation as the last constitutional way. This is PSI's moral and political responsibility towards the citizens of Jakarta, especially those who have been harmed by the floods due to the failure and lack of seriousness of Governor Anies in managing flood management", said Justin.
- https://voi.id/berita/35454/lima-perjaan-rumah-kepala-dinas-sda-baru-untuk-benahi-banjir-jakarta
- https://voi.id/berita/35608/update-covid-19-per-25-februari-kasus-baru-8-493-sembuh-bertambah-8-686
- https://voi.id/berita/35607/joko-tjandra-akui-sempat-diajak-pengusaha-rahmat-bertemu-ma-ruf-amin
- https://voi.id/berita/35576/rm-cafe-tempat-bripka-cs-mabuk-dua-kali-didenda-rp-5-juta-karena-melanggar-protokol-kkes
- https://voi.id/berita/35602/disodorkan-tagihan-rp3-3-juta-usai-minum-miras-di-rm-cafe-cengkareng-bripda-cs-tembak-anggota-tni
- https://voi.id/berita/35548/detik-detik-penembakan-4-orang-di-rm-cafe-cengkareng
- https://voi.id/berita/35544/aksi-koboi-oknum-polisi-di-rm-cafe-cengkareng-t Kill-3-orang-1-selamat-kini-dirawat
- https://voi.id/berita/35403/anticip-banjir-lagi-anies-berkolabor-sientuk-segalanya-termasuk-buku-p]-warga-h]-banjir
- https://voi.id/berita/35532/edhy-prabowo-diduga-bangun-rumah-pakai-duit-suap-benur
- https://voi.id/berita/35524/3-warga-dan-1-anggota-tni-jadi-korban-aksi-koboi-bripka-cs-kapolda-fadil-saya-minta-maaf-ke-keluarga -and-tni-ad
- https://voi.id/berita/35526/oknum-polisi-yang-tembak-tni-ad-di-cengkareng-jadi-tersangka
- https://voi.id/berita/35515/kpk-bakal-tikut-oknum-yang-use-vaksin-covid-19-untuk-keuntung-pribadi
- https://voi.id/berita/35454/lima-perjaan-rumah-kepala-dinas-sda-baru-untuk-benahi-banjir-jakarta
Justin considers that Anies does not have a clear flood management master plan, the normalization of land acquisition is not serious, as well as the stagnation of river normalization and naturalization.
"The DKI Provincial Government seems to have neglected to prevent floods. As a result, the people are suffering. We are worried that it will set a bad precedent for the next government period after the end of Governor Anies' term", he said.
According to Justin, Anies should have shown alignment with the budget for flood management so far. For example, the cancellation of the acquisition of 118 land plots for river normalization worth IDR 160 billion in the 2019 APBD-Amendment (Regional Budget).
"At that time, the DKI Provincial Government was not willing to disburse the normalization budget on the grounds of a deficit. But in December 2019 and February 2020, the governor even disbursed the Formula E commitment fee of IDR 560 billion. For years, flood budget has not been a priority at all", he concluded.
---
The English, Chinese, Japanese, Arabic, French, and Spanish versions are automatically generated by the system. So there may still be inaccuracies in translating, please always see Indonesian as our main language. (system supported by DigitalSiber.id)