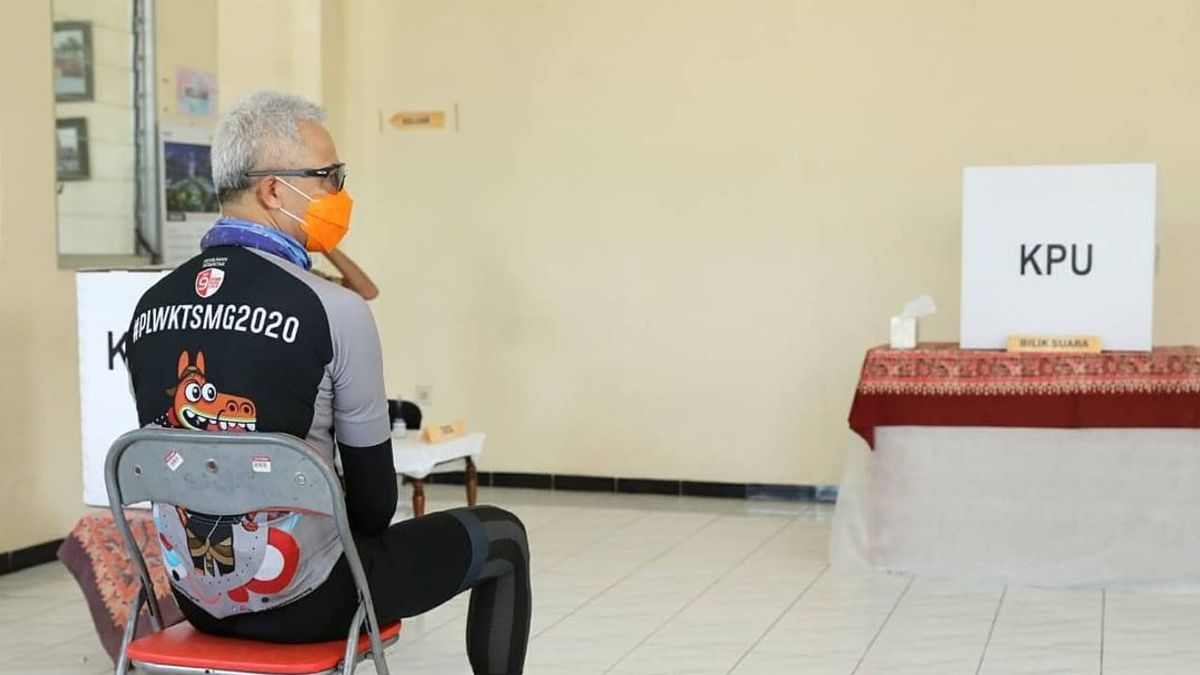 JAKARTA - Central Java Governor Ganjar Pranowo is getting more and more popular after survey results show that he is worthy of being a presidential candidate in the 2024 presidential election.
There are several similarities that are the reasons why Ganjar is said to be similar to Jokowi, what are the most prominent?
Leadership Style
The term blusukan, is synonymous with Jokowi after being inaugurated as governor of DKI Jakarta in 2012. Jokowi became known as a regional head who was ready to work directly in the community.
Similar to Jokowi, Ganjar too. The governor of Central Java likes to make blusukan to rural communities.
"The similarity between the two is that they are not reluctant to go down directly or from the community," said political observer Heri Budianto to VOI, Tuesday, February 23.
Apart from blusukan, Jokowi and Ganjar's speaking style also displays closeness to the community.
"That is owned by Ganjar who is similar to Jokowi. There is no distance, in the sense that there are no boundaries. Typical leaders who want to get closer to the people directly, that's the equation," explained Heri.
Regarding language, both Ganjar and Jokowi do not use political language so that it is easy for the public to understand. The language message used when having dialogue with the people is the language of the people.
"So we don't use high language, political language, it's difficult for the people to digest, mostly the language of politicians," said Heri.
Passions
From a perspective outside of politics, uniquely Jokowi and Ganjar also have similar preferences, namely that they both like loud music.
Jokowi, often expresses his fondness for rock and metal music. Guns N 'Roses, Metallica, Judas Priest, Lamb of God, and Linkin Park are some of the bands he likes.
While still serving as Mayor of Surakarta, he had watched the Linkin Park concert at the GBK Main Stadium in September 2011. And when he was Governor of DKI, he also attended the Metallica concert at the same venue two years later.
Meanwhile, Ganjar has liked rock music since high school. The man who was born on October 28, 1968 has collected tapes from famous rock bands of the 70s, such as Led Zappelin, Deep Purple to Queen.
Central Java Governor Ganjar Pranowo is said to have a resemblance to President Joko Widodo. One of them is a fan of blusukan, so it's no wonder that many call Ganjar 'The Next President'.
Ganjar apparently denied that his personal style was imitating Jokowi, although he admitted that he both liked blusukan and liked the same music as the president.
"I don't imitate Jokowi's data-style, but we do have something in common, both like blusukan and like rock music," said Ganjar Pranowo in Semarang, Monday, February 21, 2012.
Ganjar Firm, Jokowi Be careful
Behind the similarities, there is a significant difference between the two which lies in the typical personal behavior or political style. Jokowi is seen as calmer, cooler, and more careful in speaking than Ganjar.
"Ganjar is explosive, in the sense that its assertiveness appears in a condition. For example, when an error was found in the field, Ganjar did not hesitate to get angry at the location. That's the difference with Jokowi," said Heri.
This firm attitude, according to political observers, is an added value for Ganjar as the right figure to replace Jokowi as president.
"It could be that Ganjar's differences seem more assertive, seen by the public, especially Jokowi's voters. So that it is necessary for future leaders," said Heri.
Both departing from Central Java, will Ganjar also occupy the Palace?
---
The English, Chinese, Japanese, Arabic, French, and Spanish versions are automatically generated by the system. So there may still be inaccuracies in translating, please always see Indonesian as our main language. (system supported by DigitalSiber.id)