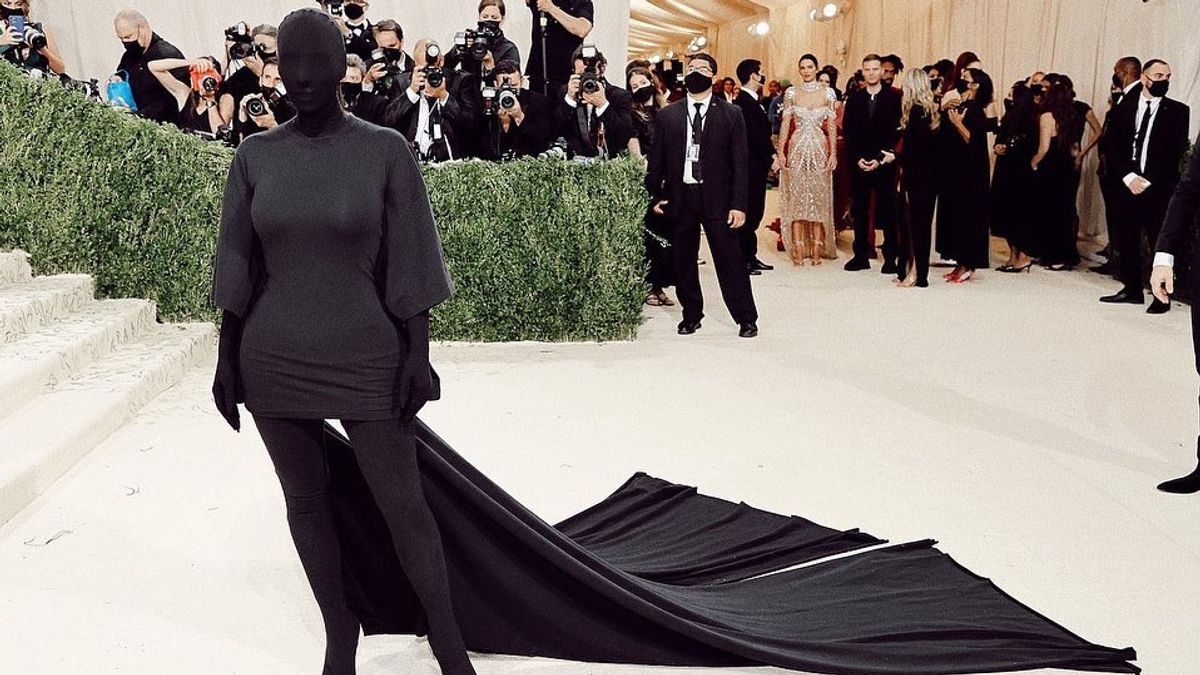 JAKARTA - The Costume Institute Gala or better known as the Met Gala has always been the talk of the public at every event. The Met Gala is usually held every first Monday in May. The Met Gala was not held due to the COVID-19 pandemic in 2020. For 2021, the Met Gala will be held on the second Monday in September.
Quoting Vogue, the Met Gala itself is a fundraising night that will later be given to the Metropolitan Museum of Art's Costume Institute in New York. The Met Gala has become a cultural phenomenon that has attracted global attention.
This exclusive party can only be attended by selected people who are invited. Even if you really want to attend, someone has to pay for a ticket for a new car and not just anyone is allowed to buy the ticket. In essence, someone has to be really special to be present at the Met Gala.
The start and development of the Met Gala
Nearly a century ago, theater producer Irene Lewisohn and theater designer Aline Bernstein laid the foundation for the Met Gala. They plan a dinner that is also made to show various fashion collections that are hoped to be inspiration by other fashion designers or theatre.
The Met Gala was finally organized for the first time by fashion publicist and founder of the Design Council, Eleanor Lambert in 1948. The dinner was held in December. The venues chosen were the Waldorf Astoria, Central Park, and the Rainbow Room until 1971.
Launching Architectural Digest, the Met Gala was further complicated during the 1970s with the arrival of Vogue editor-in-chief Diana Vreeland. He acted as a special consultant for the Met Gala in 1973.
Under Vreeland's time, the Met Gala began to embrace popular culture and celebrities began to be picked on the guest list. Andy Warhol, Diana Ross, and Cher have appeared with public figures and politicians such as Jacqueline Kennedy Onassis and Henry Kissinger.
Vreeland is also known as the person who made the Met Gala attended by unique fashion designs. In 1995, Vogue editor-in-chief Anna Wintour began leading the Met Gala. Wintour designated the first Monday in May as the day of the Met Gala.
Her guest list evolved to reflect the fashion, entertainment and political stars who would later grace the pages of Vogue. Anna Wintour still uses the pattern Vreeland used to invite celebrities over.
Athletes and models are also invited with and sit next to actresses and politicians. The dinner event is more colorful because it is coupled with the presence of celebrity presenters. In addition, there is additional entertainment filled with famous singers. Lady Gaga, Kanye West, Rihanna, and Bruno Mars have appeared in recent years to fill the Met Gala.
Along with the development of the times, some rules were also added. In 2015, the Met Gala banned its invited guests from using social media during the event, although sometimes guests still secretly took selfies. Finally, in 2016, Vogue launched a portrait studio as part of an event where guests could pose for photos.
The Met Gala regulations have also been tightened. In 2018, there was a rule that anyone under 18 was not allowed to attend the Met Gala, not even an exception for minors attending with their parents.
Before the rule, several young stars were present, including Jaden and Willow Smith, Elle and Dakota Fanning, and Hailee Steinfeld. The explosion of social media made the Met Gala re-develop the guest list.
Whereas previously the Met Gala was attended by celebrities or top actors, politicians, and athletes, the Met Gala began to invite YouTubers like Lilly Singh and Liza Koshy to blogger Chiara Ferragni and beauty influencers like Camila Coelho and James Charles.
Anna Wintour is also very strict with the seating rules for invited guests. In the 2016 documentary The First Monday in May, which details the planning of the Met Gala, special projects director at Vogue, Sylvana Ward Durrett, explains that a lot of special thought went into the seating plan.
"A lot of thought went into who sat next to whom, if they sat together last year, if they sat next to each other at another event, so many plans were made, it was shocking," said Ward Durrett. According to Ward Durrett, the couple who were guests at the Met Gala never sat next to each other.
"The whole point of this is for us to meet new people and be interested in what other people are doing. What's the point of coming here just to chill with your husband?" said Durrett.
Who is Anna Wintour
When it comes to the Met Gala, Anna Wintour cannot be separated from it. Anna Wintour has been in the fashion editorial world for decades. He has also made various decisions to make fashion magazines more advanced. One of the most terrifying is when he changed the face of Vogue, which has endured for decades.
Worried that Vogue would be boring, Wintour as editor-in-chief with all his freedom, revitalized the publication. In his three decades at the helm of the magazine, Wintour has more than accomplished his mission. He restored Vogue's lead while producing some really big problems.
As of the September 2004 issue, there are 832 pages in one magazine. Citing Biography, Wintour began to look at celebrities rather than models for the cover of Vogue. Wintour was also the first to truly mix low-end fashion with more expensive items in his shoots.
On the cover of the November 1988 issue of Vogue is a 19-year-old Israeli model wearing jeans for $50 and a jewel-encrusted t-shirt for $10,000. With the Council of Fashion Designers of America, Wintour helped create a fund to encourage and support emerging designers.
As a board member of the Metropolitan Museum of Art's Costume Institute, Wintour organizes fundraisers for the costume department, which over the years has generated an estimated $50 million. In October 2017, Wintour made headlines when he revealed that he would no longer invite Donald Trump to the Met Gala.
Anna Wintour also managed to mix and match fashion and politics. He has co-hosted a fundraising event for President Barack Obama with actress Scarlett Johansson. His Runway to Win show offers Obama-themed fashions and accessories from designers such as Diane Von Furstenberg, Marc Jacobs and Tory Burch.
"Runway (a stage for models wearing designer clothes) is no longer just a runway, it is now a force for change in politics," said Wintour.
Anna Wintour is not just an influential person in fashion, she is able to break traditional rules related to fashion and is able to embrace new cultures every year. No wonder the Met Gala under his leadership has become a culture that is inevitable and will continue to be the talk of the town in the years to come.
*Read other information about WORLD HISTORY or read other interesting articles from Putri Ainur Islam.
Other MEMORIES
---
The English, Chinese, Japanese, Arabic, French, and Spanish versions are automatically generated by the system. So there may still be inaccuracies in translating, please always see Indonesian as our main language. (system supported by DigitalSiber.id)