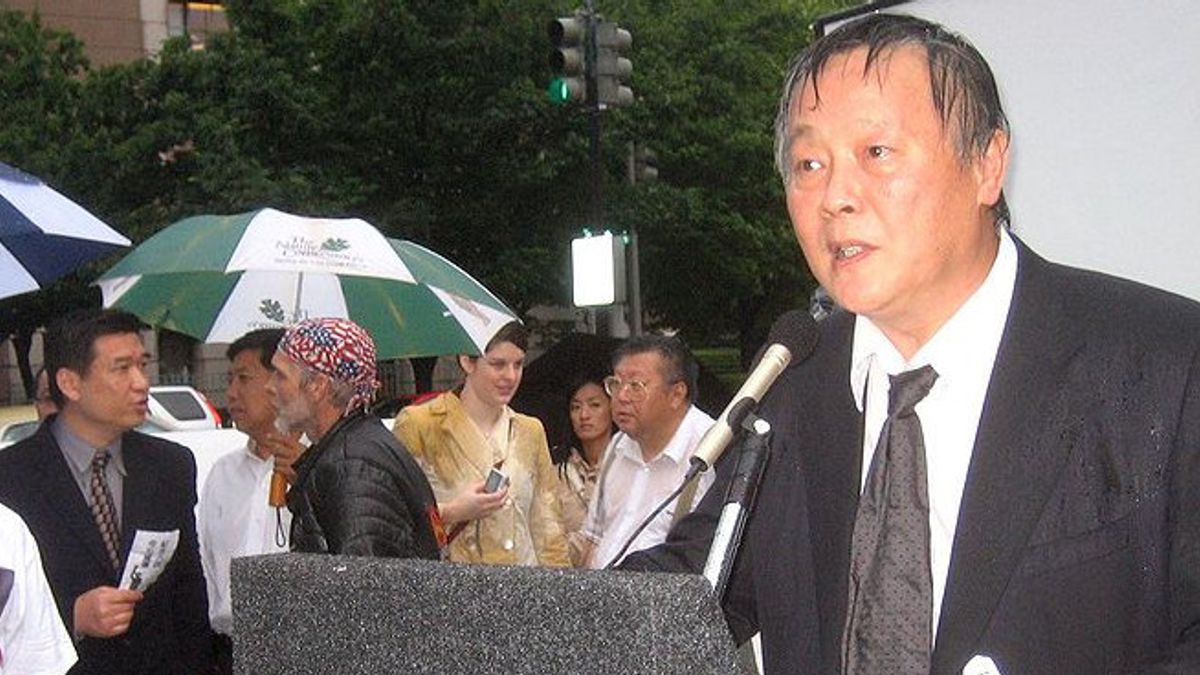 JAKARTA - On November 16, 1997, human rights activist and leader of the democracy movement in China, Wei Jingsheng was released from prison. Wei Jingsheng previously wrote an essay entitled The Fifth Modernization. Because of his manifesto, Wei was arrested and imprisoned as a political prisoner from 1979-1993.
Wei's writing was pasted on the Democratic Wall in Beijing in 1978. Wei was also considered to have carried out a 'counter-revolutionary' movement. The Democratic Wall was then demolished on December 6, 1979. The Democratic Wall stood for a year.
During its construction, the Democracy Wall was plastered with posters and writing on the walls by 'dissidents' and petitioners criticizing China's leaders. They demanded more democratic freedoms and complained about the injustice of the bureaucracy.
Prison bars have not silenced Wei's criticism of Chinese officials. Wei continued to write letters he deemed disrespectful to China's top leaders.
"I have written to you so many times that I might start to piss you off and you wonder, 'Why can't this person sit in prison quietly?'" Wei said in a letter written in November 1989.
The letter was addressed to China's Revolutionary Leader, Deng Xiaoping. In dozens of letters, notes, holiday greetings, and unsolicited comments, Wei spoke kindly and rebuked, criticizing and correcting China's leader, the people and the system that imprisoned him.
Sometimes he complains about his declining health. But mostly he offers outspoken advice on how to run the country. Wei was released in September 1993, when China volunteered to host the 2000 Olympics.
For six months, Wei helped revitalize the country's weak dissident movement. But in the spring of 1994, Wei was again detained after meeting John Shattuck, the US assistant secretary of state for human rights.
Detained for 18 months without charge or trial, Wei was brought to trial in November 1995. A month later, Wei was sentenced to 14 years for conspiring to overthrow the government. Family members said Wei's health was deteriorating at that time.
Wei Jingsheng's release was granted on November 16, 1997 due to medical problems. After his release, Wei was immediately deported to the United States (US).
Some time after arriving in the US, Wei met with US President Bill Clinton at the White House. The US side ignored Chinese authorities who demanded that officials not give a hearing to a man they thought was a criminal.
"This action by the US side is completely wrong, and the Chinese side expresses its strong hatred of and firm opposition to the meeting," a Chinese foreign ministry spokesman said, citing the Los Angeles Times.
During the meeting Wei warned Clinton about the dangers of "deceit" by Chinese leaders. He said his experience had shown the Chinese government often broke promises. "Very often, you unwittingly allow yourself to be deceived," he says.
When pressed to explain his point, Wei said through an interpreter, "In dealing with the Communists, don't pay before the goods are delivered."
Warning about COVID-19
Through a documentary called What Really Happened in Wuhan, Wei Jingsheng said that he was trying to tell the US authorities how serious COVID-19 had actually emerged in China since October 2019. Wei at that time received news of the mysterious disease through contacts in Beijing.
But his repeated attempts were ignored. "I felt they didn't care. So I tried my best to provide more details and information," Wei said in the documentary.
"They don't believe that the government of a country does such a thing (covering up the virus), so I keep repeating it in an attempt to persuade them," Wei added.
Citing the New Zealand Herald, China is known to have not notified the World Health Organization (WHO) about the outbreak until December 31, 2019. The Chinese side also denied that COVID-19 was contagious until the end of January 2020.
The WHO declared the outbreak a public health emergency of international concern on January 30, 2020. Wei declined to reveal which politicians he spoke to.
He said that person had quite a high rank. "I'm not sure if this politician I want to talk about here," he said.
"But I want to say he is a high enough politician, tall enough to reach the President of the United States," Wei concluded.
*Read other information about INTERNATIONAL NEWS or read other interesting articles from Putri Ainur Islam.
TODAY'S HISTORY More
---
The English, Chinese, Japanese, Arabic, French, and Spanish versions are automatically generated by the system. So there may still be inaccuracies in translating, please always see Indonesian as our main language. (system supported by DigitalSiber.id)