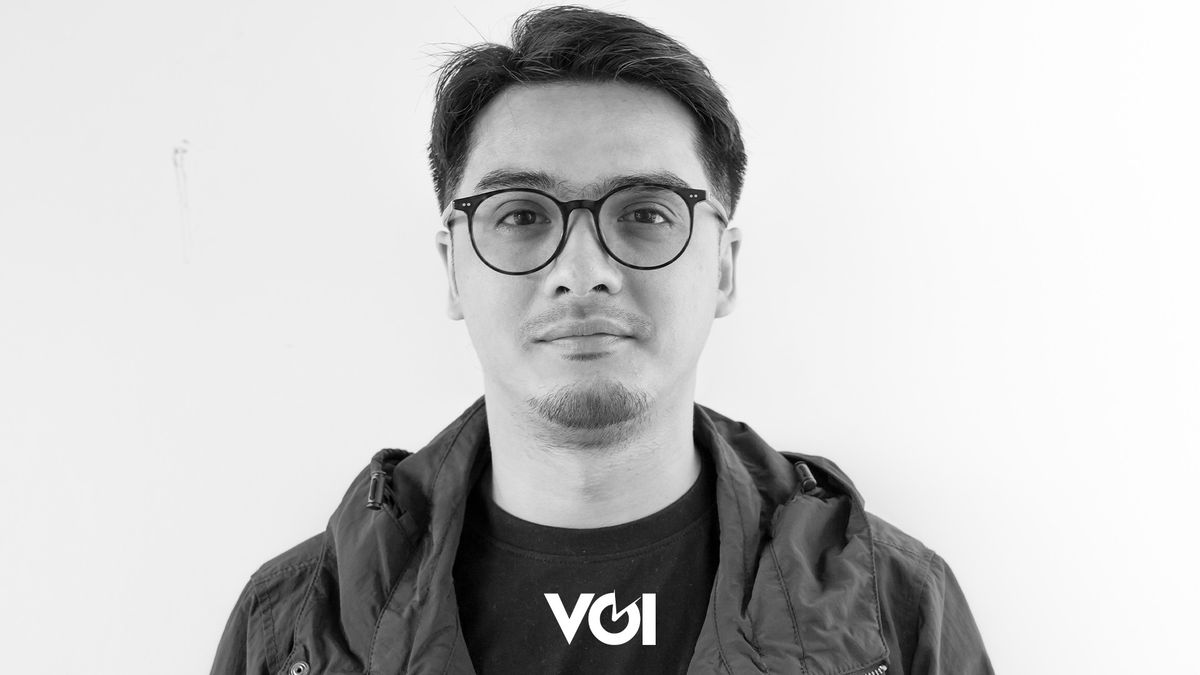 JAKARTA - Ricky Harun has a new assignment as commissioner of PT HK Metals Utama. His name appeared in the public expose of manufacturing issuers published in the information disclosure of the Indonesia Stock Exchange (IDX) dated August 16.
In the midst of his busy life as an artist and entrepreneur, Ricky apparently wants to challenge himself to learn new things. His introduction to PT HK Metals Utama is also quite unique. Because of a friend, Ricky got an offer to become a commissioner.
The son of Donna Harun admitted that at first he did not know what the duties of the commissioners were. "When I was contacted by a friend, I was shocked. Because I had absolutely no idea what the commissioner was doing. But I was convinced that PT HK Metals Utama really needed me. If other people believe in me, why don't I believe in myself?" he said during a virtual chat with VOI, Monday, August 22.
With his education in management, Ricky accepted the offer and was ready to adapt to a new formal position in a company. "Today I really just entered the office. Last Friday the appointment was still online. There are already several steps in my mind that will be implemented," he said.
As a commissioner, Ricky wants PT HK Metal Utama to be better known to young people. transformation, and hopes that his presence can make the company reach wider consumers, especially young people.
"My hope is not only to distribute but to reach a wider range. The ideas that will be raised later from here, later we will discuss the strategy to be able to penetrate the younger generation of consumers," he said.
The energy of Ricky Harun who is very familiar with the younger generation and social media that will be used to develop the metal company. Ricky realizes that the penetration of consumers to young people is very important. Moreover, this company had a loss in 2020.
PT HK Metals Utama Tbk reported that the company suffered a net loss of Rp235.7 billion in 2020. The information is quoted based on a disclosure published on Monday, August 15.
As for the first quarter of 2021, the business entity with the stock code HKMU posted a net profit of IDR 3.1 billion. The company experienced a decline in revenue in the aluminum manufacturing segment by 57 percent year-on-year (yoy) from IDR 302 billion in the second quarter of 2020 to IDR 130 billion in the second quarter of 2021.
In detail, the company's gross profit in the first trimester of this year was Rp. 15.22 billion. Then, net sales were recorded at Rp130.30 billion.
Specifically for sales, the contribution of operating income is still supported by aluminum products with a percentage of 51 percent. Followed by 21 percent mild steel, 12 percent stainless steel, 8 percent PVC pipe, and 8 percent of sanitary products.
As for liabilities, in the first quarter of 2021, it is stated that they amounted to Rp.453.78 billion. This figure slightly decreased from the recapitulation of the same sector at the end of 2020 with Rp464.91 billion.
Asked about this loss, Ricky did not deny it. "Indeed, the data is correct. But I see this as a challenge. What do I need if the company is healthy and fine. Why should I join? There is nothing to do, right?" he asked back.
Ready to Turn Loss
Ricky Harun would call the loss a challenge. "This is a challenge for me, because the loss was caused by the bankruptcy decision of one of its subsidiaries. It cannot be denied that the pandemic has reduced turnover. Previously, HKMU focused on distribution, later it will shift its focus to manufacturing with profitable margins," he explained.
Ricky's job is to find ways to increase his company's profits. HKMU admits that it is ready to transform so that young people are better known as the market of the future.
"Hopefully it is in accordance with the vision and mission of HKMU. I am very much expected to issue fresh ideas that have not been thought of at all by HKMU before. I am ready to issue all ideas on how to make HKMU wider to people who need our products," he explained.
Ricky did not expect his appointment as commissioner of PT HKMU to become a trending topic on Google. However, he felt the impact when countless people contacted him and congratulated him.
Ricky Harun admits that his position as Commissioner of PT HKMU Tbk opens up many new offers. Not for endorsements or advertisements as usual, but for factory needs such as diesel.
"Suddenly a friend of mine offered diesel for the factory, I was surprised. Usually they offer me for endorsements or collaborations, here they are offered diesel. Indeed, this is a factory, but I don't take care of it to the detail of fuel needs," said Ricky Aaron.
Even though his busy schedule has increased, Ricky promised not to leave the world of entertainment. "I'm not going anywhere. It's impossible to leave fans like I am. I will still be on television and social media that are easy to find," he said.
At the beginning, Ricky Harun admitted that he had to adjust the time. However, he believes that over time, he will be able to manage the role well.
"If you have found a time plot arrangement, there is a work plan, yes, I'm sure all of them can be carried out. If you want to be a commissioner, entrepreneur, and artist, you can do it," said Ricky Harun.
His belief started with the support of his wife, Herfiza Novianti. He admitted that every step he took to do anything he always prayed for his wife, including when he accepted an offer as a Commissioner of PT HKMU.
"It should be, my wife is the first to be notified that I will be the Independent Commissioner of HK Metals Utama. Because the wife's blessing is the key to her husband's success," said Ricky Harun.
---
The English, Chinese, Japanese, Arabic, French, and Spanish versions are automatically generated by the system. So there may still be inaccuracies in translating, please always see Indonesian as our main language. (system supported by DigitalSiber.id)
Most Popular Tags
#hajj
#Ukraine
#Jokowi
#PMK
#ACT case
Popular