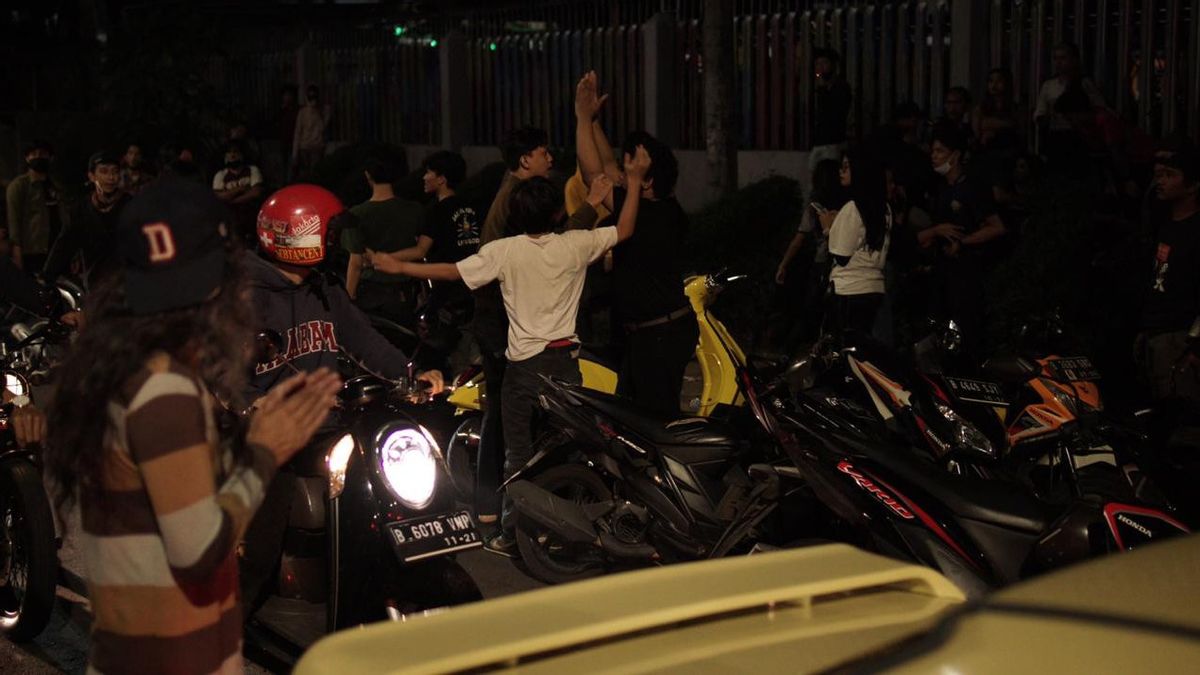 JAKARTA - Bulungan, Sunday morning, September 13. Our watches read 02.49 WIB, when a riot between two small groups of youth broke out in front of SMA 70 Jakarta. The riot started from a wild running race with money bets to lure a group of big, tall people out of an army green car and get into the chaos. Our evening ended there, with a chat with the Speed Run group. That night we realized that the wild running movement was expanding. Wild racing now belongs to everyone. Those who desire to escape from the system.
[Click to Taste]
Several hours before the commotion, at around 12.03 WIB, we were already in the Bulungan area, when a police car swept the road along SMA 70 to GOR Bulungan. With sirens, the police expelled hundreds of people crammed along the road. Bulungan that night was so busy. As if there is no pandemic between them.
"They were told to move because of the crowd. You want PSBB. The police said preparations," said a mobile beverage trader who suddenly approached us.
According to the trader, Bulungan was always crowded on weekends, although that night was much more crowded. Several motorized people then went in groups. From the motorbikes, they shouted, "Just Antasari, just Antasari!"
Another mob followed, leaving the rest of the crowd at the location. Even though many people were left behind, the crowd didn't feel much changed. The people who were driven out by the police were replaced by other groups who kept coming. We were pessimistic about the situation that night and decided to follow the call of the gang that had previously moved to Antasari.
Arriving at Antasari, we didn't find anything. In fact, the location around Brawijaya Hospital, which - if you refer to the Instagram account @ info.balaplari100m - is often used as a location for wild running races, it is empty. We decided to return to Bulungan, until uploading an Instagram Story on the @ info.balaplari100m account changed our direction. The upload shows activities around Jalan Inpres Raya, Ciledug, Tangerang City, Banten. We were there too.
Runners in the alley
Along Jalan Raya Inpres, we found a group of youths gathered in front of a small alley. Some of them wore sweatpants. Some without clothes. The rest wore casual clothes, jackets and denim pants. We approached a dozen youths in the range of 20 years.
When we arrived, they had just finished the race. There are two people involved. One of the sweatpants. And the other is an unclothed man. They ran for Rp50 thousand. We volunteered to participate in the races. A young man named Gilang responded to our request.
However, running racing cannot be done right away. When we arrived the group was just about to change places. It turns out that they do wild racing in locations that tend to be sudden. Later, when they find the location, they will upload their activities and tag the accounts with "race info", be it @ info.balaplari100m or similar accounts. The accounts will spread later.
The group we encountered was a wild group. They admit that they are not affiliated with any account that usually spreads information about running racing activities. We also exchanged numbers with Gilang. He promised to contact us when the running location was found.
"It depends on where. The horror is there (the police). It won't be where people are racing. The path is empty, we just play. Just to be safe. Let my brother be safe, we'll be safe. At most here later. The problem is that those who are on the track, riot ... The problem is that the police are starting to run at the racing venue. Better to make an appointment, play once, disband, "said another young man. Like Gilang, he also carried a lot of money in his hands.
About 30 minutes we waited for news from Gilang's group, until information came from Bulungan. The social media account @ speedrun.100m uploaded a running race in Bulungan. In a live broadcast on Instagram, it was seen that the path in front of SMA 70 was used as a track for their strong fight. We returned to Bulungan.
[Click to Taste]
Bulungan's hustle and bustle hasn't diminished since we left a few hours ago. But this time the human horde was more concentrated. The closer to SMA 70, the voice became even more boisterous. The crowd was getting crowded. And what is clear, the atmosphere is increasingly not conducive.
Two small groups of youths were involved in a riot sparked by a betting race. They shouted at each other and occasionally attacked each other. When we arrived, people started spilling out onto the road. Traffic choked up. Motorcycle exhausts are pushed harder, horns are pressed louder.
An army green car then appeared. With sirens and blue strobe lights, the Toyota Harrier cut through the chaos. The movement provoked screams and cursing from the crowd. Not long after the car had passed, three well-built men suddenly ran towards the crowd and shouted threats. "Who was talking earlier? I'll shoot you!"
It was not clear who the group was tall and big, with short cuts and in an army green car. What is clear, they lured into the chaos. Things even heated up when a white helmet was thrown from across the street and hit one of the men in the head. Lasting about 20 minutes, the chaos subsided on its own.
Wild runners
In the midst of the chaos, we met a local youth we knew. Lare, his name. To us, the cook at a restaurant in Bulungan explained the start of a riot triggered by the amount of money that was wagered in illegal racing.
"Don't badmouth it, the place. That's (the commotion) because he really doesn't want to pay, huh ... How many sessions, huh. A lot ... First clash is because I don't want to pay," he said.
Lare's explanation then led us to another youth group around the site. They are the manager of the Instagram account @ speedrun.100m. We talked with Jek, one of the motorbikes for the movement of the @ speedrun.100m account.
He is 20 years old. He manages the @ speedrun.100m account with four of his friends, who average 17 to 21 years of age. @ speedrun.100m is one of many other movements in various parts of Indonesia that are taking part in the flow of wild racing.
They are not initiators. It's a little difficult to find who made this movement the earliest. Several accounts labeled "100m wild racing" show a variety of information. Based on searches, we find the account @ infobalaplari100m as the account with the earliest uploads.
Their first post was August 25. Other accounts posted their first uploads in September on average. This includes @ speedrun.100m, which made its first upload on September 5. Although not the first, @ speedrun.100m is the account that catapulted this movement.
The wild race held @ speedrun.100m in Cileungsi, West Java was a viral moment and became a topic of conversation everywhere. Outside of Instagram, @ speedrun.100m is a platform. Not a big container. But Speed Run has a clear purpose.
Through this movement they try to bring out as many potential runners as possible by breaking through the bureaucracy and official channels. In their eyes, too much potential athlete is wasted just because they don't have access to official channels. Hence, the streets and social media they choose. And not without reason they choose to run barefoot in every wild race. According to Jek, this is a symbol of resistance to the system.
"Because the potentials of my friends around me and people I don't know can unleash their respective potentials. I want them to develop their talents and convey them. How, yes. because of their financial background. We are just a forum, anyway. The point is as a forum for our runners to move forward. "
Speed Run itself now has five runners. These potentials they can get from the activities of running wild racing and the people around them. Some of the runners are professional athletes. For these athletes, running wild racing is a way to stay in shape amid a pandemic that forces them to stop daily activities and training.
According to Jek, today the situation is getting more and more difficult for his fellow athletes. "In the cave, there were also runners, the runners were in League 2. There were also those at the TNI PS, in the pre-PON," said Jek.
From the start, wild running was a positive activity. The potential and enthusiasm that the authorities need to support, of course. However, it is not easy to keep this on a positive path, considering that not all of them rebelled by means of Jek and Speed Run.
Wild racing now belongs to everyone. The runners in the alley, the gamblers in Bulungan that Sunday night, or all the crowd who just watched the fast-footed race on their motorbikes.
All can do whatever they do. With consequences that follow, of course. Be prepared to go to jail if caught pocketing the stake. Or be prepared to be shaved in the cell if involved in a riot that disturbs the peaceful environment. True, wrong is not our concern. However, the above consequences are clear in the rule of law.
---
The English, Chinese, Japanese, Arabic, and French versions are automatically generated by the AI. So there may still be inaccuracies in translating, please always see Indonesian as our main language. (system supported by DigitalSiber.id)