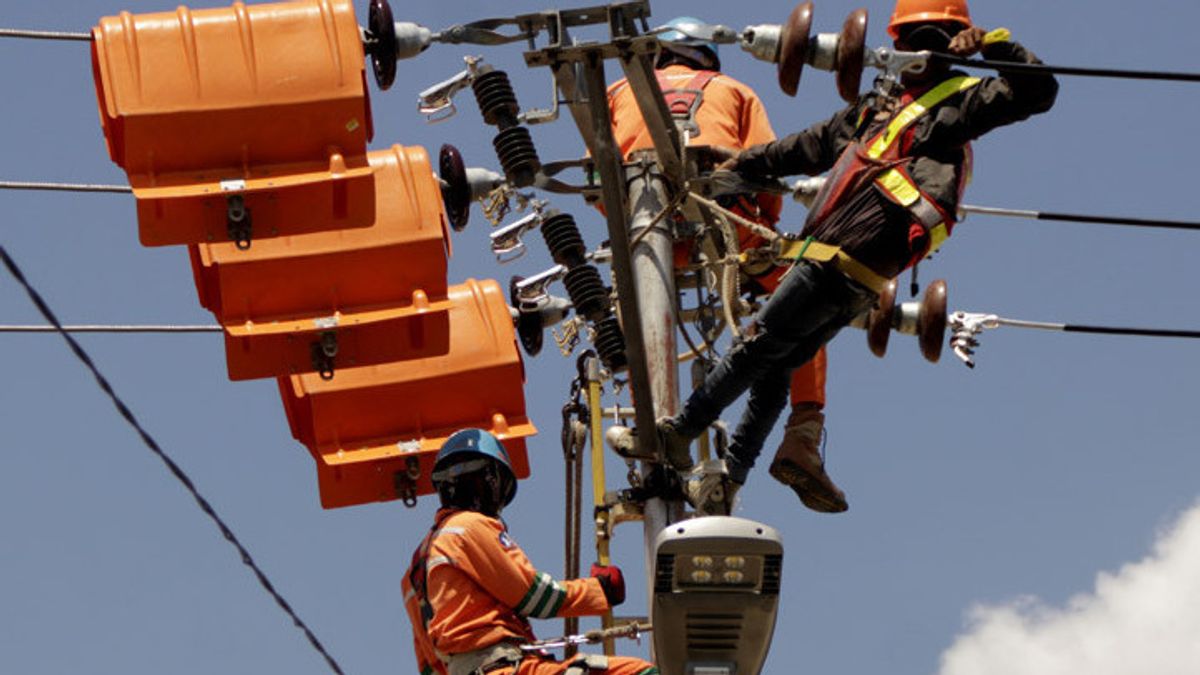 JAKARTA - Public Services International (PSI), a global federation of unions consisting of more than 700 trade unions representing 30 million workers in 154 countries sent a letter to President Joko Widodo (Jokowi). In the letter, PSI provides support to the PLN group labor union which is fighting against the privatization of SOEs.
The letter was signed by PSI General Secretary Rosa Pavanelli. The letter clearly stated that PSI and its affiliates in the electricity sector in Indonesia are the PT PLN Persero (SP PLN Persero) Workers Union, the PT Indonesia Power Employees Association (PP IP), and the PT Pembangkitan Jawa Bali (SP PJB) Workers Union. resisted attempts to privatize, through the merger of several State-Owned Enterprises (BUMN) and their subsidiaries into one holding company.
It is known that the Ministry of SOEs is currently planning to form a holding company for geothermal and coal-fired power plants, in which Geothermal will be separated from the main parent company, namely PLN, owned by the government. After forming a separate holding company, the assets and shares will be sold through an initial public offering (IPO).
"Dear Mr President, the Constitutional Court has decided that any attempt to privatize electricity, in any form, is against the 1945 Constitution. The Constitutional Court affirms that electric power is an important production sector for the state and affects the lives of many people," Rosa said in her letter, quoted Wednesday, September 15.
As mandated by Article 33 paragraph (2) of the 1945 Constitution, electricity must be under the control of the state (MK Decision No. 001-021-022/PUU-I/2003, Application for Judicial Review of Law NO. 20 of 2002 concerning Electricity on page 334. Decision of the Constitutional Court case No. 111/PUU-XIII/2015, Application for Judicial Review of Law NO. 30 of 2009 concerning Electricity, page 103).
"Electricity is a necessity, is a strategic interest for the country and has an impact on the lives of all Indonesians. The government must maintain its ownership and continue to strive to ensure universal access to low-carbon electricity generation and a just and equitable transition," he said.
Rosa said the privatization of energy services would cripple universal access and hinder the critical transition to low-carbon electricity generation, as required by the Paris Climate Agreement. Moreover, Indonesia pledged to reduce greenhouse gas emissions by 29 percent by 2030 by increasing the use of renewable energy to 23 percent of total national consumption by 2025.
Furthermore, said Rosa, a recent report from the International Energy Agency shows that private energy companies are unable to make the transition to low-carbon electricity production, as their profit streams depend on access to cheap fossil fuels.
Rosa said that once electricity was privatized, the priority of the private sector was to manage the energy system to generate the maximum profit in the shortest possible time. Private operators will raise prices or ask for higher public subsidies. They will find excuses not to provide services to the poor or people in remote areas.
"The profits they make will be taken out of Indonesia. Likewise, the companies that buy their shares will use their power to influence the Indonesian political system, so that laws and regulations are made and implemented for their benefit," he said.
Based on PSI data, many countries have suffered losses from privatization and are trying to take back control of these public services. The private sector promises of new investment, better efficiency and lower electricity prices have generally failed to deliver.
Rosa said PSI also reminded that Indonesia as mandated by the Constitution is obliged to maintain ownership and control over electrical energy in the hands of the public. PT PLN is a state-owned company that has the authority to provide electricity for all Indonesian people.
PT PLN has proven, time and time again, with its long experience in managing and operating electrical assets that PT PLN is able to provide reliable and affordable electricity for all people and businesses in Indonesia.
"It is with deep respect that we write this letter. We are willing to meet with anyone assigned by the President to share our experience with problematic privatization for more than 40 years. Unions in the energy sector in Indonesia are ready to support the national energy strategy that will can meet the needs of the Indonesian people and fulfill the country's commitment to the Paris Climate Agreement," he said.
---
The English, Chinese, Japanese, Arabic, French, and Spanish versions are automatically generated by the system. So there may still be inaccuracies in translating, please always see Indonesian as our main language. (system supported by DigitalSiber.id)
Most Popular Tags
#Anies Baswedan
#Afghanistan
#Jokowi
#ppkm level 2
#rachel vennya
Popular