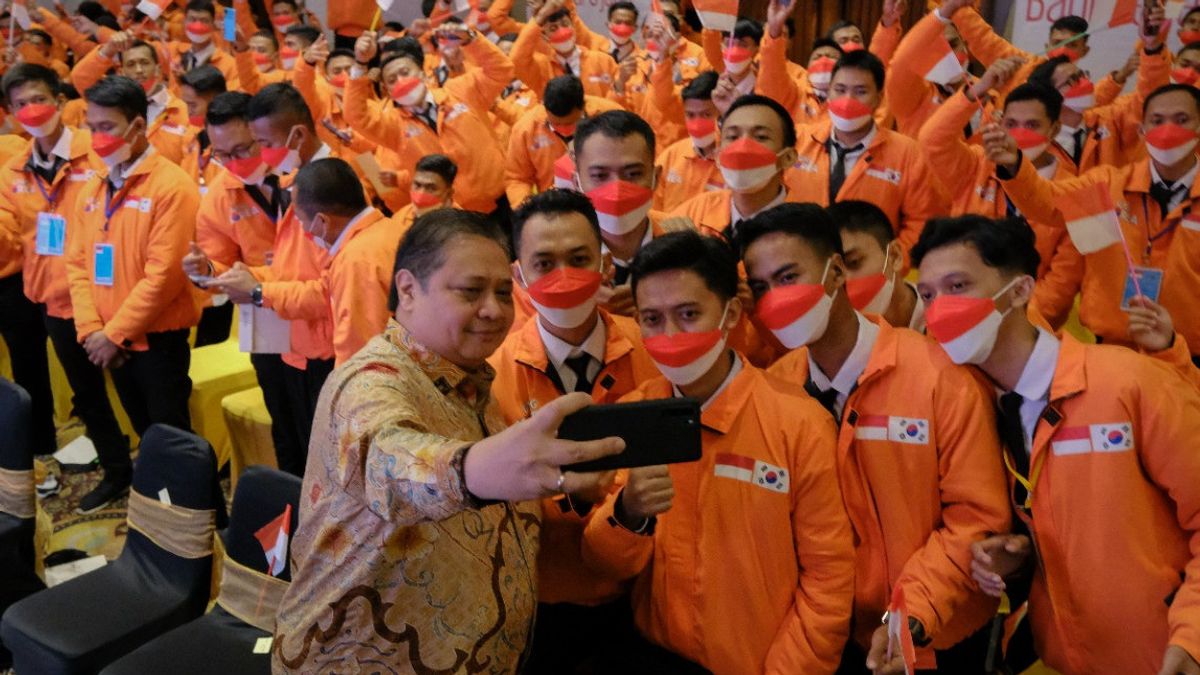 JAKARTA - The contribution of remittances from migrant workers generates foreign exchange for Indonesia of Rp. 159.6 trillion per year. According to Coordinating Minister for the Economy Airlangga Hartarto, this is one of the largest foreign exchange earnings for Indonesia.
This makes the Government continue to encourage and provide support for migrant workers. Especially for Indonesian Migrant Workers (PMI) who are supported by their competence.
"Indonesia is the nation with brothers and sisters present in this room," said Coordinating Minister Airlangga Hartarto when delivering a motivational speech at the Release of Indonesian Migrant Workers Program G to G South Korea, Monday, August 22.
According to Airlangga, migrant workers have been one of the pillars of the growth of the national economy. It even contributes concretely to state revenues and economic productivity, through high remittances or income sent to the country.
This remittance is not only able to provide financial benefits for the welfare of working families, but also acts as a catalyst in increasing the country's foreign exchange.
Prior to the COVID-19 pandemic, the average remittance of Indonesian Migrant Workers (PMI) from 2015 to 2019 reached 9.8 billion US dollars per year. PMI remittances from South Korea in the second quarter of 2022 recorded a value of 22 million US dollars.
The government is now continuing to strive to improve services, protection, and support for migrant workers which is realized through various policies.
One of the Government's policies is related to optimizing protection for PMIs by reducing various problems from the early stages of recruitment through the Government to Government (G to G) scheme. The government also ensures the security of PMI by eradicating illegal placement syndicates of PMI in migrant destination countries.
According to Airlangga, the Government also provides exemption from several costs that must be paid by PMI such as preliminary fees for certain types of work, placement fees for PMI in 10 types of positions that are quite vulnerable, departure and return ticket fees, work visas, legality of work agreements, job training, certificate of work competence, company services, passport replacement, social security for migrant workers, health checks, transportation, to accommodation.
In addition, the Government also provides financial support by providing working capital through KUR PMI. In 2022, the Government will allocate a budget of IDR 390 billion and increase the loan ceiling from the previous IDR 25 million to IDR 100 million.
In addition to increasing the credit ceiling, the Government has also changed the method of disbursing PMI KUR according to the stages of the PMI placement process so that it is expected to increase the delivery and welfare of PMI.
"Especially for migrant workers who need money before leaving, the Government provides PMI KUR with a ceiling of up to Rp. 100 million so that PMI does not need to sell goods or owe money to moneylenders anymore and of course this amount can still be paid for by PMI," said Coordinating Minister Airlangga.
Airlangga advised PMI to continue to improve experience and skills, coordinate with embassies in overcoming various obstacles faced, and not to forget the values and identity of the Indonesian nation.
"After 3 years of working, in Korea I hope that you will also be able to work in Indonesia in the same sector with your experience and competencies. You can also take various lessons to accelerate changes in the country and don't forget the identity of the Indonesian nation. as a friendly community," concluded Coordinating Minister Airlangga.
The head of the Indonesian Migrant Worker Protection Agency (BP2MI), Benny Ramdani, on the occasion also expressed his gratitude to Coordinating Minister Airlangga for providing facility support to these migrant workers.
"This is a form of state respect for foreign exchange heroes. So if the state provides free lodging facilities to PMI, this is actually small, because PMI returns to this country every year, 159.6 trillion rupiah. This is only happening in the current era," said Benny .
Benny also expressed his gratitude to Coordinating Minister Airlangga for providing a loan assistance package of 55 billion to BP2MI.
"Applause to Mr. Coordinating Minister Airlangga for showing concern and giving empathy to migrant workers. Thank you Mr. Coordinating Minister Airlangga because this 55 billion has saved eight thousand PMIs," said Benny who was greeted by thunderous applause from the PMIs who were present at the release ceremony. that.
For information, the Government sent 551 PMIs through the G to G scheme to South Korea, most of which are in the manufacturing and fishery sectors. In addition to being equipped with qualified skills, PMI is also equipped with a credential letter that will be given to their respective workplaces in order to provide adequate confidence for employers regarding the quality of PMI.
The activity was also attended by Members of Commission I of the Indonesian House of Representatives, the Head of the Indonesian Migrant Worker Protection Agency (BP2MI), the Deputy for the Coordination of the Digital Economy, Employment, Micro, Small, and Medium Enterprises of the Coordinating Ministry for Economic Affairs, the Director of HRDK EPS Center Indonesia, as well as the Head of the Center Indonesian Migrant Worker Protection Services (BP3MI) all over Indonesia that join virtually.
---
The English, Chinese, Japanese, Arabic, French, and Spanish versions are automatically generated by the system. So there may still be inaccuracies in translating, please always see Indonesian as our main language. (system supported by DigitalSiber.id)