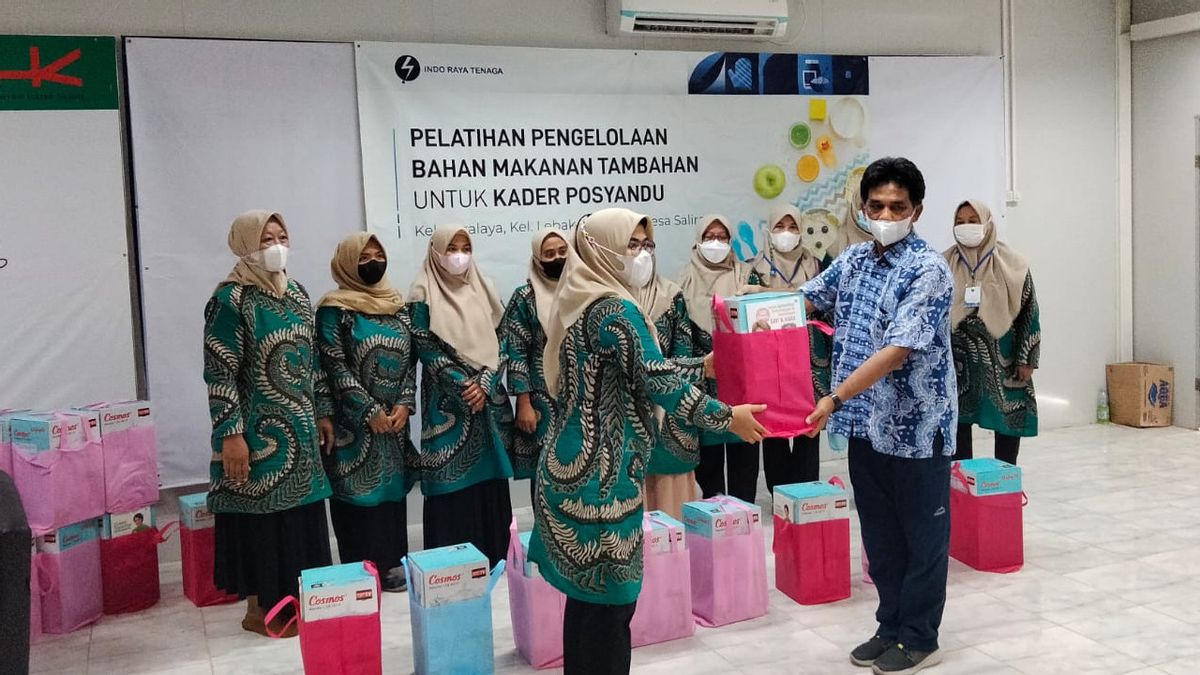 JAKARTA - The 2021 Indonesian Toddler Nutrition Status Survey (SSGBI) places Banten Province in the top five regions with the highest stunting rate in Indonesia. With the number of stunted children as many as 294,862 toddlers, stunting alleviation programs are the focus of being implemented in the region.
To support this goal, PT Indo Raya Tenaga (IRT) as SPC (Special Purpose Company) for the PLTU Ultra Super Critical Jawa 9&10 (2 x 1,000 MW) power plant project with the Cilegon City Health Office agreed to cooperate. One of them is carried out by holding additional food material management training for 23 cadres of Integrated Service Posts (Posyandu) in three regions, the first of which was held on Thursday, June 23.
"The provision of supplementary food (PMT) for recovery for children aged 6-59 months is intended as an addition, not as a substitute for the main daily food," said Lia Pursitawati, Young Nutritionist in the Nutrition Health Section of the Cilegon City Health Office, in a written statement, Friday, June 24. .
Lia said, Supplementary Feeding (PMT) for children under five in Cilegon City has been carried out from year to year. The PMT provided is in the form of manufactured food that meets the nutritional needs of children under five in the form of biscuits, certain diet milk and nutritional formulas for poor nutrition (F 75, F 100, F 135).
According to him, toddler age is a period of very rapid growth and development and is prone to malnutrition. To overcome malnutrition that occurs in the age group of under-fives with malnutrition in Cilegon City, it is necessary to organize the Provision of Supplementary Food (PMT) for Recovery.
Improving good nutritional intake for toddlers is also one way to reduce the prevalence of stunting. Not only local governments, the role of many parties is also needed to pursue the target of reducing the national stunting rate by 14 percent in 2024.
In order to comply with this, the rate of stunting reduction in the region must be in the range of 3.4 percent. Especially for the City Government of Cilegon, Banten, the decline in the stunting rate from 29.08 percent in 2019 to 20.06 percent in 2021 itself is a motivator to continue to work hard to boost the handling of malnutrition problems for toddlers.
The three areas are Salira Indah, Pulo Ampel District, Serang Regency and Suralaya and Lebakgede Villages, Pulomerak District, Cilegon City, in the PLTU USC Java 9&10 Training Room, Suralaya Village, Pulomerak District, Cilegon City, Banten, Thursday 23 June.
General Manager of PT IRT Steve Adrianto said, with this collaboration, his party hopes that the fulfillment of nutrition for the community around the project environment can be created. He explained that the Supplementary Feeding program was focused on efforts to improve people's living standards through the provision of public health program services, especially for mothers, children and the elderly.
"Hopefully, children and toddlers who receive the benefits of this program can grow well and become the nation's successors in the future. Of course, it can also provide encouragement for health cadres and administrators," he said.
He ensured that this program would continue in order to provide additional nutritional intake for children and toddlers.
"Therefore, PT Indo Raya Tenaga intends to hold Additional Food Material Management Training for Posyandu Cadres," said Steve.
Spearhead
Education for the cadres themselves is deemed necessary, considering that posyandu cadres are the spearheads who deal directly with the community. Cadres are considered to know the condition of nutritional intake of each toddler served at the posyandu.
Lia added, improving the nutritional quality of individuals and communities, among others, is done through improving food consumption patterns, improving nutrition-conscious behavior and increasing access and quality of nutrition and health services, in accordance with advances in science and technology.
Venny Agustiani Mahardikawati, Nutritionist at Pulomerak Health Center explained that PMT is carried out by providing food to toddlers in the form of snacks that are safe, quality and nutritious according to target needs. Including other supporting activities with aspects of food quality and safety.
"This aims to meet the nutritional needs of toddlers as well as learning for mothers of toddlers. It is given in the form of local food (preferred) or factory food. If you use manufactured food, you must pay attention to packaging, labels and expiration dates. Animal and vegetable protein sources are prioritized, as well as vitamins and minerals. from vegetables and fruit," said Venny.
Venny explained that local food PMT consisted of complementary foods for breast milk (MP-ASI) for infants and children aged 6-23 months). Then additional food for the recovery of toddlers 24 - 59 months in the form of family food.
In addition, the manufacturer's food is in the form of complementary foods for breast milk, such as biscuits which contain 10 vitamins and 7 minerals. However, it must be ensured that biscuits are only given to children aged 12 - 24 months, with nutritional value: 180 kcal of total energy, 6 grams of fat, 3 grams of protein.
While the amount per serving contains 29 grams of total carbohydrates, 2 grams of dietary fiber, 8 grams of sugar and 120 milligrams of sodium, with the recommendation being given once a day for 90 consecutive days or 3 months.
"The additional food provided by Posyandu cadres for toddlers aims to provide counseling to parents of toddlers about the importance of providing good snacks for toddlers, helping to meet the nutritional needs of toddlers, of course involving community participation in supporting the implementation of posyandu," he concluded.
For your information, apart from Pandeglang with the red category (stunting prevalence 37.8 percent), five other regencies and cities in Banten Province still have 'yellow' status with a prevalence of 20 to 30 percent. Among them are Lebak Regency, Serang Regency, Serang City, Tangerang Regency and Cilegon City.
Meanwhile, the two areas categorized as green with a prevalence of 10 to 20 percent are South Tangerang City and Tangerang City. Not a single district or city in Banten Province has a blue status, that is, with a prevalence below 10 percent.
---
The English, Chinese, Japanese, Arabic, French, and Spanish versions are automatically generated by the system. So there may still be inaccuracies in translating, please always see Indonesian as our main language. (system supported by DigitalSiber.id)