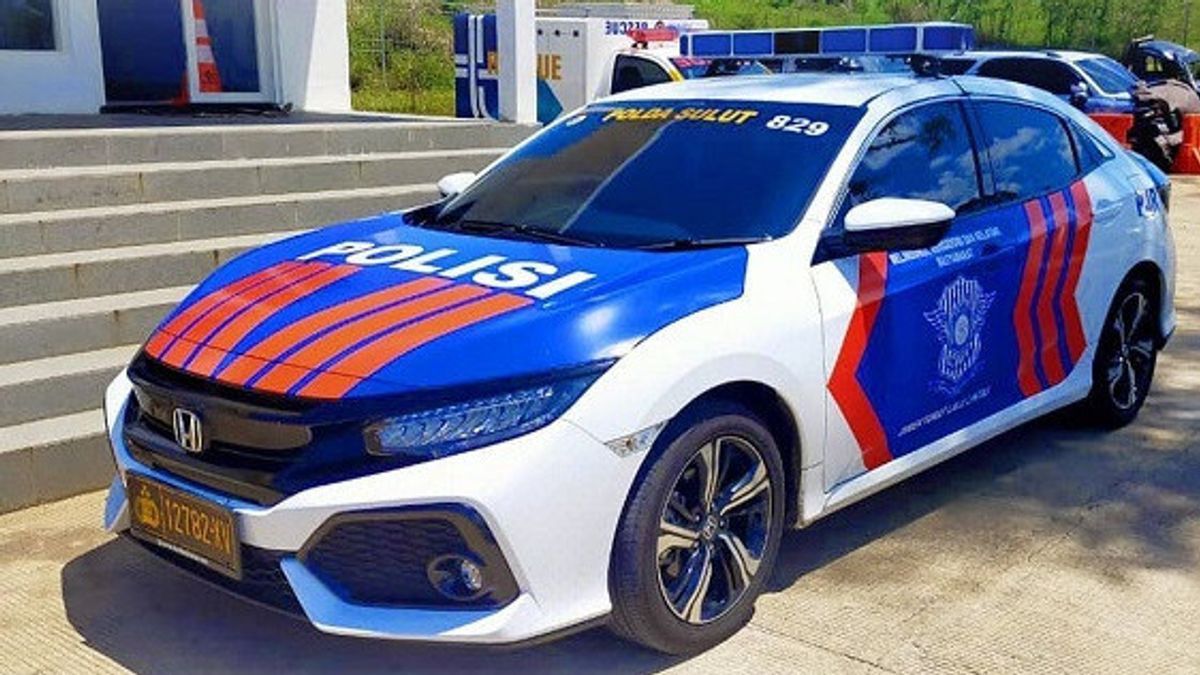 JAKARTA - A police officer with the identity of Bripda Arjuna Bagas has been in the spotlight for using a patrol car for dating. What is the procedure for using a patrol car and its strobe?
This story begins with the viral screenshot showing the upload of the Instagram account @dianpspita21. The owner of the account is known to be Bagas' girlfriend. The two of them used the highway patrol car (PJR) to date.
The photo uploaded by @dianpspita21 shows a white police hat on top of a car dashboard. He also wrote a caption in his post:
Yes, am I going to tell my boyfriend? We're going out with an official car, so there's a strobe, wow, do you want to go up there too? Here are invited.
Warganet then questioned the traffic police who used the PJR official car. Moreover, it is for personal gain. As a result of his actions, the National Police's Propam Division removed Bagas from the traffic unit and transferred him to the Administrative Officer (Bamin) of the Sub-section of Human Resources for the National Police Korlantas.
The decision is contained in the Order Number Sprin/722/X/KEP./2021 and the Decree of the National Police Headquarters Number KEP/135/X/2021 which was signed by Inspector General Istiono on Friday, October 22, 2021. Police Propam Inspector General Ferdy Sambo on Thursday, October 21.
In the order, it was explained that Bripda Arjuna would carry out new duties in the context of fostering maintenance and order (hartib). The warrant and decision were confirmed by Ferdy Sambo. "It has been transferred to staff in order to foster discipline," said Sambo.
It was later discovered that Bagas was the brother-in-law of Pertamina President Commissioner Basuki Tjahaja Purnama or Ahok. Ahok agreed that Arjuna Bagas was the younger brother of his wife. Ahok also said that he was not involved in the matter.
"I believe the police already have procedures to impose sanctions on every officer who violates the rules and regulations," Ahok said, quoting Detik.
"I do not interfere in this matter. Every member of the National Police already knows the consequences of the violations they have committed, including Bripda Arjuna Bagas," he added.
Procedure for using a patrol car
The PJR car is used by the police to patrol the highway. According to the SOP, every patrol duty must be accompanied by a warrant. In the case of Bripda Arjuna Bagas, as far as we know he is not on duty.
Bagas doesn't just ride a car with his girlfriend. He even went to the Safari Park with the patrol car. In fact, as we know official cars are only used for official or operational purposes.
Official vehicles come from the state budget and their maintenance. The state budget itself comes from public money. In this context, Bagas clearly violates ethics because he uses facilities that use public money for his personal needs.
Meanwhile, the use of strobes is allowed for vehicles that have primary rights. Law Number 22 of 2009 concerning Road Traffic and Transportation explains that signal lights accompanied by sirens, according to Articles 134 and 135 may be installed on vehicles with primary rights.
Some of the vehicles that get the main rights are "fire engines carrying out their duties, ambulances transporting sick people, vehicles to provide assistance in traffic accidents, as well as convoys and/or vehicles for certain purposes according to the considerations of the Indonesian National Police officers. On the other hand, there is no basis for Bagas to use a strobe.
"It's true that official vehicles can only be used for official purposes. Because the money used to buy official cars and gasoline and tolls is APBN funds. So all ASN, TNI-POLRI who are given official cars must actually use them for service," said the commissioner. National Police Commissioner Poengky Indarti to VOI, Friday, October 22.
Poengky explained that professionalism, transparency and accountability include an assessment of the behavior and lifestyle of police officers. Poengky highlighted Bagas' age status as a young police officer. The tendency that occurs about the power of the ego to show off.
"However, as a member of the National Police, Bripda Arjuna Bagas should be able to be simple and be able to distinguish between duties and personal matters."
Kompolnas, in the context of taking action, appreciates Propam who acted swiftly to follow up on the order of the Chief of Police to examine individual members suspected of committing violations.
"All must be aware, self-aware, disciplined and responsible in their use (service vehicles)," said Poengky.
*Read other information about the POLICE or read other interesting articles from Putri Ainur Islam.
Other BERNAS
---
The English, Chinese, Japanese, Arabic, French, and Spanish versions are automatically generated by the system. So there may still be inaccuracies in translating, please always see Indonesian as our main language. (system supported by DigitalSiber.id)