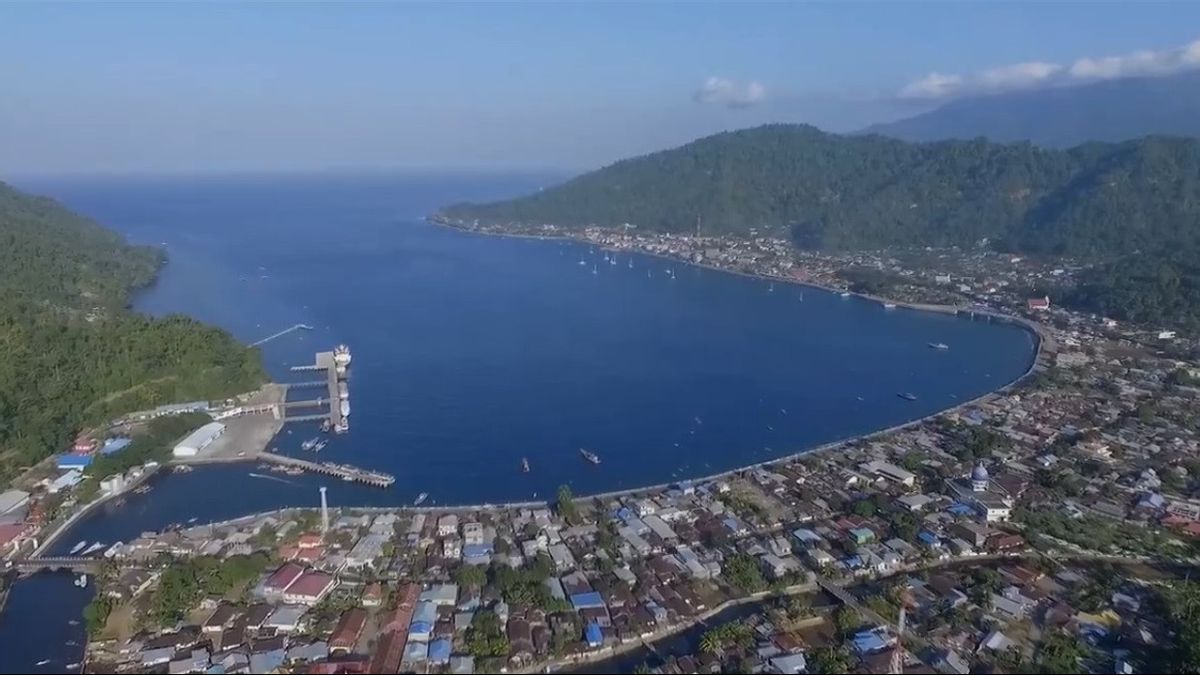 JAKARTA - The plan for large-scale gold mining on Sangihe Island, North Sulawesi has become a polemic. The project not only threatens the lives of the Sangihe residents, but also threatens the extinction of endemic birds.
Residents, together with the late Deputy Regent of Sangihe Helmud Hontong voiced their rejection of Pulau Kecil as a mine. It is known that Hemud Hontong died suddenly while traveling on the Bali-Makassar route on Wednesday, June 2021.
In the middle of the trip, Helmud, who boarded the Lion JT-740 plane, seemed to need medical help. His aide, Harmen Rivaldi Kontu confirmed that Helmud had felt dizzy, and blood was coming out of his mouth, then his nose.
In fact, all passengers have undergone health checks according to procedures. In fact, all of them were confirmed negative for COVID-19.
"Lion Air flight JT-740 is well prepared. All passengers and flight crew have undergone a COVID-19 health check which was declared negative and before entering the aircraft (while at the departure terminal) the health test result letter has been verified by a medical officer from the agency. authorities," said Corporate Communications Strategic of Lion Air, Danang Mandala Prihantoro, quoted by Detik.com.
Urge an investigation into Helmud's death
Regarding Helmud's death, the National Coordinator of the Mining Advocacy Network (Jatam), Merah Johansyah Ismail, urged law enforcement officials to investigate Helmud's death. Merah said there were irregularities related to Helmud's death.
Helmud, said Merah, was not sick. Moreover, Helmud is known as a person who dared to refuse the granting of a mining business permit (IUP) extension contract for the gold mining company PT Tambang Mas Sangihe (TMS).
"Hopefully it can be investigated, find out more about what kind of death this was because it was sudden. Some information stated that he was not sick, suddenly the news was heard," said Merah as quoted by Tempo.co.
Merah also added that before his death Helmud had rejected a mining company whose capital was held by Canadian investors since 2017. Helmud's latest action was to send a letter to the Minister of Energy and Mineral Resources Arifin Tasrif dated April 28, 2021.
In the letter, Helmud asked the Minister of Energy and Mineral Resources to consider canceling the PT. TMS whose total project reaches 42 thousand hectares. The mining permit is stated in the letter from the Ministry of Energy and Mineral Resources Number 163 K/MB.04/DJB/2021 which was issued on January 29, 2021.
There is no justification for mining activities on a small island
Helmud's refusal is a form of fairness. Moreover, the mining permit is contrary to Law (UU) Number 1 of 2014 concerning amendments to Law Number 27 of 2007 concerning the management of coastal areas and Small Islands.
In the law that regulates the use of small islands, only nine types of interests have been prioritized. These interests include conservation, marine cultivation, education and development, and so on.
Mining activities are prohibited because they can have a negative impact on life on small islands. Environmental observer who is also the Director of the Institute for Living Life (LOH), Yani Sagaroa agrees with this.
According to him, there is no justification for mining activities on small islands. If enforced, the destructive force of mining activities is much more complex than other environmental activities.
So, the entire ecosystem in Sangihe will be in danger of being lost, even damaged. Not only for rare species of flora and fauna (one of which is Sariwang Sangihe), but the people of Sangihe are threatened with their lives and livelihoods.
Not without reason Yani said that. The reality is that the tailings (waste) handling technology system in Indonesia is still inadequate. Whatever the system, the handling of tailings--whether the disposal of waste into the sea commonly known as Submarine Tailings Disposal (STD) or the disposal of waste into the deep sea, Deep Sea Tailings Placemet (DSTP)--both have great risks and are harmful to the environment. live in Sangihe.
"Moreover, the tailings handling technology system is still not considered safe. Well, related to regulations, there is already a law on the management of coastal and small islands. I don't think it's justified to include it in Law 32 of 1999 on Environmental Protection and Management (PPLH)," said Yani Sagaroa who is also a former WALHI National Councilor to VOI, Friday, June 11.
"In connection with the law, I even urge all stakeholders in Sangihe – from the community to the local government to reject the existence of a mine in Sangihe. Because it will have big consequences for the environment," he added.
Yani emphasized that what he said was in line with what President Joko Widodo said when he chaired a limited meeting to discuss the report of the COVID-19 Handling Committee and National Economic Recovery at the Merdeka Palace, Jakarta, November 16, 2020. Meanwhile, Jokowi said that the highest law is the safety of the people.
"I want to emphasize that people's safety is the highest law. During this pandemic we have decided on social restrictions, including the dispersal of crowds," said Jokowi.
Even in mining in Sangihe, the government is required to maintain the safety of the people, especially the people of Sangihe. For this reason, mining permits should have been rejected. Because it not only affects the coastal ecosystem, but also affects the economic management ecosystem of the Sangihe residents who live from natural resources.
"Because it has an impact, human safety must be prioritized. Don't just look at it from an economic perspective. If we look at it only from an economic perspective, in our opinion it is very narrow. Because the economic value of the entire ecosystem in Sangihe is much more meaningful which is able to provide a sustainable life for the surrounding community," concluded Yani Sagaroa.
*Read other information about the ENVIRONMENT or read other interesting articles from Detha Arya Tifada.
Other BERNAS
---
The English, Chinese, Japanese, Arabic, French, and Spanish versions are automatically generated by the system. So there may still be inaccuracies in translating, please always see Indonesian as our main language. (system supported by DigitalSiber.id)