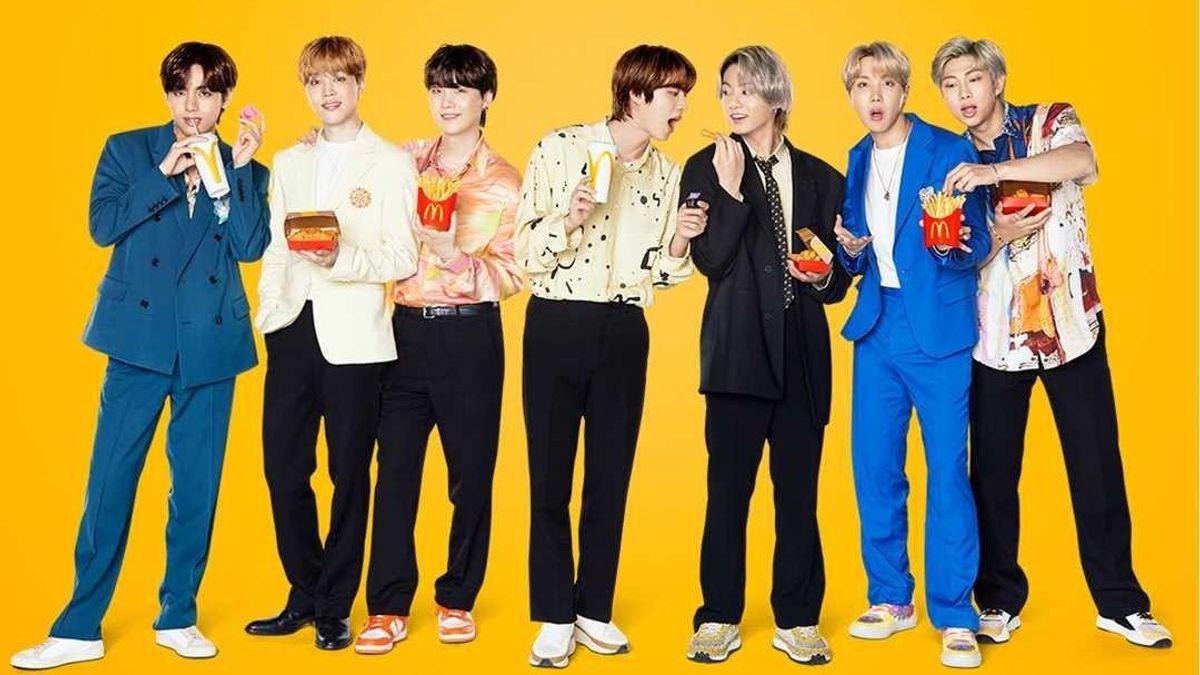 JAKARTA - Fans of the boy group from South Korea (South Korea) BTS in Indonesia are happy and busy buying a new menu at McDonald's. This BTS fan who has the title ARMY is enthusiastic about trying a new menu called BTS Meal.
The BTS Meal menu consists of chicken nuggets, french fries, drinks, and cajun and sweet chilli sauce. If you buy via an online motorcycle taxi application, a BTS Meal menu is priced at IDR 51,000, not including restaurant wrap fees and shipping costs.
Through social media observations, various McDonald's outlets were filled with online motorcycle taxi drivers lining up to buy orders from customers. The excitement of this BTS Meal also leaves funny stories.
For example, the story of ARMY in Malaysia. A fan is known to wash the BTS Meal packaging and then dry it. Some even frame and display BTS Meal packaging on the wall.
However, many McDonald's outlets also place fries separately in a regular McDonald's bag. This was done to avoid getting the packaging with the BTS logo dirty.
Coming this May: The BTS Meal pic.twitter.com/iarw2gYMsx

— McDonald's⁷ (@McDonalds) April 19, 2021
Previously, McDonald's had released a menu in collaboration with other celebrities. Citing Business Korea, in September 2020 McDonald's released a menu in which they collaborated with hip-hop singer from the United States (US), Travis Scott.
But Travis Scott's menu is only sold in the US. As for the BTS Meal menu, McDonald's sells it in outlets around the world by wearing T-shirts decorated with Korean letters BTS.
The collaboration between McDonald's and BTS is not only in the food menu, but also unique merchandise, such as bags, clothes, hats and so on. But fans can get it through Weverse.
"(BTS) has fond memories of McDonald's. We are excited about this collaboration and can't wait to share the BTS Meal with the world," said the label that houses BTS, BigHit Entertainment.
BTS Meal was first released in the US and other countries on May 26, 2021. One day later, May 27, the menu was sold in South Korea. Sales will run until June 30, 2021. McDonald's originally planned to launch food in 49 countries across six continents, starting with the US, Canada and Brazil.
Thai added at the end. So the food will reach a total of 50 countries. In other words, McDonald's will sell food in half of the 102 countries it has entered.
But the fast food giant is not releasing food in China and Japan, Asia's two biggest hamburger markets. BTS themselves are no stranger to brand collaborations. Previously, BTS had partnered with brands Hyundai, Fila, Skechers, Samsung, Starbucks Korea, and Baskin-Robbins. Mattel, the company that sells Barbie, also released seven BTS member dolls.
What's so special about the BTS Meal?
It is known that the reason McDonald's chooses nuggets is because each BTS member has characteristics such as in the form of nuggets, namely bell, bone, boot, and ball.
The four forms of nuggets also have their own meanings, namely artsy, funny, sensitive and edgy. These traits are owned by every member of BTS.
Therefore, McDonald's considers nuggets to be the right choice for the BTS Meal menu. In addition, the color of the BTS Meal package itself is the BTS color, which is purple.
These colors are printed into McNugget boxes and soft drink glasses.
Economic perspective
Citing CNN, Wednesday, June 9, McDonald's operates with very thin profit margins, so promotions and new items help them stand out from the competition. McDonald's is also trying to get customers to use their app, which increases loyalty and sales.
In fact, sales at U.S. restaurants open for at least a year rose 5.5 percent in the three months ended December 31, 2020. Driven in part by promotions like this. The above statement is in line with the opinion of Economic Observer Heri Firdaus.
[MEMORY: How McDonald's Revolutionized Modern Fast Food Restaurants]
Heri argues, the way of marketing by "borrowing" the popularity of a figure is a common thing. If explained from economic theory, the approach is innovation. This innovation can naturally increase demand.
"Let's say this includes the food industry, then in terms of raw materials, the output is the same. But when rebranding, there is added value," said Heri when contacted by VOI.
Heri continued that the rebranding can increase the value of a product. In the case of BTS Meal, previously there might not have been anything special in the packaging. But when it is branded, in this case BTS, its value increases.
The increase in value was also influenced by other innovation factors, such as taste and sauce, for example. In essence, these are all concepts of value chain innovation, especially in the downstream side. "At the downstream stage, (i.e.) the sales stage, the marketing stage, when there is a touch of rebranding, it can affect people's demand," added Heri.
It could be a lesson for other manufacturers, this way of rebranding is unfortunately only soaring in the short term. This means that producers must continue to innovate in order to be able to increase demand. This is because the nature of society is waiting for new things and has never existed.
"BTS is a phenomenal boy group for some young people in Indonesia. This is an effective combination but only in the short term," explained Heri.
Using a well-known character or group is a practical thing and is a marketing strategy, explained Heri. In some ways successful. But this success is rarely long term.
This lesson isn't just for McDonald's. But also for other manufacturers who may have the same way to continue to innovate. And for consumers too of course. There's nothing wrong with understanding how marketing works and controls us.
*Read other information about POPULAR CULTURE or read other interesting articles from Putri Ainur Islam.
Other BERNAS
---
The English, Chinese, Japanese, Arabic, French, and Spanish versions are automatically generated by the system. So there may still be inaccuracies in translating, please always see Indonesian as our main language. (system supported by DigitalSiber.id)