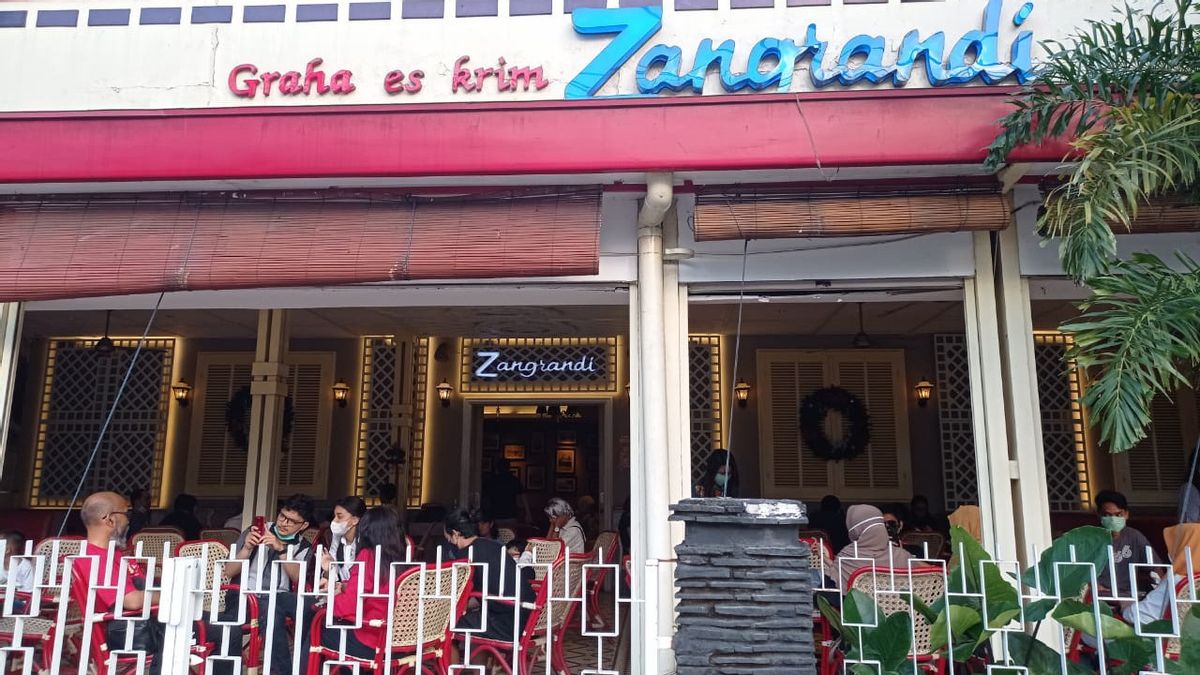 JAKARTA - The legendary ice cream shop in Surabaya, Zangrandi is closed on Tuesday, March 22. The ice cream shop at Jalan Yos Sudarso Number 15, Embong Kaliasin, Genteng has been sticking to the memory of many people. The journey is long, including how the conflict between shareholders. Indonesia is rich in legendary ice cream shops. Apart from Zangrandi, there are several other legendary trademarks.
In January 2020, four Zangrandi bosses were accused of embezzling shares worth Rp10 million. They are Willy Tanumulia, Grietje Tanumulia, Emmy Tanumulia, and Fransiskus Martinus Soesetio. They were sued by Evy Susantidevi Tanumulia. Yes, this conflict involves members in one family.
According to Evy, the four defendants transferred ten shares without his permission. This was revealed in the first trial or indictment on January 14, 2020 at the Surabaya District Court. The judge later found the four guilty and sentenced them to one year in prison each with a probation period of two years. The verdict did not imprison them.
"The trial found the four defendants guilty and sentenced to one year. Stating that the crime should not be served, unless within two years the defendants have guilt that can be convicted," said judge Pujo Saksono, quoted by Antara.
This decision was taken by the judge with the consideration that there was a peace between the plaintiffs and the defendants. In addition, the defendants also stated that they had no evil intentions and regretted their actions. Now, one year after the conflict, Zangrandi has announced he is closed.
The collective memory of the Zangrandi ice cream shop
Incomplete to Surabaya without stopping by the Zangrandi ice cream shop. Not only for tourists. Even for residents of Surabaya, this ice cream shop is very sticky in the memory.
Zangrandi ice cream has been popular since the 1930s. Quoting various sources, Zangrandi was founded by Roberto Zangrandi, an Italian descendant.
Before it was named Graha Ice Cream Zangrandi, the shop, which is synonymous with red rattan chairs, was named Mevrouw Zangrandi. This shop was originally only visited by Dutch socialites.
Not only for enjoying ice cream, these socialites also like to relax and dance at Zangrandi. If you visit the Zangrandi shop, we will see the history of Zangrandi through the photos on display, from the Dutch era to the present.
Not only is he old. Zangrandi is also known for its classic ice cream flavor. It is said that Zangrandi has never changed the processing of his ice cream.
Roberto Zangrandi's wife is said to be the figure who created the distinctive taste of Zangrandi ice cream. Starting with four main variants: vanilla, chocolate, mocha, and strawberry, Zangrandi then added a number of flavors, such as macadonia, tutti frutti, and soda ice cream.
Wardhany Tsa Tsia, one of the nomads from Surabaya, shared his memories with Zangrandi ice cream. For Tsa Tsia, Zangrandi is like a family tradition that has been passed down from generation to generation.
"Then when I go there, my mother often tells her, she used to like her mother to take her there as a child. It's the same story, when I was pregnant, my mother also craved ice cream that was sold there and didn't want anything else. nostalgia, "said Tsa Tsia to VOI, Tuesday, March 23.
"Then if you go to Surabaya, it is a mandatory place to gather with your brothers and sisters who live there. If you don't go there, it just feels like you are not there ... From when I was little to 27 years old, these two menus were my favorites. Tutti "Fruti Vanila and Macedonian Rum Raisin," he added.
Another migrant from Surabaya in Jakarta, Yanuar Hanif also told a similar story. Like Tsa Tsia, Yanuar must also visit the Zangrandi shop when he returns to his hometown to Surabaya. "In recent years, I have even started to introduce Afiqah (child)," said Yanuar.
Legendary ice cream besides Zangrandi
Apart from Zangrandi, there are other legendary ice creams scattered all over Indonesia. What are the trademark ice creams? Where can we enjoy those ice creams?
1. Ragusa, Jakarta
Ragusa is the most legendary ice cream parlor in the capital. Established in the same era as Zangrandi, namely 1932, Ragusa is today the oldest ice cream shop in Jakarta.
The name Ragusa is taken from two of its founders, Italian brothers, Luigi and Vicenzo Ragusa. The Ragusa ice cream shop is located at Jalan Veteran I Number 20, Central Jakarta.
2. Baltic, Jakarta
Apart from Ragusa, there is another legendary ice cream option in Jakarta: Baltic. Located at Jalan Kramat Raya No.12, Central Jakarta, Baltic has now innovated to keep up with the times.
It looks more modern. Founded in 1939, the Baltic ice cream flavor is very distinctive with variants of chocolate, vanilla, strawberry, to green tea and various tropical fruit flavors.
3. Domino, Jember
Domino's ice cream shop is located at Jalan Sultan Agung Number 43. This legendary ice cream shop has been open since 1950.
Apart from ice cream, Domino's shop is also famous for a variety of other foods and snacks, including the famous fried spring rolls.
4. Angi, Pontianak
Angi ice cream shop first opened in 1950. This ice cream shop is the oldest in West Kalimantan.
Located on Jalan Karel Satsuit Tubun No. 8, Angi ice cream shop is also known as Petrus ice cream because of its location near the Peter School.
The main strength of Angi's ice cream is the pure fruit ice cream flavor made from real fruit without any additional flavor.
5. Tentrem, Solo
Tentrem ice cream shop has a characteristic in terms of building. The Tentrem ice cream shop building is quite striking among other buildings along Jalan Slamet Riyadi.
Established since 1953, Tentrem's ice cream shop continues to grow with a combination of contemporary updates, from the interior to the ice cream menu. Tentrem ice cream shop is located at Jalan Slamet Riyadi Number 132, Solo, Central Java.
* Read other information about CULINARY or read other interesting writings from Wardhany Tsa Tsia.
BERNAS Others
---
The English, Chinese, Japanese, Arabic, French, and Spanish versions are automatically generated by the system. So there may still be inaccuracies in translating, please always see Indonesian as our main language. (system supported by DigitalSiber.id)