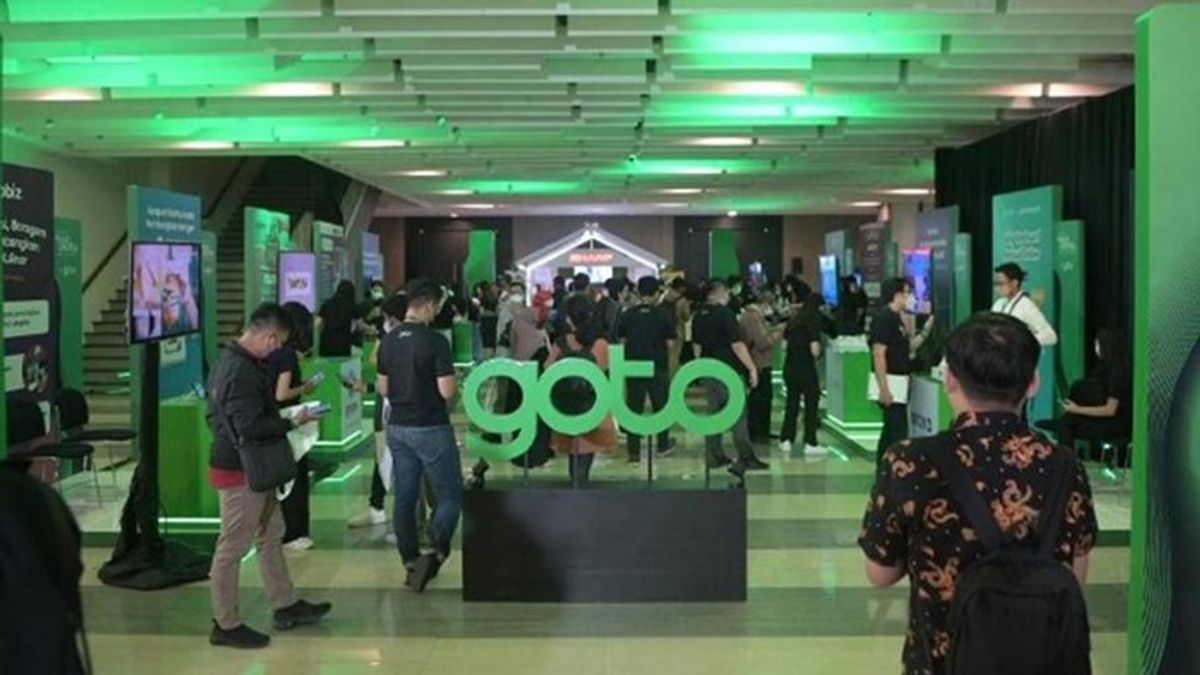 JAKARTA - Land startup companies are experiencing severe shocks. The increase in inflation, the trend of adjusting interest rates, weakening purchasing power, and a significantly changing business model have resulted in many company leaders making efficiency.
Recently, technology issuer PT GoTo Gojek Tokopedia Tbk decided to downsize employees in order to accelerate efforts to grow a business that is independent and sustainable. There are 1,300 people or about 12 percent of the total permanent employees who have been laid off (PHK).
"GoTo, like other big companies, needs to adapt to ensure the company's readiness to face future challenges," said GoTo Group CEO Andre Soelistyo in a written statement on November 18.
Affected employees will receive compensation packages in accordance with applicable regulations and laws in each country. In addition, GoTo also provides a number of financial support, including in the form of an additional one month's salary, as well as compensation for the replacement for the notification period.
Almost at the same time, Ruangguru also did the same thing. This startup company initially started recruiting employees because business potential increased rapidly during the COVID-19 pandemic. However, the uncertain global market situation, even worsening, made the leadership have to take a stand in order to maintain the company's business.
Reduction of employees is unavoidable. With a heavy heart, Ruangguru must separate from hundreds of its best team members through termination of employment.
"At the beginning of the COVID-19 pandemic, Ruangguru experienced a large increase in demand which led to too many and fast recruitment in the last two years. However, the current economic situation has not supported and even tends to worsen, which has a big impact on Ruangguru," wrote the CEO of Ruangguru, Adamas Belva. Devara and COO Ruangguru, Iman in his upload on November 21.
Likewise with SIRCLO. The company-commerce enablerni announced its efficiency policy by layoffing 160 of its employees as of November 22, 2022.
"As a rapidly growing technology company, SIRCLO Group strives to continue to be adaptive in making business adjustments to achieve long-term growth," said SIRCLO Group Founder and CEO Brian Marshal in a written statement, Tuesday (11/22/2022).
The news further adds to the long list of Indonesian startup companies that have laid off in 2022. Previously, Shopee Indonesia, Tokocrypto, Indosat Ooredoo Hutchinson, JD.ID, Mamikos, LinkAja, SiCepat, and several other companies.
Director of the Center of Economics and Law Studies (Celios) Bhima Yudhistira, asked the government to immediately take steps to deal with the storm of layoffs that almost hit Indonesian companies, not only start-ups.
If this continues, the unemployment rate will increase. People's income and purchasing power will weaken. In the end, demand will drop drastically and hinder domestic economic recovery," Bhima said in a brief statement to VOI on November 28.
Netray's media monitoring briefly discussed this topic in the Ada Apa article with the Startup when a wave of layoffs attacked the startup in the first quarter of 2022. Until the end of 2022, it turned out that the turmoil of the layoff storm was still rising.
Not only in Indonesia, but a wave of layoffs has also hit global startup companies. Launchinglayoffs.fyi, so far there are more than fifty thousand employees who have experienced layoffs from various global startups. Although it has not yet entered the end of the year, the number of layoffs has even increased by 60.7 percent from the previous quarter.
Monitoring with the keyword phk in thenews channel, Netray found 1,455 articles. News related to this topic was found in the news with the category of finance & insurance. During the monitoring period from 17-23 November 2022, the topic was able to steal the attention of129 media of Indonesian online news.
Peak time of news occurred on November 18, 2022, with a total of 413 articles in one day. The news of the layoff of GoTo and Ruangguru employees is the main news.
The layoff storm that hit Indonesian workers is also in the spotlight of social media activists. Using the same keywords and monitoring period as thenews channel, Netray found 9,602 tweets with negative trending tweet dominance. Only 16 percent were positive sentiment.
The account that widely tweeted keywords during the monitoring period was the @secfinance news portal account with a total of 78 tweets. Apart from Detik, several other news portal accounts also shared their tweets regarding the topic of layoffs. Only accounts belonging to @za2ng2509 and @JHaduwyang are non-media accounts occupying this line," wroteNetray on November 25.
Meanwhile, the account that received the most impression after tweeting this keyword was the account belonging to @txtfrombrand. The account shares a tweet containing a reposting of news related to layoffs that occurred in GoTo and Sirclo companies. From these tweets @txtdarinbrand has received 19,043 reactions from netizens.
From the conversations that emerged, a number of Twitter activists are known to have started to hesitate to work in startup companies. They concluded that this IT-based company tends to reduce the number of employees after making a profit.
The company was initially willing to burn money by recruiting employees. However, when conditions are stable, the ecosystem has already formed, acustomerloyal has emerged, then the company starts to think about efficiency in order to score a net profit.
Not only that, Twitter activists also highlighted the existence of the Job Creation Law which makes it easier for companies to lay off workers.
The law that should be a protector, in fact, is currently considered a profitful worker, Netray submitted his report.
---
The English, Chinese, Japanese, Arabic, French, and Spanish versions are automatically generated by the system. So there may still be inaccuracies in translating, please always see Indonesian as our main language. (system supported by DigitalSiber.id)