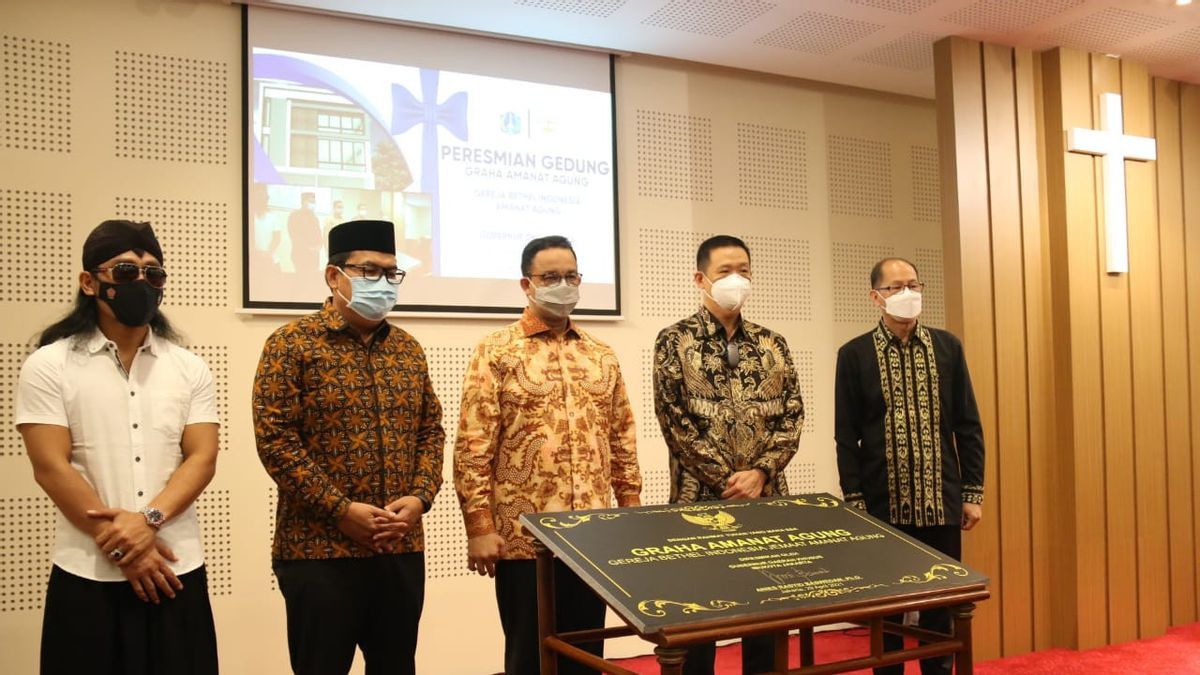 JAKARTA - The name Gus Miftah has recently been viral and has become a topic of debate among netizens following the tausiyah that was given at the inauguration of the Indonesian Bethel Church (GBI), the Great Mandate in Penjaringan, North Jakarta, some time ago.
The owner of the name Lengka Miftah Maulana Habiburrahman is considered heretical and infidel by a number of netizens. In fact, the famous ustaz Abdul Somad also criticized Gus Miftah. UAS, Abdul Somad's nickname, said it was forbidden to enter other people's places.
"It is haram to enter someone else's house of worship, haram. I didn't watch the film until it ended, but only the trailer. But in that, what I can comment on is first entering the house of worship, "said UAS. Quoted from YouTube Ustaz Lovers, Tuesday, May 4, 2021.
The administrator of the NU Special Branch (PCINU) America, Akhmad Sahal, also opened his voice on the controversy over Gus Miftah's tausiyah. According to him, in Islamic law it is normal to have different opinions, whether it is permissible to enter the place of worship of other people or vice versa.
"Including the law regarding church entry. Some are forbidden, but many are allowed. The son-in-law of the Prophet Ali b Abi Talib once ate at church. Nyante. If UAS doesn't want to go to church, that's his right. But to blame Muslims who go to church, that's insular," said Akhmad Sahal via his twitter, @sahaL_AS, Wednesday, May 5.
In Islamic law, scholars of different opinions are very common. Including the law to enter the church. Some are haram, but many are allowed. Prophet Ali b Abi Talib's son-in-law had meals at church. Nyante. If UAS doesn't want to go to church, that's his right. But blaming Muslims who go to church is insular. https://t.co/h76xq0E64i

- akhmad sahal (sahaL_AS) May 4, 2021
Akhmad Sahal added that at the inauguration of the GBI, there were Muslim regional officials present, including the Governor of DKI Jakarta, Anies Baswedan. Surprisingly, only Gus Miftah was the target of the "shoot."
"Gus Miftah gave a speech at church. He was invited by Anies who also gave a welcome at the same church. In 2002 Aa Gym also gave a lecture at the church,"
"But only Gus Miftah has been criticized and criticized. Meanwhile, Anies and Aa Gym are safe from blasphemy. Because they are on the same side with the blasphemers?" Said Ahmad Sahal.
Kiai Haji Abdullah Gymnastiar alias Aa Gym recently went viral after Gus Miftah's lecture was blasphemed by netizens. This can be seen through an old photo of Aa Gym in the pulpit of a church.
Apparently this is a 2002 photo. At that time, Aa Gym and Secretary General of the Indonesian Church Association Pastor IP Lambe visited Poso and Tentena, Central Sulawesi. The arrival of the two religious figures was intended to restore security and order to the conflict area.
In the Liputan6.com news, it was stated that Aa Gym also conveyed a message of peace when speaking at the Moria Church, Tentena.
In this largest church in Central Sulawesi, the founder of Qalbu Management hopes that the peace process and a peaceful coexistence will be realized in Poso. Pastor Lambe also expressed his hope.
---
The English, Chinese, Japanese, Arabic, French, and Spanish versions are automatically generated by the system. So there may still be inaccuracies in translating, please always see Indonesian as our main language. (system supported by DigitalSiber.id)