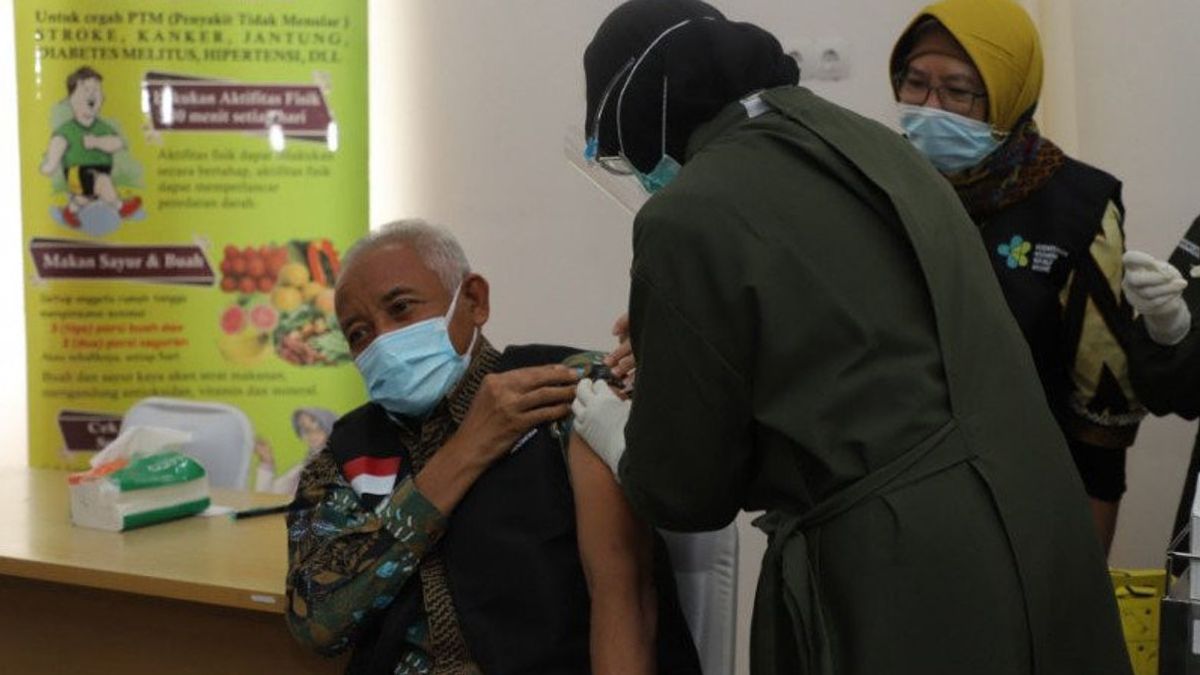 JAKARTA - Sleman Regent Sri Purnomo announced that he was positive for COVID-19 after receiving the vaccination the week before. Seeing this, epidemiologists reminded the government to continue to strengthen the application of testing, tracing and treatment to make the vaccination program successful in the community.
After undergoing two series of tests, namely a rapid test or antigen rapid test and a polymerase chain reaction (PCR) based swab test, Sri Purnomo announced that he was positive for COVID-19. He admitted that his condition had no symptoms even though on Wednesday, January 20, he had a cough and had a fever.
The head of the Sleman Service, Joko Hastaryo, responded to the public outcry regarding this matter. Through his written statement on Friday, January 22, he emphasized that Sri's condition had nothing to do with vaccines.
"The Bupati's positive condition has nothing to do with giving vaccines on January 14," he said.
Joko said this vaccine would only work to increase endurance after two injections. For this reason, the vaccination will be given twice and the second injection for Sri Purnomo will be given on January 28.
"If the vaccine has only been given once, it has not provided an immune effect or the formation of antibodies is not sufficient. So a booster or a second injection must be given to form optimal immunity," said Joko.
He also said that although this vaccine had not fully provided an immune effect, if the vaccination had been carried out, the symptoms experienced by patients including Sri Purnomo would not be severe compared to those who had not been vaccinated.
A similar explanation was also conveyed by epidemiologist from Australia's Griffith University Dicky Budiman. According to him, the COVID-19 vaccine cannot work instantly but it takes time to form the perfect antibodies to fight the virus.
"If calculated from the first injection of the vaccine and with the second, four to six weeks after the first injection, there is adequate immunity according to the research efficacy of each vaccine," said Dicky when contacted by VOI, Sunday, January 24.
"This means that during that time someone is still prone to contracting COVID-19 and this is why people who have been vaccinated, people who have received vaccines must still apply health protocols," he added.
Reflecting on this, Dicky also reminded the government to increase testing, tracing, and treatment or 3T. This is important because he assesses that, at this time, everyone in the country is very at risk of being exposed to COVID-19.
"(The uncontrolled cases of COVID-19, red) make everyone in this Republic very at risk and as a result, don't be strange if then someone who has been vaccinated suddenly becomes positive. Likewise with people who have implemented health protocols but are positive. Why? , because this virus is already everywhere and people should not go anywhere, "he explained.
He also said that the 3T effort actually needed to be intensified so that cases could be ramped up. This is because, with the presence of cases and vaccination programs, the aim of creating herd immunity will be easy to achieve.
"So if the curve decreases, there will be many benefits such as the potential for herd immunity to be large. Then also with this sloping curve, many people who previously had the potential for the virus to be reduced considerably," he said.
This monitoring, said Dicky, is also necessary to prevent negative perceptions from the public which can then be used to spread issues that interfere with the vaccination program.
"This must be prevented. Why, when this pandemic is out of control, infection occurs, yes this will make doubters and anti-vaccines more and more have a strong alibi, 'oh vaccines are positive too'. Even though they are not, it's hard to explain to them either because they don't understand concept or don't want to, "he said.
"So, that's why the main strategy is not to be more ignorant, not slack, yes. Because from the start it was not strict. Don't get weaker because the consequences will be counterproductive to the vaccination program," he concluded.
---
The English, Chinese, Japanese, Arabic, French, and Spanish versions are automatically generated by the system. So there may still be inaccuracies in translating, please always see Indonesian as our main language. (system supported by DigitalSiber.id)