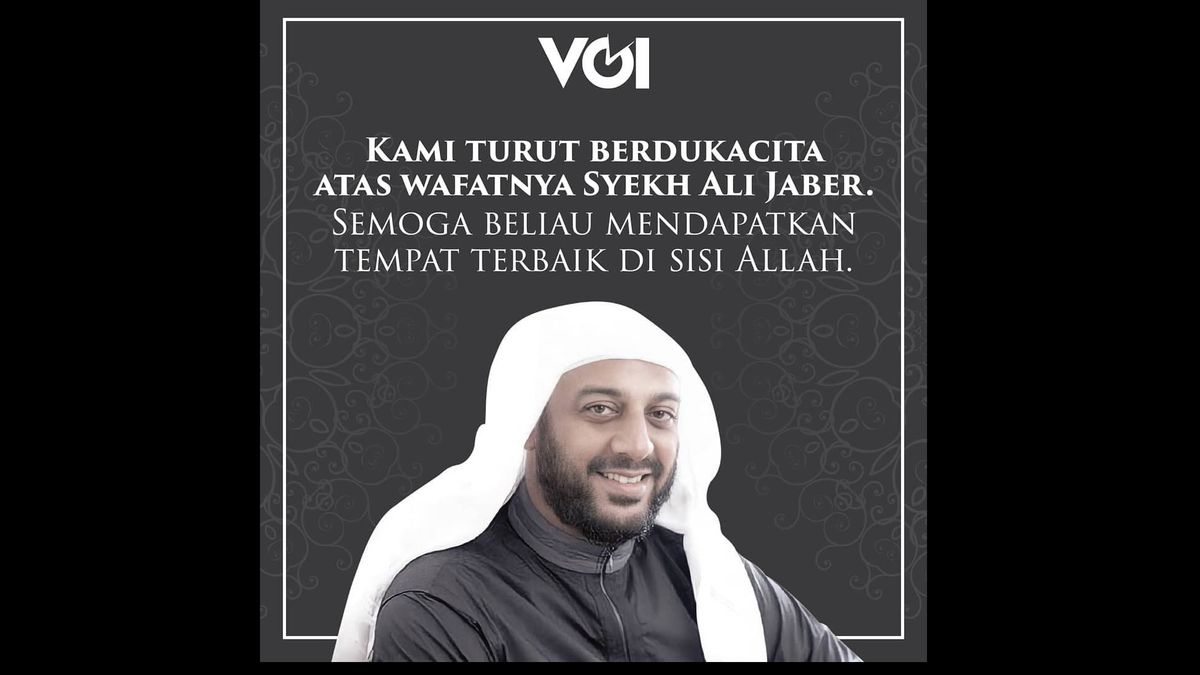 JAKARTA - The passing of the cleric, Sheikh Ali Jaber, on Thursday, January 14, caused sorrow for high-ranking officials in the country. This is because the 44-year-old cleric is considered a scholar who upholds unity in society.
The news of the death of Syekh Abdul Jaber was conveyed by Ustad Yusuf Mansyur via his personal Instagram @yusufmansurnew which has 2.8 million followers. Through his upload, Yusuf Mansyur said that Sheikh Ali died at Yarsi Hospital.
"Sheikh Ali Jaber died at Yarsi Hospital at 08.30 WIB. Please pray," Yusuf said in his upload, Thursday, January 14.
"God willing, he is a martyr. We are losing the fighters of the Quran. We are losing good people who are Muslims," he added.
The news of this grief was also conveyed through the Instagram account @ y Yayasan.syekhalijaber. In this upload, apart from reporting the death of the cleric who was born in Medina, Saudi Arabia, the account also reports that Sheikh Ali Jaber died not because of COVID-19.
This information was provided because previously, this cleric had tested positive for COVID-19 on Tuesday, December 29, 2020 and had entered the ICU room of Yarsi Hospital the day after or December 30, 2020.
"The death of our teacher, Sheikh Ali Jaber (Ali Saleh Mohammed Ali Jaber) at Yarsi Hospital. Today, January 14, 2021/1, Jumadil Akhir 1442 H at 08.30 WIB in a negative state of COVID-19," wrote the account @ y Yayasan.syekhalijaber.
There are many lessons taught by Sheikh Ali Jaber, one of which is about unity. Through a video that was recorded on the sidelines of his busy life and uploaded to the Instagram account @ syekh.alijaber about a month ago, he said he was proud to be an Indonesian citizen.
In addition, Syekh Ali Jaber explained that his family has lived in Lombok, West Nusa Tenggara until now. He said, although he was born and raised in Arabia, he made sure that the blood in his body was Indonesian blood.
Moreover, based on the story told in the video, Ali Jaber is a descendant of a fighter in Lombok who fought against the invaders.
"So even though I was born and raised in Arabic, I can be sure, God willing, my blood is Indonesian blood. In fact, I have had a blood check, subhanallah, the doctor was shocked because his blood was red and white," he said in the video.
Not only that, he also commented on the moral revolution which some time ago was echoed by the Grand Imam of the Islamic Defenders Front (FPI), Rizieq Shihab, which he considered deviating from his original goal.
He said, if in the present there are many people who blame each other and look for evil, it is not impossible that in the future there will be divisions in this nation. So that anyone, must respect each other without exception.
Furthermore, Ali Jaber explained that in Islam it teaches manners and appealed to the public not to hate someone's shortcomings.
"Everyone has different views. We are blessed to have different views, but have no right to berate those who do not agree with our views," he said.
That is just one example of a lesson that Sheikh Ali Jaber gave to people in the country. Many lessons have made many people lose with the departure of these scholars, including state officials in this country.
Coordinating Minister for Political, Legal and Security Affairs (Menko Polhukam) Mahfud MD, one of them. Through his Twitter account, @mohmahfudmd feels that he has lost the figure he sees as a unifying ulama who often bridges the aspirations between society and the government.
"Innalillahi wa inna ilaihi raji'un. We are missing a conditioning and unifying figure for the ummah. The great scholar Sheikh Ali Jaber died today," he wrote in the Twitter account.
According to Mahfud, Sheikh Ali Jaber was a kind and humble friend. "He is my best friend. Out of humility, he calls me 'Guru' or 'Father'," he said.
Furthermore, this former Chief Justice of the Constitutional Court (MK) admitted that a few days before being reported to be infected with COVID-19, Sheikh Ali Jaber visited his house and brought gifts. During the visit, Mahfud said that his guest who intends to print a million memorizers of the Koran asked for his support
"A few days before the news of COVID-19, Sheikh Ali Jaber came to my house, gave me a prayer beads, selected dates, a prayer book, a special perfume from the aroma of the Ka'bah." My teacher wants to print a million memorizers of the Koran. Land and capital for buildings have started to accumulate; I ask for support in the licensing process, "he said," he said conveying his guest request.
Not only Mahfud, the 6th President of the Republic of Indonesia Susilo Bambang Yudhoyono (SBY) also expressed his condolences. He said Sheikh Ali was a shady scholar figure. Syiar and his fatwa educate the people.
"Sheikh Ali Jaber's speech is far from hatred and not hostility. Listening to his lecture, my heart is at ease & grateful because that is the true teaching of Islam," tweeted SBY on his twitter page, @SBYudhoyono.
Not only that, the Chairman of the Board of Trustees of the Democratic Party also said that this cleric had visited his wife before he died or while being treated in Singapore.
"Sheikh Ali Jaber took the time to visit & pray for his beloved wife Ani Yudhoyono while he was being treated in Singapore. At that time, I listened to cool tausiah so that I would remain strong, steadfast & patient in accepting the trials & tests of Allah SWT. Goodbye, my friend," he said. .
Apart from the teachings about unity that were shared by a number of officials, there were other teachings that Sheikh Ali Jaber had often conveyed to his family, especially his children.
The eldest son of Sheikh Ali Jaber, Al Hasan Ali Jaber, said that while he was still alive his father advised him to always keep his prayers and his mother. This message was also conveyed to the family.
"The message has always been to keep the prayers, keep the prayers, keep the prayers, don't leave the prayers because prayer is a religious pillar. Then don't forget to take care of mothers and families," said Al Hasan Ali Jaber when met at his house on Jalan Ade Irma Suryani, Mataram City.
Al Hasan Ali Jaber admitted that he and his family had let Sheikh Ali Jaber go. According to him, during Sheikh Ali Jaber's life, he never asked him to continue the work of the deceased as a preacher.
Because the message of the deceased to him to always keep praying and not to leave prayers.
"Nothing yet, but what he always ordered was to keep the prayers, because God willing, if the prayers are smooth then life will be made easier, and don't forget to memorize the Koran," said Sheikh Ali Jaber's eldest son.
He also described his father's latest condition. Before returning to Lombok on Monday, January 11, he had been in Jakarta for a long time to monitor Sheikh Ali Jaber's condition while he was being treated at the hospital.
"Because his condition continued to improve, I finally decided to go home, but on Thursday, January 14 morning we were reported that Sheikh Ali Jaber's condition continued to decline, oxygen fell and the heat rose. But Sheikh Ali Jaber's death was negative for COVID-19," he concluded.
---
The English, Chinese, Japanese, Arabic, French, and Spanish versions are automatically generated by the system. So there may still be inaccuracies in translating, please always see Indonesian as our main language. (system supported by DigitalSiber.id)